Students Explore Tanzanian Health Care System Through OGACHI Program
The four-week immersion, organized by the Office of Global and Community Health Initiatives (OGACHI), places nurse practitioner students in clinical settings around the world.
Image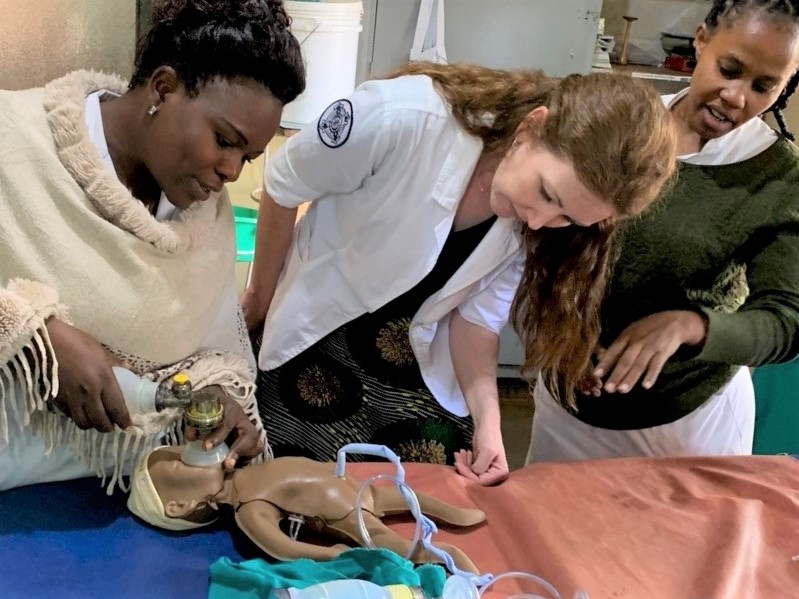 August 17, 2022
That we live in a global society goes without saying but not without practice. Enter the Duke University School of Nursing and its global advancement of equitable health through such programs as the Graduate Global Clinical Immersion Experience. The four-week immersion, organized by the Office of Global and Community Health Initiatives (OGACHI), places nurse practitioner students in clinical settings around the world. This spring, Pami Ellis and Jodene Jensen, DNP students, and Gretchen Werner, MSN'22, found themselves happily out of their depths and yet never more at home in Moshi, Republic of Tanzania, at the foot of Mount Kilimanjaro. 
The experience was coordinated by Jane E. Blood-Siegfried, PhD, RN, CPNP, FAAN, professor and director for global educational partnerships and innovation, Kimberly Jackson, senior manager, global programs and partnerships, OGACHI, and the hosting organization, Kilimanjaro Christian Medical Centre. 
"They really grease the skids for you," Jensen said. "They made it really easy for us." 
Not having to worry about logistics and basic needs, such as housing and food, allowed the three of them to throw themselves into their clinical work.  
"They make all the arrangements, but they don't stand over you," Ellis said. "You can make the experience what you want it to be." 
A day would begin with a 7:30 a.m. pickup in a bajaji, which is Swahili for the three-wheeled autorickshaw, and drop off at their respective facilities.  
Jensen and Ellis had their experiences at a government center that provided HIV, psychiatry, general family and birthing services. Jensen worked in the dispensary and visited the maternity ward—once riding in the ambulance to the hospital holding the newborn of an anemic mother. 
"I like to put myself in uncomfortable situations," said Jensen, now a NP specializing in psychiatric and mental health as well as family care. "I learn more."  
Ellis, who was earning her Global Health certificate while at Duke, trained intern physicians in infant care through programs such as Helping Babies Breathe, a low-resource, resuscitation program aimed at preventing birth asphyxia—a leading cause of global child mortality under age 5. 
One Monday, Ellis witnessed a woman cuddling a tiny, three-pound baby in a style known as Kangaroo Mother Care. After praising the staff for encouraging the mother to incubate the naked baby against her own skin, Ellis inquired how far along the mother's pregnancy had been. No one knew. Ellis asked if anyone was familiar with the Ballard Maturational Assessment. When the staff stated they weren't, Ellis, acting in her trainer's role, took this as an educational opportunity and showed them.  
"I demonstrated how to use physical and neuromuscular development to estimate the age of gestation, which was about 33 weeks for this little one," she said. "And since there happened to be five other recent births, I had the physicians return the demonstration, showing what they had learned in assessing posture, wrist flexibility, arm recoil and so on. They felt empowered."  
Ellis stress that she and her colleagues, who had undergone pre-trip ethics training, were in the program, first and foremost, as students and not  as experts to impart knowledge. Ellis and Werner, for example, learned how to deliver health care with limited resources, Ellis celebrated the simplified charts of the Tanzanian system, while Werner learned acetaminophen's other generic name, paracetamol. 
Werner also gained a better understanding of how the U.S. health care system can be viewed from another country's perspective.  
"It was very interesting, their perception. They think health care is grand in the U.S.," she said, acknowledging that the overall U.S. health care system has funding and access to advanced medicine and technology while still not functioning as a flawless system.  "We deal with the same issues (and) need to work together to -(better) provide health care around the world."  
During their off time, the Duke students would give each other feedback, share dinnertime, play games, and explored the area through a safari and a trip to the coastal island of Zanzibar. 
The opportunity to engage in a Global Clinical Immersion Experience was a reason all three applied to the Duke School of Nursing. 
"The experience more than met my expectations," said Jensen. "It's hard to even think about what I wanted before the trip."  
Werner, who went on her first missionary trip to South America at age 14, and Ellis, who grew up in the Philippines and assisted a British nurse-midwife deliver a baby at age 16, were very much in their element.  
"You had to go out and be assertive and go with the flow," Werner said. Even on her flight back to the U.S., she was unexpectedly called upon to assist an elderly man with prostate cancer repair his leaking nephrostomy tubes. 
Ellis appreciated the slower life of Tanzania, their relationship-centered culture, and the friendships she formed.  
"They contact me now, bragging when they've successfully managed a difficult delivery," she said.  
She had one piece of advice for students considering the experience: "Do it!"