Students Receive Health Equity Nursing Scholarship
ABSN students Marcus Bolick and Milenna Echegaray Gomez are 2022 recipients of the Johnson & Johnson's Our Race to Health Equity Diversity Nursing Scholarship.
Image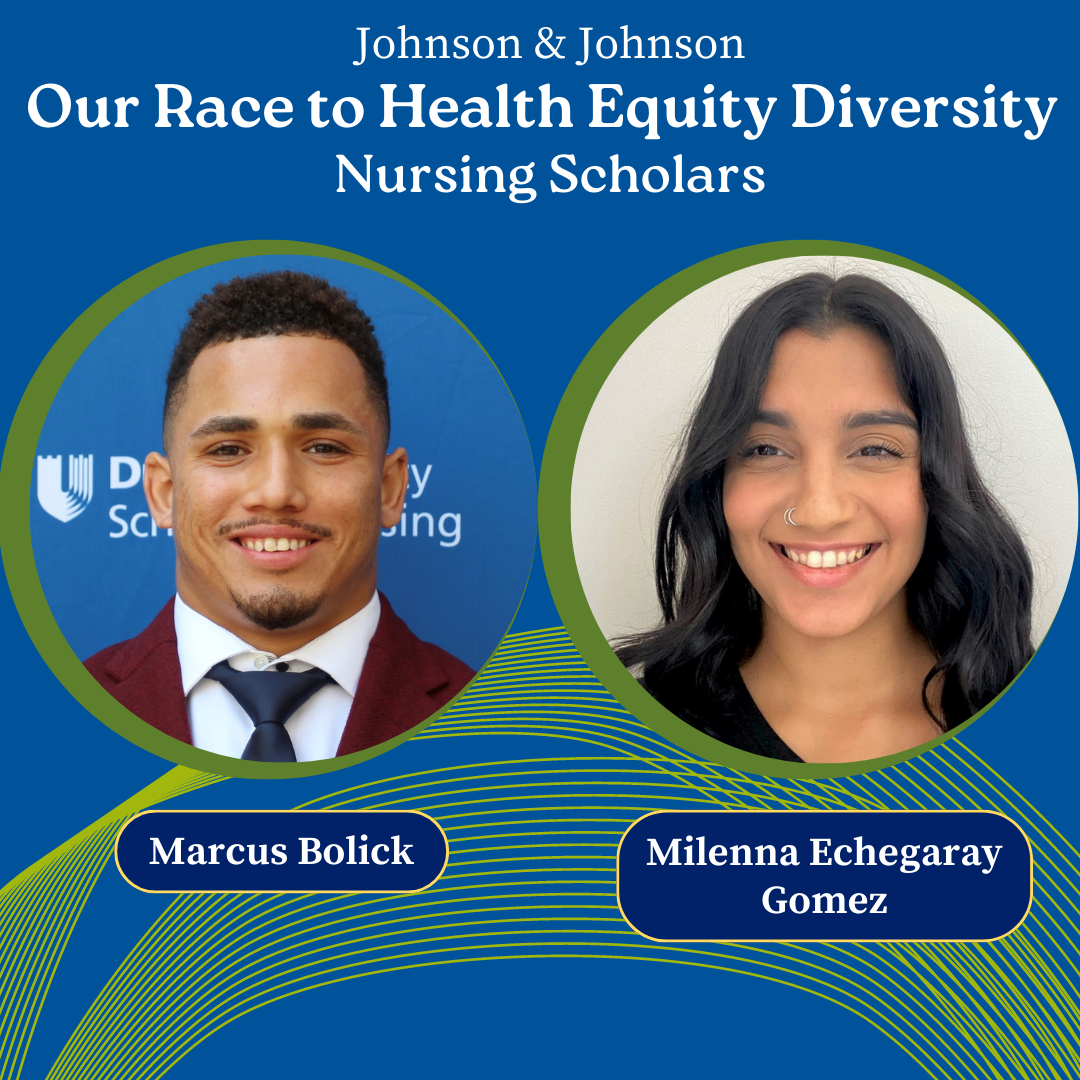 August 26, 2022
Two Accelerated Bachelor of Science in Nursing (ABSN) students have been awarded a distinguished scholarship due to their commitment to eliminating health inequities. Marcus Bolick and Milenna Echegaray Gomez are 2022 recipients of Johnson & Johnson's Our Race to Health Equity Diversity Nursing Scholarship, funded through the Foundation of the National Student Nurses Association. 
The scholarship was created to diversify the health care workforce in order to more acutely address health inequities, particularly ones that impact communities of color.  
Both students expressed gratitude for the financial assistance the scholarship provides while also recognizing the broader implications behind receiving the scholarship.  
"Health equity is something I'm so passionate about," Gomez said. "As a first-generation college student and also a Latina, this scholarship has emphasized the role I play within the field of health care as an advocate for health equity."  
In addition to working individualistically to advance health equity, Bolick acknowledges that nurses can advance themselves even further to make greater systematic changes. 
"(This scholarship) empowers me to pursue leadership roles in my profession to promote diversity in a line of work that has the opportunity of caring for a diverse client population," he said. 
Gomez has always known she would pursue a health care career. 
"I have always been drawn to health care from a very young age," she said. "With the variety of positions within health care, nursing stood out to me the most due to its emphasis on patient-centered care and holistic approaches." 
The health care environment isn't unfamiliar to Bolick, who was diagnosed with asthma as a baby. He later went on to work as a certified nursing assistant in the cardiovascular intensive care unit (ICU) at New Hanover Regional Medical Center in Wilmington.  
"It was a privilege to care for the basic needs of patients at an extremely vulnerable time of many people's lives. In caring for those needs, I continued to feel a growing desire to make more of an impact," he said. "The Duke School of Nursing has played a significant role in shaping me into a professional nurse that is ready to care for a diverse client population." 
Both Gomez and Bolick feel their Duke education has prepared them to identify and combat against the inequities that impact their future patients and surrounding communities. 
"The program has blessed me with an enhanced perspective into client discrepancies and highlighted the use of evidence-based interventions to provide equitable care," Bolick said. "For example, the school assures that we assess for social determinants of health and utilize this knowledge to fill the gaps in chronic disease education, along with seeking adequate resources for referral and reference anticipatory guidance to advocate for the unique needs of each client." 
Gomez has come to recognize that disseminating her knowledge as a nurse can make a real impact on real people and communities.  
"Nurses play a key role in health equity because we are usually the ones who spend the most time with patients," she said. "One of the most important ways in which nurses help mitigate inequities is through education. This includes educating not only our patients but also colleagues, families, and others on how to achieve positive health outcomes." 
Gomez wants to work in neurology, particularly Duke Health's neurology ICU, and has been accepted into the Duke MSN-DNP Program with a Psychiatric Mental Health Nurse Practitioner specialty. Bolick aspires to become a cardiac ICU nurse leader and earn his DNP in Nurse Anesthesia degree.