September 15, 2020
Tech Tip of the Week
Do you have students, gamers and multiple mobile devices on your home WiFi? It seems that we all have crowded WiFi these days. Watch this video from "Good Morning America" about boosting your WiFi signal at home. It has simple tips that you may find helpful. 
Getting the Most from Mediasite
Mediasite is an important tool for all members of the DUSON community, whether you're using it for class lectures, special presentations or departmental training/orientation videos. Follow these tips to make your Mediasite experience the best it can be.
The Mediasite Video Player
Our Mediasite environment offers a video player that has 24/7 access and built-in features offering the flexibility you need to accommodate your busy schedule.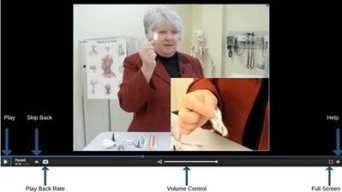 To the right is a screenshot showing the most used controls:
Easily pause, rewind or replay recorded lectures whenever you'd like.
Change the playback speed. Complex topic? Slow down the recording. Reviewing familiar material? Speed it up. The control panel lets you select half speed, 1.4x, 1.6x, or 2x the playback speed at the click of a button.
Change the display window. For a close look at slides – or your instructor – simply click the window. Click again to return to the default.
View the video in full screen. Then, tap the "Esc" key on your keyboard to return to the default view of the video.
Find information about the speaker and the presentation date by clicking the "I" icon.
Using Shortcuts
Keyboard shortcuts can make navigating your videos quick and easy. Try:
Left Arrow - Go back three seconds. 
Right Arrow - Fast forward 10 seconds.
Up Arrow - Increase playback speed.
Down Arrow - Decrease playback speed.
Ctrl + [ - Go back 30 seconds. 
Ctrl + ] - Fast forward 30 seconds.
Troubleshooting
Having trouble viewing the videos? Try these steps:
Check your audio and video connection by clicking here. 
Seeing a login screen when trying to access a new video? Try playing a previously viewed video for a few seconds. This often works by passing your login credentials to the new video.
Connect where there is a strong internet connection with little traffic. Someone in your house gaming or Zooming? Expect some buffering slowdowns. Free public WiFi as you would find in coffee shops, hotel rooms and restaurants will usually provide a poor Mediasite experience. Get somewhere with a stronger internet connection.

Not sure if it's your connection? Run a Speedtest to see what your bandwidth is. You'll want at least three Mbps download speed.
Recording? You'll want at least 3Mbps upload speed for a seamless experience. If you don't have it, you can still record fine, but it will take longer for your video to upload.

Still no luck? Contact the IT Service Desk at 919-684-9200 or email SONIT-Support@duke.edu.
For Faculty - Five Ways to Increase Student Engagement Using Mediasite
1. Help Students Measure Their Own Progress with Quizzing.
Instructors can choose a specific moment in an on-demand video to embed a quiz. When students watch, the video will stop at that point, and the quiz will appear. Students must take the quiz to continue.
Quizzes are an easy way to track student performance, prime students for test material, and provide an opportunity for them to self-assess how well they understand course material.
2. Give Instructors RealTime Feedback on Class Comprehension.
While quizzes assess individual comprehension, polls help instructors gauge a class' perspective as a whole.
Polls can take place on the fly during live webcasts to give instructors real-time feedback on students' understanding of the concepts.
3. Facilitate Commenting and Discussions.
Annotations were designed to create a collaborative forum for students and their instructors. Think of it as a virtual yellow sticky note added to a particular part of a video
An instructor might add an annotation to say "This part is really important to grasp," or include a link to deeper information.
4. Make it Easy to Ask and Answer Questions.
With Mediasite's moderated Q&A feature, viewers have easy, on-the-fly questioning power.
Students can submit a question, and even timestamp it, whenever they want while viewing a video — live and on-demand. And if a question is answered during a live stream, it then becomes part of the on-demand video.
5. Enable Students to Actively Learn.
Mediasite's searchable, indexed video libraries provides students with many options for accessing materials and resources that support their learning.
With deep engagement features and powerful search and social sharing, users can create customized video playlists via Mediasite channels.
Have any questions about this or other tech used at DUSON?
If you have any technical questions or problems, please contact your IT Service Desk at 919-684-9200 or email SONIT-Support@duke.edu.