Two School of Nursing NPs Earn 2022 FAANP Recognitions
FAANPs are nurse practitioner (NP) leaders recognized for their outstanding contributions to NP education, policy, clinical practice or research.
Image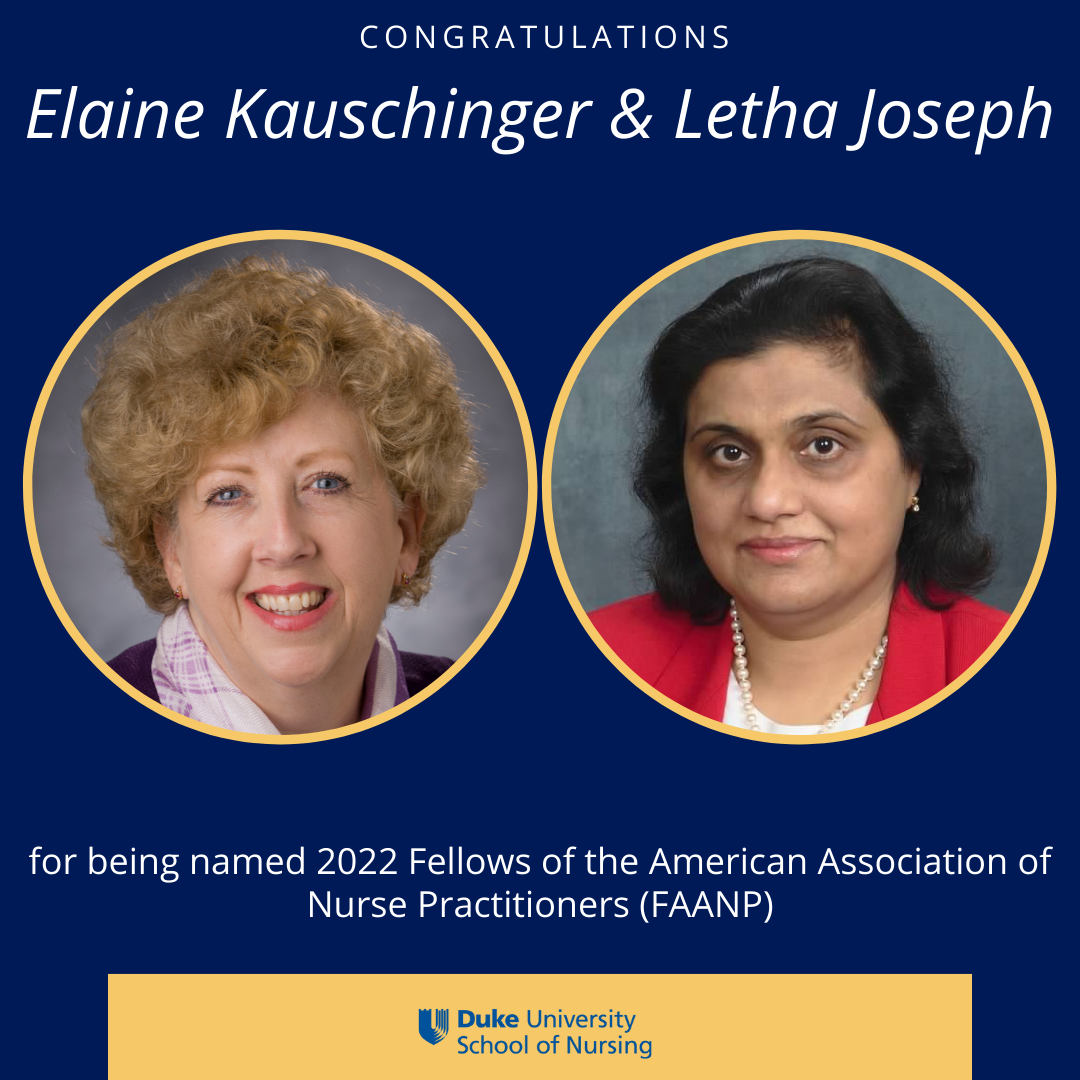 June 22, 2022
Assistant Professor Elaine D. Kauschinger, PhD, ARNP, FNP-BC, and Consulting Associate Letha Joseph have been named Fellows of the American Association of Nurse Practitioners (FAANP).
They join 38 other nurse practitioner (NP) leaders recognized for their outstanding contributions to NP education, policy, clinical practice or research. The group includes 893 NPs who have made — and who continue to make — a positive and profound impact on national and global health. The 2022 fellows will be inducted on Thursday, June 23, 2022, at the 2022 AANP National Conference in Florida.
Elaine D. Kauschinger
"At Duke, students see the dynamic health care process while in clinical," she said. "They learn about leadership role opportunities and how you can step into them. I feel I bring real-world experiences to students. For example, many of the test questions and case scenarios that I present are from my actual experiences with my patients. It's the unique experiences our NP faculty bring that enrich our students' learning environments."
Kauschinger has led a dynamic career committed to global health, having worked in Mexico for 10 years and with the U.S. and foreign embassies and organizations such as the World Health Organization. While in New York, she served on the front lines during the early days of the HIV/AIDS epidemic.
"As someone born and raised in Bronx public housing, I never knew that I could, with the support of so many, go on to provide care internationally," she said.
Throughout her career, Kauschinger has addressed health inequities by serving various marginalized groups, particularly those incarcerated or at risk of incarceration.
As a distance-based faculty member, Kauschinger resides in Miami. While in Florida, she has implemented nurse-led models of care in primary care clinics. For one of those clinics, she developed a residential site clinic for women who suffer from significant substance abuse and psychiatric disorders. She also started a primary care clinic within a drug court that would allow a person to be treated for their substance abuse instead of incarceration.
Currently, Kauschinger serves as part of a hospital medical staff that treats incarcerated individuals court-ordered to seek psychiatric treatment.
"These are probably the most complicated disorders I've ever seen," she said. "In addition to chronic psychiatric problems, they cope with significant medical conditions including substance abuse problems. But it's greatly, greatly rewarding work. I've become a powerful advocate for women and for transgender patients and, overall, a highly vulnerable patient population. I tell them, wherever it is that you will be sent to on this bumpy road of life, we hope for community placement."
Kauschinger recognizes the growth and strength of the NP workforce, which has grown from approximately 15,000 NPs in the U.S. 40 years ago to more than 325,000 NPs today.
"We've always had incredible nursing leadership and knowledge of how to advocate for our patients," she said. "Nursing has a great history that I'm privileged to be a part of. I can't imagine doing anything else."
Letha Joseph
In concurrence with her role as consulting associate, Joseph serves as a NP with the Durham VA Health Care System and as director of the Durham VA's Geriatric and Extended Care Nurse Practitioner Residency program that's affiliated with the School of Nursing. As a consulting associate, she has been a preceptor for MSN and DNP students during their clinical rotations at the VA and an instructor for clinical courses focused on the primary care of adolescents, adults, and older adults.
Joseph has been involved with Duke Health for 20 years, since she immigrated to the United States. In 2020, she received the Durham VA NP of the Year Award and the North Carolina Nurses Association's 2020 Nurse of the Year for Practice Award. She's also been recognized with the Veteran Affairs Secretary's Award for Nursing Excellence Award.
Joseph was encouraged to pursue a higher education and career through her upbringing in India, particularly through her dad exposing her to people who themselves had forged successful educational and career pathways.
"This was my dad's way of ensuring that I received the necessary guidance he could not provide, as he did not want my limited resources to create a barrier," she said. "From the time I was an NP student, I admired the AANP Fellows and the impact of their professional contributions. The blessing of joining the respected professional community is an exciting opportunity to make meaningful contributions to the NP community and health care."
Throughout her time with the VA, Joseph has seen how numerous social determinants of health (SDOH), such as age, gender, race/ethnicity, socio-economic status, geographical location, health literacy, and mental health status, impact the veteran population.
"Health care that doesn't address SDOH is a Band-Aid solution. Conversations to identify individual health-related social factors that impact SDOH can be challenging," she said. "However, NPs have the education and competence to conduct such discussions in a compassionate environment where veterans feel respected and accepted without being labeled."
The VA's interprofessional environments incorporate nurse-led models of care, centralizing NPs as leaders who can orchestrate the tasks of different health care professionals on a care team. This model also provides a way for each team member to input on the veteran's care based off their experiences with the patient and knowledge of the patient's history, which, in turn, inform the community resources that the NP can pull together to provide the veteran.
"NPs have significant roles in VA programs such as transitional care, case management, home-based primary care, and care in the community," Joseph said. "I would say VA developed these programs primarily to address the disparities in health care outcomes by mitigating the impact of SDOHs."
Throughout her education and career, Joseph has seen how nurses can transform the future of health care by introducing sustainable quality improvement initiatives, applying predictive analysis skills to inform targeted interventions, and generating evidence and implementing science critical for evidence-based care delivery.
"Nurses have the required academic preparation and skills to improve health care. Most of all, nurses have public trust," Joseph said. "Health care is a relationship-based industry, and trust is the basis of any change. Nurses are prepared to take central roles and eager to make contributions that will transform health care."