March 26, 2021
Image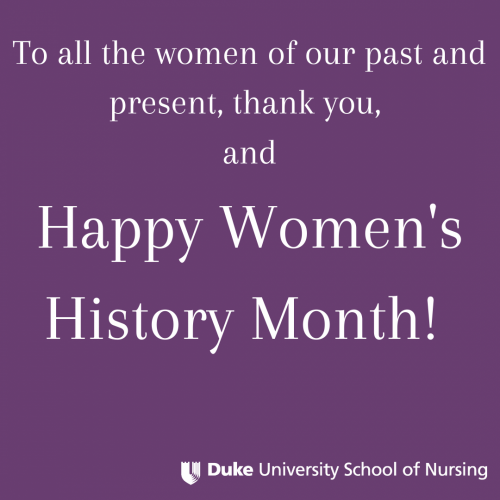 Women's History Month is an annual celebration of the women of our past, present and future. To mark this occasion, we invited students, faculty, staff and alumni of the Duke University School of Nursing to share stories of women who continue to inspire them daily.
This list is organized in alphabetical order based on the submitter's name:
From Jill Brennan-Cook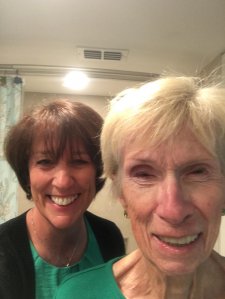 Jill Brennan-Cook, DNP, RN, CNE, assistant professor, said, in memory her mother:
"The most important person who has inspired me throughout my lifetime is my mother. My mother lost both of her parents by the time she was a teenager, yet this did not affect her ability to be a caring, empathetic and loving parent to six children.
My mother was my role model for inclusivity and equity because she accepted everyone and did not judge. She listened with intention, and everyone loved her because it was genuine. She gave me confidence and told me to not let anyone ever intimidate me. My mother was also one of the funniest persons I have ever met.
In this picture of my mother and me, she was too weak to blow dry her own hair, so I offered to do it for her. When I was done drying her hair, she looked in the mirror and complained that I styled it just like mine and then we couldn't stop laughing because I realized she was right. We looked like twins."
From Kim Grier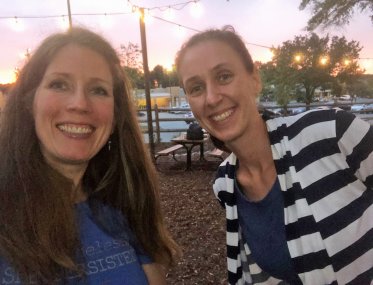 Kim Grier, PhD student, recognizes Amie Koch, DNP, FNP-C, RN, ACHPN, assistant professor:
Grier states: "She has been an amazing mentor, friend and one of my biggest cheerleaders for many years. I am not only a better clinician because of her, but I am now pursuing my dreams in the PhD program here at DUSON. I am grateful to have her in my life."
From Lindsay Johnson
Lindsay Johnson, administrative assistant, celebrates the staff at Caldwell Hospice and Palliative Care, who cared for her mother:
"I would like to celebrate the amazing providers, nurses and staff at Caldwell Hospice and Palliative Care who cared for my mom in 2020 at the end of her life. The home hospice nurses visited daily and brought a welcome breath of fresh air and conversation to each of us. The nurses and staff at the Robbins Center in Hudson, NC, for Mom's in-patient care, were equally amazing and genuinely cared for mom's comfort and wellbeing. From the day Mom made the decision to engage with Caldwell Hospice to the follow up with my family after she passed, I am so grateful for their compassionate support!"
From Amie Koch
Koch, who is also an alumna (ABSN '04, MSN '08), wanted to celebrate two of her colleagues, Cristina C. Hendrix, DNS, GNP-BC, FNP, FAAN, chair of the Clinical Health Systems & Analytics Division and associate professor, and Sharron L. Docherty, PhD, PNP-BC, FAAN, assistant dean, PhD in Nursing Program, and associate professor.
"I want to celebrate Cristina Hendrix and Sharron Docherty for being outstanding women who have inspired me to be an advanced practice nurse. Through their mentoring and role modeling in 2002-04, I was able to see options for women in the workforce that I did not know were possible for me."
From Schenita Randolph
Schenita Randolph, PhD, MPH, RN, CNE, assistant professor, would like to recognize five nursing leaders who have influenced her while having a greater impact:

"As a Black woman in nursing and academia, I honor and recognize these nurse leaders who have given me the opportunity to witness excellence and leadership. I stand on their shoulders and recognize them this Women's History Month for their contributions to nursing and for the unspoken influence they have had on developing minority nurses directly or just by 'being visible'": 
Beverly Malone, PhD, RN, FAAN: Former dean of North Carolina A&T State University and current president and CEO of the National League for Nursing. Malone was the dean when Randolph started at A&T.
Janice Brewington, PhD, RN, FAAN: Former dean of NC A&T State University and current chief program officer and director of the Center for Transformational Leadership at the National League for Nursing. She was dean while Randolph was a student at A&T.
Inez Tuck, PhD, MBA, MDiv, RN, FAAN: Former dean of NC A&T State University School of Nursing and current dean of the School of Nursing at MGH Institute of Health Professions. She was dean while Randolph was on faculty at A&T.
Queen Utley-Smith: DUSON associate clinical professor and NC Central University graduate
Marva Mizell Price, DrPH, RN, FAANP, FAAN: Associate Professor Emeritus, DUSON's first non-white faculty member and NC A&T State University School of Nursing graduate
"Among nurses in positions of greater influence, Black nurses are only nine percent of full-time nursing faculty. Less than 10 percent are deans or directors (AACN, 2019). Three percent are chief nursing officers, and less than one percent are nurse scientists," Randolph said.
Four of these women graduated from a Historically Black College and University as did Randolph, a 1997 graduate of NC A&T State University.
From Silvia Vasquez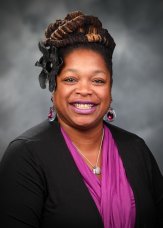 Silvia Vasquez, clinical placement coordinator, celebrates Annette Lancaster, clinical placement manager:
"During the past two years that I have been under her supervision, Annette has been extremely supportive with our team, faculty members and students as well as leadership. She has assisted multiple coordinators with their student placement assignments when we needed the extra help due to short staffing or just an overall increase of students joining DUSON. She is always available at any time with an open-door policy, where we can talk to her about any questions, concerns, and/or overall wellbeing. She is also a very innovative individual who has created multiple tools for us to succeed and make our jobs easier. For example, she has created different templates for us to utilize in the different steps we encounter daily when communicating with students, faculty and outside vendors. Also, she allows us to be creative and share ideas so that we can all grow as a united team and keep pushing for success. Now that we are going through this pandemic, I have witnessed that she continues to be extremely supportive and available, which makes me feel that I am still on campus instead of at home alone. She is always communicating and demonstrating her compassion towards us via email, Jabber, and/or phone, and she is still helping us when needed. I am honored to be able to work with her because she brings out the best in our team, and she sets an outstanding example for all of us to follow.
Annette is an active member of Sigma Gamma Rho Sorority Inc., whose goal is to achieve greater progress in the areas of education, health awareness and leadership development. Her local chapter, Beta Pi Sigma-Durham, alumnae serves both Durham and Orange counties. Their goal is to serve and advocate for the greater good nationally, regionally, and locally. They are a chapter of love, understanding, encouragement and solidarity. They also oversee three undergraduate chapters at NC Central, UNC-Chapel Hill and Duke University.
Annette always shows graciousness and high moral principles as well as ideals to the team. The manner she presents herself and communicates is with high professionalism. I have witnessed several situations where the average person would have lost their cool, and it would have been well understood if she did too, but she did not. She smiled through it and maintained her professionalism. It was very impressive.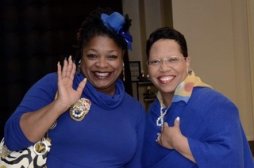 Annette is very honest and transparent with my team. She makes sure we understand what our goals are and what we need to do to make sure we achieve them and what we need to do in order to be successful. She makes sure to communicate with each of us one on one as well as in a group so that we are all on the same page. She restates herself often and leaves no room for miscommunications and misunderstandings."
Pamela A. Bivens, M.A. (pictured with Annette on left), assistant director for Diversity & Inclusion with the Duke Office for Institutional Equity, also submitted a testimony to Lancaster.
From Kara Willette: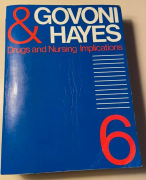 Kara Willette, MSN'20, PNP, WHNP-BC, celebrates her aunt:
"My aunt, Laura Govoni, was one of the first nurses to make a drug reference book called, 'Drugs and Nursing Implications.' She had her doctorate in nursing and was a well-respected professor at University of Connecticut. She had so many stories, and her basement was full of papers meant for her book, which she hand typed."
Under the leadership of 12 female deans, countless women have shaped our School throughout our 90-year history. Today, we are proud to have so many tremendous women in our community whose steadfast work ensures our School is unwavering its commitment to excellence. So to all the women of our past and our present, we say thank you. It is because of you we continue to exemplify innovation and research while also prepping our students to lead and guide the future of nursing.
Be sure to check out our social media pages for our Women's History Month celebratory video!