ABSN Student
Image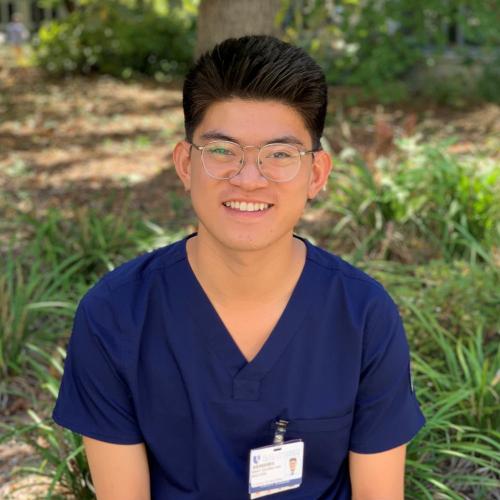 Four years ago, my family readied to withdraw my grandpa's life support. Then, I was a freshman studying computer science at UC San Diego; however, in the months I spent watching those care for my grandpa, I found myself yearning for a career in healthcare, but remained unsure of what exactly I wanted to do.
In the years following, I sought to explore the different roles of the healthcare industry to find where I best fit. My undergraduate background in public health exposed me to the impact of health policymakers and researchers on healthcare. My internship at a local hospital in San Diego showed me how physicians, nurses, and pharmacists interact in an acute care setting. My volunteer work in Belize and Vietnam demonstrated how healthcare professionals may deliver care in rural regions. At home, my part-time job working in a residential community for adults with developmental disabilities allowed me to practice my hands-on skills in a long-term care setting. I am grateful for all these experiences because after immersing myself in them, I decided that nursing is the field for me.
I first heard of DUSON through my freshman year RA at UC San Diego who went on to do the ABSN program. Her journey navigating through second-degree nursing programs inspired and guided me as I went through the process myself. I heard stories about the cohesiveness of Duke's relatively smaller cohort size, their proactive faculty members, and the countless resources and opportunities available. Seeing the facilities and meeting faculty firsthand at Duke Days confirmed the stories that my RA shared with me, and I knew Duke was where I wanted to be. After enrolling at DUSON, I found all these qualities to be true of the program, and I continually feel support from my peers, the faculty, and the administrative staff who ensure all our needs as students are met.
Based on my research, similar programs at other institutions could not compare to Duke's ABSN program. I am incredibly grateful for the generosity of Duke University and its donors for their financial support and scholarship programs. It is their support that allows this first-generation, Vietnamese-American college student from an underprivileged background to attend such an incredible institution.
Nursing is such a broad career field with many different specialties and professional roles. While I am still exploring these opportunities, I am grateful for the diverse clinical experiences that DUSON provides because they allow me to get my feet wet and discover what my interests may be. I'm excited for my career path after graduation because I am confident in the nursing toolbox that DUSON is preparing for me through the ABSN program.