DNP Student
Image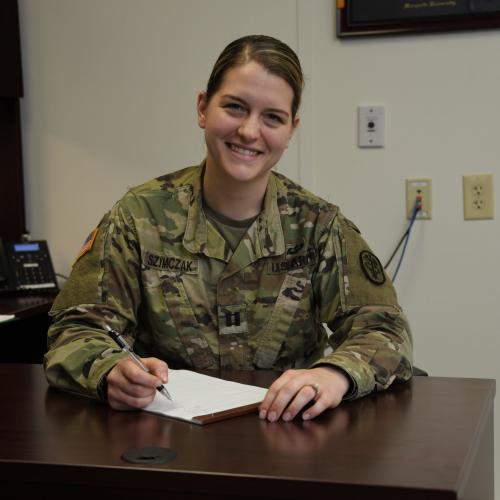 When choosing between a number of nursing schools to begin my DNP education, I was especially drawn to DUSON for its flexible DNP program. During my interview, I was asked by my interviewer "How can Duke serve you?" whereas other schools I was accepted to basically asked "How can you tailor your life to us?" Being active duty military, flexibility in a DNP program was a top priority. After my interview, I knew that I wanted to be a part of a community that values its students and their lives outside of school.
During my second semester at DUSON, I was required to move once across the country for work. My program director and advisor immediately devised a game plan to shift my project along with my move. I did have to extend my graduation date, but to have the faculty care so much about me and my situation was refreshing. I am thankful to be part of a flexible program. I currently work 60+ hours a week as active duty military psychiatric mental health nurse practitioner (PMHNP) and though it's definitely challenging juggling full-time work with school, DUSON has provided me a feasible way to advance my education alongside my clinical career.  
My background in my nursing career is psychiatry; it's the only field of nursing I've ever wanted to do. Initially working in an inpatient psychiatry ward with adolescences, I quickly developed a goal of becoming a provider. At my first opportunity, I went back to get my PMNHP through the military and have been actively practicing in the military for almost four years.
I feel that the rigor of the DNP program has helped me think and research differently. In addition, the political aspect of the program is great. I really enjoy the policy portion of the program because it really challenges me to look at nursing from multiple directions, such as financial and political, whereas I felt other Universities didn't offer this bit of diversity. 
I feel that DUSON sets high expectations for its students and those expectations really drive me to contribute to the fullest of my potential to be a positive contributor to my community.