ABSN Student
Image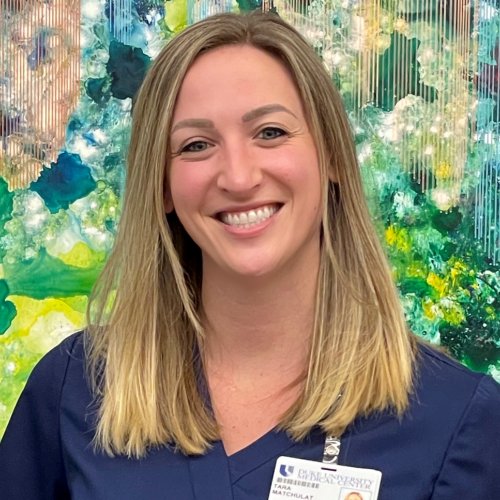 I commissioned into the US Army in May of 2010 after graduating from Appalachian State University with a Bachelor of Arts in Political Science. My military occupational specialty was military intelligence, and, in 2016, I picked up my certification in public affairs. Although I have treasured my time and travels in the military, I wanted to establish a second career that would allow opportunities for growth as well as the availability to work in the location of my choosing. Ergo nursing!
I knew a career in the medical community would allow me to continuously grow in my study, but, specifically, nursing was appealing to me because of my love and compassion for people. I wanted to be the one providing comfort and caring for the patient as well as be there for patients' families.
I applied to Duke University, never daring to dream that I would get accepted but did so anyway thanks to the encouragement of the admissions officer, Benjamin Pereklita. Ben taught me that Duke takes a holistic approach in the admissions process, looking at the whole-person concept rather than just GPA numbers, and gave me the confidence I needed to submit my application.
The Duke University School of Nursing is renowned for good reason. For starters, the ABSN program is 16 months versus some of the other 12-month programs that I considered. I wanted an accelerated program, but the shorter ones intimidated me with semesters full of 22 credit hours, which seemed very overwhelming. Additionally, DUSON is full of the latest technology to assist in educating its students. For instance, the Center of Nursing Discovery hosts multiple simulation labs with manikins (who are more like robots than the plastic models you'd see displaying the latest fashion in department stores) to practice and hone one's nursing skills.
Each member of the faculty has an impressive background and proven career in nursing. All of them are kindhearted, patient leaders who made me feel comfortable asking numerous questions even though I have zero experience in the health care industry. Duke's small faculty-to-student ratio also added to my comfort in pursuing a career in a completely different direction than the one I had worked in for the last decade.
One of the things that really set Duke apart to me was its countless opportunities for continuing education. It is very important to me to have the ability to grow in any career that one selects. DUSON offers a variety of educational degrees including nurse practitioner licenses coupled with MSN degrees as well as DNPs. It is clear why Duke has the top nursing program in the nation, and I am excited to one day be connected and added to its powerful alumni program.