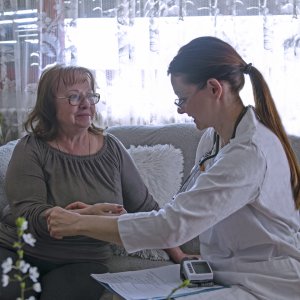 Our palliative care specialty offers you the opportunity to have advanced training in the care of individuals with life-limiting illnesses to maintain quality of life by integrating physical and psychosocial aspects of palliative care symptom management. Ethical considerations are explored as important components to person-centered goals of care. This distance-based course is based on principles and philosophy of palliative care and includes evidence-based guidelines from the National Coalition for Hospice and Palliative Care. On-campus intensives provide you with opportunities to engage with palliative care clinicians and inquire about novel research and innovative practice. In the synthesis course, you will work directly with clinicians practicing in palliative care across a variety of clinical settings.
Coursework and clinical experiences prepare you to practice in outpatient primary care settings as the clinical expert in palliative care settings. The specialty courses provide the requisite knowledge and skills to demonstrate expertise in the care of palliative care across the lifespan.
Highlights
Curriculum includes three specific palliative care courses integrated within the nurse practitioner major

Clinical experiences available with internationally renowned Duke palliative care faculty

8 credit hours (minimum)

Provides 168 clinical hours in palliative care

Spring start only
Courses
NUR 851: Foundations and Physical Aspects of Palliative Care (Spring only)

NUR 852: Psychosocial Aspects of Palliative Care (Summer only)

NUR 855: Advanced Practice Nursing in Adult-Gerontology: Palliative Care Specialty
Enrollment Options
If you are interested in adding this specialty to your academic plan, you must complete the Add a Specialty Form. This form must be submitted to the MSN Program Office via email (son‐msn@dm.duke.edu) at least 10 days prior to the start of the semester.
Nurse practitioners with an MSN degree or higher from a regionally accredited institution and nurse practitioner students from other regionally accredited colleges or universities interested in earning a certificate in this specialty should follow instructions for the Specialty Certificate application.. Enrollment decisions are made by the lead faculty of the specialty based on space availability.
Learn more about our curriculum.