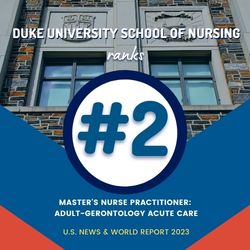 With increasing patient acuity, an aging population, and a growing need for highly skilled clinicians at the bedside, acute care nurse practitioners are in great demand, and the adult-gerontology nurse practitioner – acute care major (AGNP-acute care) in our MSN Program offers excellent preparation. Our AGNP-acute care major focuses on developing the knowledge and skills necessary to deliver nursing care to individuals from adolescence to older adulthood across acute care settings, including care of individuals in rural and under-served areas. Intensive courses, state-of-the-art simulation techniques, and immersion in clinical rotations maximize the learning experience and enables you to become active members of an interprofessional health care team.
On campus intensives and state-of-the-art simulation techniques supplement an established program designed to prepare nurse practitioners for management of patients across acute care settings. Examples of practice settings include urgent care and emergency departments, hospitalist and intensive care services and step-down units in academic, community, or critical access environments.
Highlights
Program ranked #2 by U.S. News & World Report.

Immersion in the clinical environment maximizes the learning experience and enables you to become an active member of an interprofessional health care team.

Experienced faculty with clinical backgrounds in various areas of acute care practice, including the emergency department, neurocritical care unit, and hospitalist service.

Extensive resources for instructional support, including high fidelity simulation equipment with expert simulation instructors to guide practice, internet support, and multimedia availability to promote distance based learning.

48 credit hours, including 728 clinical hours
Application Requirements
Minimum of 1 year of unprecepted, full time, acute care nursing experience
Current Advanced Cardiac Life Support certificate which must be maintained throughout the program of study
Enrollment Options
MSN and Post-Graduate Certificate
Our Adult-Gero NP Acute Care program is distance-based for students with a strong clinical background.

You are encouraged to submit recommendations from mentors or colleagues who can speak to your preparedness for graduate-level education and advanced clinical practice. This could include physicians, nurse managers, advanced practice nurses and other nursing leaders.
Certification Alignment Program
Are you a board-certified nurse practitioner who is actively practicing outside your area of certification? Have you been caring for acutely ill patients full time for at least one year? If so, you may qualify for our certificate alignment program. This program is designed to account for current competencies and expertise in acute care and apply them to this course of study.
Learn more about our curriculum.