The Accelerated Bachelor of Science in Nursing Program, the Master of Science in Nursing Program, and the Doctor of Nursing Practice Program at the Duke University School of Nursing are accredited by the Commission on Collegiate Nursing Education (ccneaccreditation.org). The Nurse Anesthesia Program is accredited by the Council on Accreditation of Nurse Anesthesia Educational Programs. 
State Authorization
In addition to maintaining national educational and nursing accreditation, each state's higher education and nursing governance boards may set unique requirements for online or distance-based clinical MSN programs that lead to licensure in their state. Please note that these requirements only apply if you are a prospective online or distance-based clinical MSN student. If you are a non-clinical MSN student, state authorization requirements do not apply to your application to the Duke University School of Nursing. 
If you are a prospective clinical MSN student, please refer to the information below that indicates the status of your state regarding the potential for obtaining a nursing license. Duke University School of Nursing is continually monitoring state licensing regulations to ensure we are compliant with individual state requirements.
On the map below, states identified in green indicate the Duke University School of Nursing is fully authorized to provide clinical MSN programs by both the Higher Education Commission and Board of Nursing in those states. States identified in yellow indicate the Duke University School of Nursing is in the process of providing the documentation or awaiting a final determination to become fully authorized in that state. States identified in orange are states where we do not meet the state requirements of one or both of that state's authorizing organizations. If you wish to apply for an online/distance-based clinical MSN program from a state that is identified in yellow or orange, please contact Office of Admissions to discuss options for you to join us at Duke.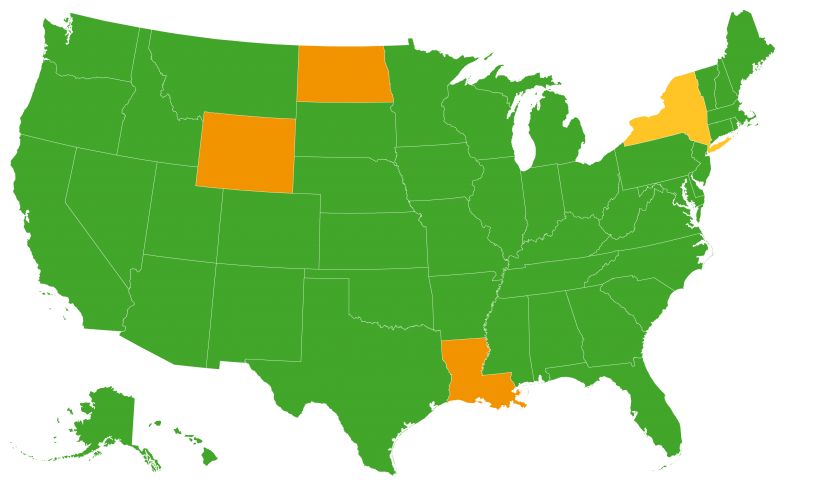 Authorized
Alabama, Alaska, Arkansas, Arizona, California, Colorado, Connecticut, Delaware, Florida, Georgia, Hawaii, Idaho, Illinois, Indiana, Iowa, Kansas, Kentucky, Maine, Maryland, Massachusetts, Michigan, Minnesota, Mississippi, Missouri, Montana, Nebraska, Nevada, New Hampshire, New Jersey, New Mexico, North Carolina, Ohio, Oklahoma, Oregon, Pennsylvania, Rhode Island, South Carolina, South Dakota, Tennessee, Texas, U.S. Territories, Utah, Vermont, Virginia, Washington*, Washington, D.C., West Virginia, Wisconsin
Pending Authorization
New York
Not Authorized (as of October 15, 2017)
Louisiana, North Dakota, Wyoming
Duke University School of Nursing's Participation in SARA
The State Authorization Reciprocity Agreement (SARA) is a voluntary agreement between states and U.S. Territories that establish mutually agreed-upon standards to enable higher education institutions to offer distance-based and online classes across state lines.
The State of North Carolina has agreed to join the SARA compact, and Duke University is a participating institution in this agreement. As a result, students who live in other states that are also participating under SARA can take distance-based courses at the Duke University School of Nursing and be assured that those courses will be recognized by their state's higher education agency. While participating in SARA, the Duke University School of Nursing also continues to monitor rules enforced by state boards of nursing and other entities that regulate distance-based nursing education across the country.
Clinical Site Requirements
The state authorization disclosures made on this webpage have been made for informational purposes and do not supersede existing policies and procedures at the School of Nursing pertaining to student enrollment or clinical placements. As set forth in the Master of Science in Nursing (MSN) Student Handbook, MSN students, including those who live outside of North Carolina, may be required to attend a clinical site in a state other than their resident state and/or to travel up to 120 miles within their resident state or another, depending on the availability of suitable sites. MSN students should also be aware that in very rare instances, in order to finish the clinical requirements of a degree, students may be required to relocate to North Carolina to finish their clinical course rotations.
______________________________________
* Duke University is approved by the Washington State Nursing Care Quality Assurance Commission to provide practice experiences in Washington State for MSN/FNP, MSN/AGPCNP, MSN/AGACNP, MSN/PACNP, MSN/PPCNP, MSN/NNP, MSN/Women's Health NP, MSN/Health Informatics, MSN/Nursing, and Health Care Leadership, and MSN/NE management programs.