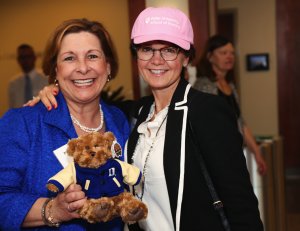 We have always looked to nurses to be advocates for patients and their families. Today, nurses are directing the efforts of entire teams of caregivers, delivering coordinated care tha tis centered around the patient. This important role for nurses has the power to transform the practice of medicine - here at home and around the world.
Duke University School of Nursing has reached a new height - largest enrollment, most prestigious faculty, best national ranking and greatest amount of federal funding for nursing research. As one of the best nursing schools in the country, we want to continue in our historic strengths in caring for the elderly, the chronically ill and sick children. As we are committed to continuing a long tradition of educating the thinking nurse - men and women empowered to lead change in health and medicine.
We seek your partnership. Please join us, and together we will transform the future of nursing to advance health.
Making an Impact
Here from our donors on why giving to Duke University School of Nursing is important to them.

"Duke University School of Nursing really prepared me to think in the nursing environment and be a great patient advocate. It makes me feel great to help people with high aspirations meet their goals. I would encourage all alumni and others as well to give to the Nursing Leaders Scholarship Challenge."
~ Sandra Davis, BSN'82

"Nurses continue to be essential to the future of health care in America, and we are big believers in supporting the best graduate nursing school in the country. We are resolute to 'paying it forward,' and our membership in the Bessie Baker Society allows us to help develop the future nursing leaders America needs. As alumni, Duke University and Duke University School of Nursing have shaped our lives with opportunity and they will continue to receive our unwavering support. We hope our commitment will inspire others to consider becoming Bessie Baker Society members."
~ Brett Williams, T'81 and Marianne Tango Williams, BSN'81

"I owe much of my success to the strong foundation of learning built at Duke. Many times over the years I have recalled the knowledge, the arduous process, or the sheer joy of becoming a better nurse that all began at Duke. I want today's students, regardless of their finances, to have the same opportunities I had. This is why I give back in a number ways, including by leaving Duke in my estate plans and supporting the Duke Nursing Annual Fund."
~ K. Becky Zagor, BSN'80, RN, MN

"I have been given so much. I went to school on a scholarship, and I have an obligation to provide money for others to go to school. We made a bequest commitment to establish a scholarship endowment that will benefit underrepresented undergraduate students at Duke University School of Nursing. Making a planned gift to Duke has always been part of our financial planning, it's just like a fiber of our being."
~ Reverend Benjamin B. Bishop, D'77, A'97 and Connie B. Bishop, BSN'75, DNP'12
Donor Recognition
The School of Nursing continues to be grateful for the generosity from its alumni and friends. There are many ways by which we recognize these donors.
The Bessie Baker Society
The Bessie Baker Society, named for the Duke University School of Nursing's first dean, Bessie Baker, BS, RN, recognizes the Duke University School of Nursing's most dedicated supporters. Learn more about the Bessie Baker Society.
Duke Health Recognition
Duke Health values its philanthropic partners and is honored to recognize individuals who join us in advancing health together. Learn more about Duke Health Recognition.
The Duke Tower Society
The Duke Tower Society (formerly know as The Heritage Society) honors alumni and friends who have included Duke in their estate plans or have made some other type of planned gift to Duke University. Learn more about the Duke Tower Society.