Supporting DUSON's Mission
The Center for Nursing Discovery (CND) is a state-of-the-art simulation center that provides a variety of instructional methodologies to support the Duke University School of Nursing (DUSON) mission through transformative excellence in education, clinical practice, and nursing science. The CND serves all academic programs by providing an infrastructure in which faculty can create educational programs to enhance clinical learning and model excellence in patient care delivery. 
Recognized as a Simulation Leader
The CND is both Accredited and Endorsed by two international simulation professional organizations – only two other simulation programs in the world hold this distinction.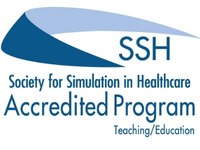 The CND was initially accredited by the Society for Simulation in Healthcare (SSH) in the area of Teaching and Education  (in 2017). The CND is earned re-accreditation from SSH from 2021-2026. The CND is the only accredited simulation program in the Duke System.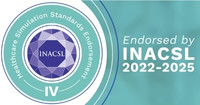 In 2022, the CND earned International Nursing Association for Clinical Simulation and Learning (INACSL)'s endorsement for the Core Four  (pre-briefing, facilitating, professional integrity, debriefing) until 2025. The CND is the only endorsed simulation program in Duke System and North Carolina. 
In addition, the CND has received recognition for its work in nursing education: DUSON Dean's Award (2021) and the INACSL's Frontline Simulation Champions Award (2021). 
Student Experience
The CND provides an interactive student-centered environment that is safe and supportive.  It enhances learning by integrating didactic content with hands-on experiences and promotes problem-solving, critical thinking, and clinical reasoning/judgment. This unique environment prepares learners to deliver compassionate care with confidence and competence in a diverse and complex healthcare environment.
To meet course objectives and overall curriculum goals, the CND uses a variety of educational modalities and strategies, including but not limited to the following:
•    Clinical preparation days
•    Open lab practice sessions
•    Procedural task trainers to develop specific hands-on skills
•    Simulation using realistic adult and pediatric mannequins
•    Use of standardized patients 
CND learning experiences include key concepts centered on patient safety, communication, interdisciplinary collaboration, teamwork, cultural competence, informatics, and evidence-based practice. Components of these concepts are integrated throughout the curriculum. Practice in the CND, along with their clinical experiences, helps students move towards the development of their evidence-based nursing practice. 
Safe Learning Environment
The CND has a total of 21 rooms for skills training and simulation, which encompasses approximately 13,000 square feet. These rooms include: 
 
·        2 physical assessment labs (3,020 square feet) used for simulated and standardized patient assessment 
·        2 hospital rooms (1,900 square feet) used for simulated patient care 
·        2 real-life operating rooms (877 square feet) for nurse anesthesia student training 
·        1 task trainer room (388 square feet) for deliberate practice 
·        3 simulation rooms (1,000 square feet) for simulation education 
·        2 rooms designated for debriefing (870 square feet)  
·        multipurpose room used for meetings, classes, simulation, and debriefing (931 square feet) 
·        obstetrical suite (156 square feet) for simulation 
·        storage of supplies and equipment (1,137 square feet)  
 
The CND Health Innovation Lab (HIL) is in the adjacent Interprofessional Building and accessible via a second-floor bridge that connects the HIL to the CND. The HIL, which opened in August 2019, added approximately 20,000 square feet to CND space. These rooms include:  
·        1 nurses' station 
·        1 cueing area 
·        1 conference room  
·        7 exam rooms with attached debriefing areas that contain video-capturing equipment. 
·        Standardized Patient entrance with 2 ensuite bathrooms, a shower, and a changing area 
·        Kitchenette (sink, refrigerator, ice maker, table) 
·        2 walk-in storage areas  
 
The above spaces are used in multiple capacities to meet the needs of each of the academic programs. While designed for a specific purpose, each space is a flexible learning environment and can function as other workspaces, as needed for each program. For example, each of the above simulation rooms has a designated prebrief/debrief room and/or a classroom that can be used for varied purposes.