The Center for Nursing Discovery (CND) is a state-of-the-art simulation center that provides a variety of avenues of instructional methodologies to support the DUSON mission through excellence in education, clinical practice, leadership and research. The CND serves all academic programs by providing an infrastructure in which faculty and staff can create educational programs to enhance clinical learning and model excellence in patient care delivery.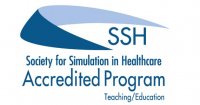 In 2021, the Duke University School of Nursing (DUSON) Center for Nursing Discovery received a five-year reaccreditation by the Society for Simulation in Healthcare (SSH) and the Council for Accreditation of Healthcare Simulation Programs in the area of Teaching/Education. The CND received its first accreditation in 2017. DUSON is the only nursing school in North Carolina and one of three nursing schools in the United States to have received this accreditation.
The CND provides an interactive student-centered environment that is safe and supportive.  It enhances learning by integrating didactic content with hands-on experiences and promotes problem solving, critical thinking and clinical reasoning/judgment. This unique environment prepares learners to deliver compassionate care with confidence and competence in a diverse and complex healthcare environment.
To meet course objectives and overall curriculum goals, the CND uses a variety of educational modalities and strategies including but not limited to:
Beginning of semester boot camps
Weekly open lab sessions
Low technology/ task trainers to develop skills
Use of standardized patients and high technology/computerized manikins.
To provide a variety of avenues of instructional methodology, the CND uses educational strategies including:
Computerized adult and pediatric manikins
Role-playing
Self-instruction
Faculty-assisted instruction
Procedural task trainers to develop specific hands-on skills
Standardized patients
Innovative, state-of-the-art multimedia
Students select from various methods based on their learning styles to broaden assessment, communication, psychomotor and cognitive skills.  Replicating essential aspects of a clinical situation by using a blend of low and high technology simulations students may encounter helps students more readily comprehend and apply their skills. Students transfer the skills they developed in a safe and realistic learning environment into safe clinical practice.
CND learning experiences include key concepts centered on patient safety, communication, interdisciplinary collaboration, teamwork, cultural competence, informatics and evidence-based practice. Components of these concepts are integrated throughout the curriculum. In support of a rich learning environment and course objectives, the CND helps students:
Improve performance
Improve critical thinking
Increase confidence
Increase active learning
Increase competence
Increase critical analysis of performance
Decrease stress