60th Annual Harriet Cook Carter Lecture Will Focus on Health Inequities Costs
The leaders of the Deloitte Center for Health Solutions and Health Equity Institute will deliver the hybrid lecture on Wednesday, February 22 from 10-11:30 a.m. at the Duke University School of Nursing (DUSON).
Image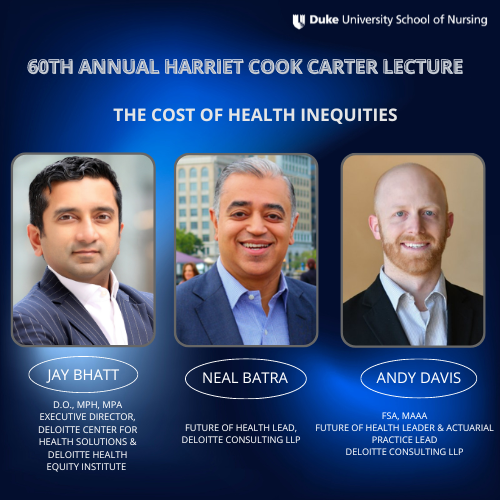 January 19, 2023
The focus of the lecture will be the growing and increasingly unsustainable human and financial costs that are widening health inequities in the United States. The program will be hosted in-person in the Christine Siegler Pearson Building, room 1014; and livestreamed via Zoom. Registration is required for both options and the event is free and open to the public.
The keynote speakers are Jay Bhatt, D.O., MPH, MPA, executive director, Deloitte Center for Health Solutions & Deloitte Health Equity Institute; Neal Batra, Future of Health (FoH) lead, Deloitte Consulting LLP; and Andy Davis, FSA, MAAA, future of health leader and Actuarial Practice lead, Deloitte Consulting LLP. The leading experts will address the need for healthcare transformation within the context of their 2022 study estimating the financial costs of health inequities, which if unaddressed, could reach $1 trillion or more per year by 2040.
Vincent Guilamo-Ramos, PhD, MPH, LCSW, RN, ANP-BC, PMHNP-BC, FAAN, DUSON dean, and vice-chancellor, nursing affairs, Duke University, said the worsening health outcomes in the U.S. disproportionately impact communities where access to and quality of available prevention and healthcare services are inadequate. "The impact of harmful social determinants of health continues to exacerbate chronic health inequities. It is an honor to host the Deloitte experts at Duke as we take bold new steps in advancing our work to mitigate harmful social determinants of health."
More than 155 million Americans are currently living with one or more chronic conditions—a number that is increasing and expected to exceed 170 million by 2030. Additionally, after four decades of increases, life expectancy has decreased by almost three years since 2019.
"Nurses are the boots on the ground that have the knowledge and expertise to lead models of care that can address health inequities and improve health outcomes."
Vincent Guilamo-Ramos
Dean
Ramos continued that what we are seeing today in the U.S. is definitely alarming, and yet predictable. "Nurses are the boots on the ground that have the knowledge and expertise to lead models of care that can address health inequities and improve health outcomes."
Lecture topics include the role of nursing in addressing health inequities and how new regulations, financing models, and technology can help expand healthcare access and reduce costs.
About the Speakers
Jay Bhatt, D.O., MPH, MPA, is a physician executive, internist, geriatrician, and public health innovator. As executive director of the Deloitte Center for Health Solutions (DCHS) and the Deloitte Health Equity Institute (DHEI), Dr. Bhatt directs the research and eminence agenda across the life sciences and health care industry while driving high impact collaborations to advance health equity. He is a prominent thought leader around the issues of health equity, health care transformation, and innovation. Passionate about patient care, Dr. Bhatt will continue practicing medicine at local community health centers in Chicago and Cook County while serving in his leadership role at Deloitte.
Prior to joining Deloitte, Dr. Bhatt was senior vice president and chief medical officer at the American Hospital Association. While there, in addition to his enterprise role, he served as president of the Health Research and Educational Trust and help lead the Institute for Diversity and Health Equity. His early work in health care involved practicing primary care at Erie Family Health Center, sitting on faculty at Northwestern Medicine, and serving as managing deputy commissioner and chief innovation officer for the Chicago Department of Public Health.
Dr. Bhatt earned a B.A. from the University of Chicago; Doctor of Osteopathic Medicine (D.O.) from Philadelphia College of Osteopathic Medicine; Master's in Public Health from the University of Illinois at Chicago; and a Master's in Public Administration from the Harvard Kennedy School of Government as a Zuckerman and Commonwealth Fund Minority Health Policy Fellow. He is board certified in Internal Medicine and Geriatrics.
He has published extensively, and his work has earned the attention of top media outlets seeking his expertise. He is recipient of many honors, including Crain's Chicago 40 Under 40, Harvard Kennedy School Alumni Award, a Presidential Leadership Scholar and an Aspen Institute Health Innovator Fellow.
Neal Batra, MBA, is a New York-based partner focused on Health Care and Life Sciences strategy.  He serves clients across the healthcare ecosystem on strategy challenges related to business model and operating model transformation.
He is a co-author of Deloitte's Future of Health point-of-view, which outlines the breakdown of the current industry structure and the emergence of a new healthcare ecosystem oriented around dynamic, new value drivers.  He leads the market-facing practice that helps clients apply the FoH frames and concepts to make critical strategic choices.
Also, Batra is a leader in Deloitte's Strategy & Analytics practice, as well as the firm's Health Equity and Climate efforts.  He has more than 20 years of experience advising leading healthcare organizations on issues related to digital transformation, growth & innovation, next-gen business models and business unit / enterprise strategy.
Batra holds his MBA from London Business School and a BBA from the College of William & Mary.
Andy Davis, FSA, MAAA, is a principal in Deloitte Consulting LLP's Health Care practice with more than 17 years of experience and is a Fellow of the Society of Actuaries. He has been active in the space of healthcare transformation in recent years, working as a leader through strategic decisions related to health insurance market entry, value-based care, innovative contracting between payers, providers, and life sciences companies.  He is one of the leaders of Deloitte's Future of Health perspective and the impact in 2040 on revenue.
He works across the healthcare landscape including work with national and regional health plans, including multi-state BCBS plans, hospitals and provider groups, integrated delivery systems, large pharmaceutical companies, MedTech, and PBMs. He has experience across Commercial, Medicare, and Medicaid.
Davis is known for bringing his perspective to the market in the areas around value- based care, future business models, and health equity.
About the Lecture
The Harriet Cook Carter Lecture is named in honor of Harriet Cook Carter, a nurse and an honorary member of the Duke University School of Nursing Alumni Association. The lecture series was designed to give recognition to nursing as an academic discipline within the university and as a profession within society; to stimulate ideas for improving nursing education, nursing service, and nursing research; and to stimulate interest, support, and ideas for improving health care and health education in society.