You are here
Brandon Receives 2018 Samuel DuBois Cook Society Award
Wednesday, February 21, 2018
Debra Brandon, PhD, RN, CNS, FAAN, associate professor at Duke University School of Nursing, recently received the 2018 Samuel DuBois Cook Society Award. This award recognizes individuals who reflect in their work and academic pursuit the objectives to which Dr. Cook dedicated his professional life—social justice, mentoring and seeking to improve relations among people of all backgrounds.
Samuel DuBois Cook Society awardees are selected for their commitment to equity, humanity and community, valued by Dr. Cook, above and beyond the scope of their work. Dr. Cook was Duke's first black and tenured faculty member and the first African American to hold a regular faculty appointment at any predominantly white college or university in the South. He also served as a member of the Duke Board of Trustees from 1981-1993.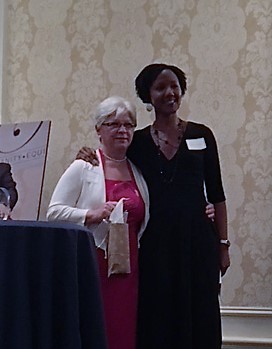 Brandon received her award on Feb. 20 at the annual dinner and awards ceremony at the Washington Duke Inn.
 "I am honored to receive the Samuel DuBois Cook Society Award," says Brandon. "It's a great honor to be recognized for my work ensuring our students of diverse backgrounds and opportunities have an inclusive voice in our community."  
Involved Faculty Profiles