Design Health Program Sparks Innovation in Nursing Students
Nursing students learn how to advocate for and develop creative solutions to clinical problems. #longread
Image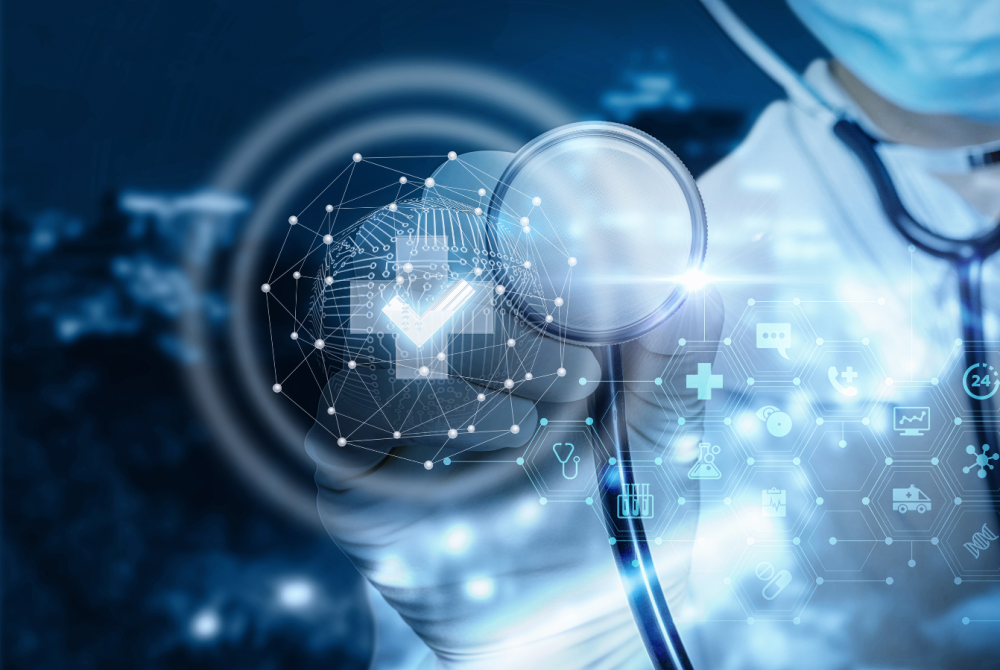 July 22, 2022
The perspective of nurses is vital to the operation of any health care setting. Duke University not only acknowledges that truth but also knows that through interprofessional partnerships — particularly ones that aren't always first associated with health care — the knowledge of nurses can be challenged and grow in ways that will only strengthen their roles in transforming the future of health care.  
Having the opportunity to grow in this way, through collaborating with students from the School of Medicine, Pratt School of Engineering, Fuqua School of Business, Trinity College of Arts & Sciences, and the School of Law, enticed Chelsea Schwitzerlett, ABSN'21, to apply for the Design Health program, an innovative program meant to create real-world solutions to pressing health care needs.  
"I love the idea of it being interdisciplinary and the fact that so many of the different colleges participate in it," she said. "I really like that Duke sees the bigger picture of these issues, that, even though we have different backgrounds, we all have unique perspectives that we can contribute to solving problems that face (underserved) populations." 
The Design Health program is broken down into three semesters: Discover, where students explore existing health care issues and how they are currently being addressed; Design, where students produce prototypes and other concepts to address the identified issues; and Deploy, where students finish the product by testing and refining it and investigating how it can be introduced into the market. 
"The Design Health Program provides unique opportunities for nurses to learn skills in health care innovation, receive mentorship from industry experts, and gain real-world experience in developing a product and business model that they can choose to take to market or use as a stepping stone in their own innovations," said Ryan J. Shaw, PhD, RN, associate professor and Health Innovation Lab director. 
Firsthand Experiences  
"The participation of the School of Nursing has been invaluable in our innovation efforts," said Eric Richardson, director of Duke Design Health and associate professor of the practice, Biomedical Engineering, Duke University. "As the largest group of professionals in health care, nurses provide a unique perspective on what needs to change – a perspective that has historically been overlooked by innovators. Many nurses also tend to have innovative yet practical ideas because of their intuition and insights developed through years of direct patient care." 
Schwitzerlett, now a clinical nurse with the Duke University Department of Surgery, and her team focused their Design Health project on improving home care of babies and children with hypoplastic left heart syndrome.  
"The biggest struggle that they have is mortality, when they get to the point of home monitoring," she said. "They do well, right now, coming through the surgeries themselves, but, when they're in the post-hospital, home setting, they struggle with keeping on weight through having proper nutrition, even having vital signs monitored, because so much of those responsibilities are put on the parents."  
The team researched existing education and technology and divided their findings into different focal areas. Even though Schwitzerlett only completed one semester, she was able to use her nursing education to teach certain skills to others while gaining new information from them. For example, she was able to explain how certain processes like shunting works and what a device would need to do in order to support that process. 
"Everyone was so valued for their individual input," she said. "This team really showed me how technology impacts health care, how we as nurses impact health care." 
Throughout the first two parts of the program, Pam Porter, MSN'20 and former ABSN clinical instructor, and her team addressed hypertension in under-resourced areas such as Kenya, where one of the team members was raised.   
In the under-resourced areas the team researched, they found that some of the population would have to miss a day's worth of paid work to travel to their provider, forcing the residents to choose between their paycheck and their health care. Early detection of hypertension is key, but how could these individuals learn they were at risk of the condition if they weren't able to visit a health care provider?  
To help alleviate this problem, the team came up with a patch that a person could wear to monitor their blood pressure. The patch would store the data for a set amount of time, in theory, giving the person time to access internet service and send the information to a doctor.  
The team came up with the basic design, obtained a provisional patent for it and won first place and $2000 in a Product Management and Development Association (PDMA) Carolinas competition. Porter majored in Health Informatics at Duke and works as a nursing informatics systems specialist for Duke HomeCare & Hospice; she is hopeful to one day complete the third semester of the program. 
Robert Stern, ABSN'19, cardiothoracic ICU nurse with Duke Health, joined the program in fall 2018 and completed all three semesters. His team progressed to the final stages of their project, filing intellectual property with Duke Health, meaning anyone seeking access to their project may request to do so. The project used a pneumatic tube system capsule inserts to reduce/prevent sample coagulation/damage during transport.  
"The Design Health program makes for a unique opportunity for students," he said. "There aren't really many nursing programs out there, where you go for nursing education and by the way, you can also be an innovator and can learn about the engineering processes and how to bring an idea to life. An important part of nursing is thinking how do we innovate and how do we create the future of health care, even more so or as equally as important as thinking about how we care for our patients on a daily basis." 
Program's Impact
The Design Health program influenced the School of Nursing graduates in how they approach their current roles in the Duke Health system.  
"The Design Health Program got me interested in health care innovation. With my training from the program, my goal is to inspire and mentor other nurses to become innovators," Porter said. "You don't have to know how to create software or hardware to move an idea forward. Duke has a lot of resources that can help us from idea conception, up to marketing including patenting. I hope to share this knowledge." 
For example, Porter noticed that some patients need several drainage devices attached to their wheelchair during transport. Dealing with the multiple drainage tubes coming from the drain collection systems could prove problematic in cases — albeit, rare — where a health care worker may need to quickly get the patient out of their wheelchair due to a medical emergency. Porter thought, what if there was a way to  create a product that could store those multiple drainage collection systems into one central holding area. That way the worker would be attaching and removing one central  wheelchair "caddy," instead of having to move multiple systems. 
Through her experiences with the Design Health program, Porter recalled she could pitch ideas to first-semester Pratt students. They were interested and collaborated with Porter to invent such a  product, working on the design for two semesters. The engineering students who continued in the spring semester won third place in the PDMA contest and $250. 
"Innovation is kind of like art. Everybody looks at a painting, and they see something completely different," Stern said.  "Part of what makes the Design Health program so unique is that it brings perspectives from so many different schools at Duke together. Your teammates analyze your idea from angles you would have never thought of, or they look at something and say, well, that's really good, but what if it also did this?" 
One of the projects he's concepted as a nurse involved him creating an application that updated the pen-and-paper method of Duke Heart Center's joint commission audit process for central line-associated infections and catheter-associated infections. He also applied the knowledge he gained from the Design Health program toward another project that tested integrating Amazon Alexa into the clinical setting. 
"We made it so that the patient would ideally be able to control their environment a little bit better, so anything from the standard smart home things, like temperature or lighting, to more health integrated things, like calling for your nurse or reorienting a patient that might be a little bit disoriented, so where the device could tell the patient, the time is 1 p.m., and you're at Duke Hospital," he said.   
The project was tested in the Health Innovation Lab, located in the School of Nursing to advance the role of nursing in the transformation of health care innovation. Directly adjacent to Duke University Hospital and clinics, the lab offers creators a 20,000+ square-foot state of the art laboratory, classroom and simulation space. 
Schwitzerlett thinks knowing they already have the valuable insight needed to prompt solutions to daily and broader issues will keep nurses motivated and feeling empowered. They just need the right external support and environment to come forth and invoke change.  
"I think a lot of people get mired down in the day-to-day of taking care of patients and making things work, that they get a little uninspired," she said. "When you take a step back and see that there's so much more out there and so much more that's continuing to be developed, that in itself is inspiring and can help inspire nurses wanting to contribute their ideas, giving them more agency and more influence over the care they provide."