Duke's Nurse-Led Models of Health Care Transform Delivery and Reduce Health Inequities
This is the first of a three-part series on nurse-led models of care that are making a difference in health outcomes for real people, families and communities. Introduced by Duke Nursing magazine. #longread
Image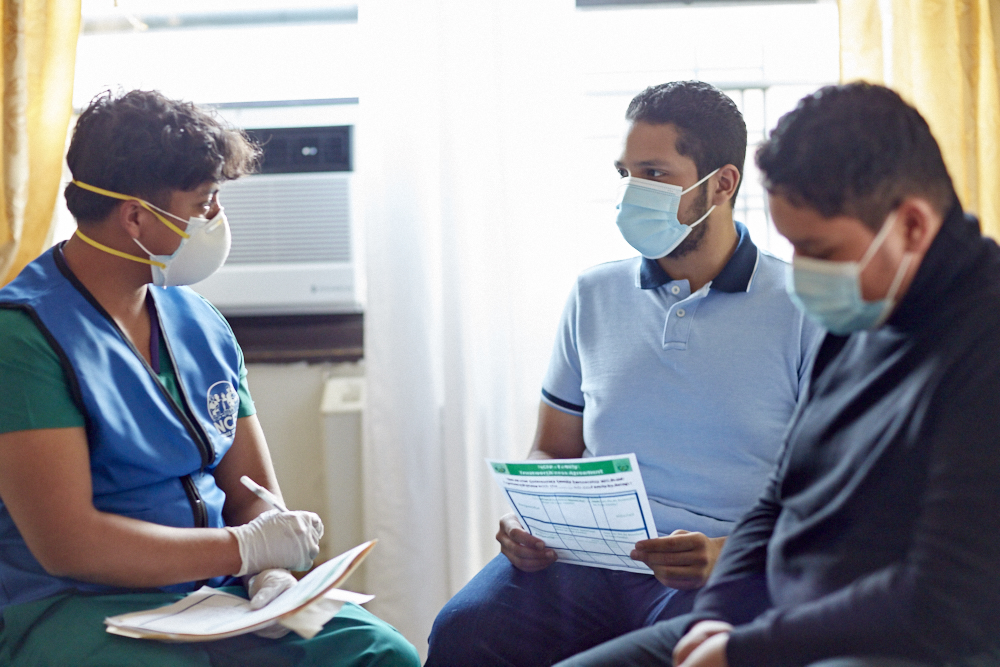 April 12, 2022
Duke Carries Out Model Through Innovative Programs  
From community centers and clinics to schools, hospitals, and homes, every day around the world, millions of nurses show up to lead, care, educate, research, and innovate. In just the U.S. alone, nurses comprise more than four million in the health care workforce. In addition to their span of reach, nurses bring clinical, scientific, and relational expertise to care — and have been deemed the most trusted profession for 20 consecutive years. All of these factors, plus this period of tremendous social change, put nurses in position to drive changes that transform health care and reduce health inequities.  
"Across the Duke University School of Nursing, there are compelling and innovative models in which nurses are designing health care interventions and solutions that meet today's greatest health challenges," says Vincent Guilamo-Ramos, MSN'17, PhD, MPH, LCSW, RN, ANP-BC, PMHNP-BC, FAAN, dean, Duke School of Nursing, vice chancellor of nursing affairs, Duke University, and director, Center for Latino Adolescent and Family Health, home to the Nurse-Community-Family Partnership Program. "These programs and projects are designed to reduce health inequity and create opportunities for students to learn about community health and policy across health systems and delivery models."  
Three projects at Duke School of Nursing that are led by nurses and are creating efficacious, scalable, and sustainable models of care include:   
An HIV prevention program implemented as a hair salon-based intervention. The program turns to salons and barbershops — often a safe space for intimate conversations — to help raise HIV prevention awareness and uptake of PreP or other HIV prevention services among Black women in the U.S. South.   
A nurse-community-family partnership to mitigate the spread of COVID-19 in households, initiated as a randomized control trial in socioeconomically disadvantaged communities in the South Bronx. A nurse and community health worker team regularly meets with families in their homes to discuss COVID-19 prevention and help to reduce household transmission and COVID-related morbidity and mortality.  
A project supporting caregivers of an aging U.S. population, providing support, training, education, and technological tools to caregivers. Studies from this work have helped influence changes in the health system, leading to better home care, lower hospital readmissions, and greater patient satisfaction.  
"These projects and other nurse-led models of care at Duke are helping to set a new standard for health care delivery," says Ramos. "Our models work and often lead to improved health outcomes that are difficult to achieve with more traditional approaches to health care delivery." 
Centering Family Care in the Home 
While much of the U.S. focused on the work of nurses delivering expert care to COVID patients at New York's over-stretched hospitals in the earliest stages of the pandemic, a cadre of nurses in the city were working outside the care setting to battle community transmission. The novel coronavirus was disproportionately impacting communities of color, especially Latino and African American populations in the South Bronx.  
"Focusing on families in their homes represents an important public health strategy that has largely been omitted in the national response to COVID mitigation."
Vincent Guilamo-Ramos
Dean, Duke School of Nursing
Vice Chancellor for Nursing Affairs, Duke University
A seldom recognized fact is that secondary attack rates, or chances of passing the virus to another individual, are much greater within households as compared to community spread. "While the guidance from the city, the state, and the country was, 'stay home', for families in communities with high rates of coronavirus, there was a potential higher risk of getting COVID from an infected member of your own home," Ramos says. "Many people in these neighborhoods are essential workers living in multi-generational settings and were unable to afford to isolate."  
Ramos and nurse and epidemiologist Holly Hagan serve jointly as principal investigators on the project; Hagan also has appointments in the Departments of Social Behavioral Sciences and Epidemiology at NYU School of Global Public Health. Together, they developed a plan modeled on their prior community health interventions: develop COVID guidance for families and send nurses and community health workers into homes to review family plans and deliver care.  
The goals of Ramos and Hagan's nurse-led initiative were straightforward: reduce the risk of getting and spreading COVID-19 at home and prevent people from seeking care at the city's overwhelmed ERs when they could, instead, obtain necessary care at home and through alternative paths identified through the project.    
To achieve those goals, Ramos and Hagan designed a model program to reduce household transmission involving nurses, community health workers who are also members of the community, and local families themselves. The elements of the program were developed for and by the community and focus on those living in public housing and apartments with families of multiple generations, many of whom have co-occurring health issues independent of COVID-19.    
The Nurse-Community-Family Partnership study is part of the NIH's Rapid Acceleration of Diagnostics in Underserved Communities initiative. A randomized controlled trial, it evaluates the efficacy of the model to increase COVID-19 testing, vaccination, and mitigation behaviors (such as mask-wearing, social distancing, and handwashing) for families in socioeconomically disadvantaged communities.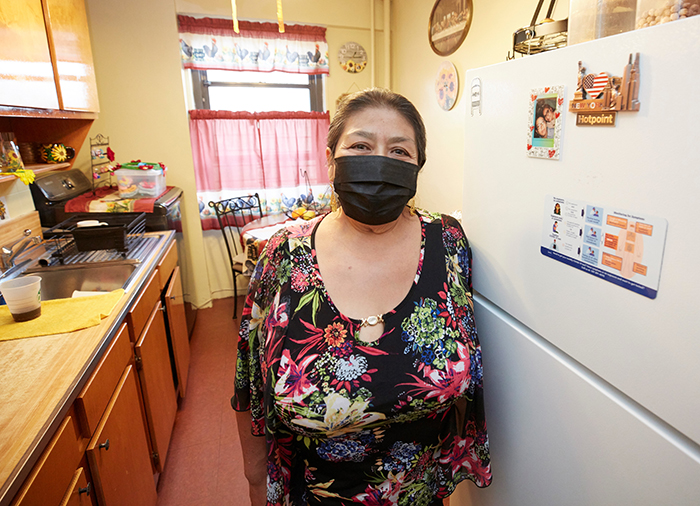 Elena is among families collaborating with the Nurse-Community-Family Partnership.
Family-Centered, Reality-Based Care and Services  
Nurses and community health workers were trained to work with families to develop a personalized family plan to reduce risk, identify exposure, and keep members of the family out of the ER and hospitals. The approach meets community members' needs from prevention and testing to diagnosis and treatment with:  
Education & Information. Plain-language educational resources outline exposure risks and the signs and symptoms of COVID. Nurses share this information, provide answers and guidance, and help family members develop a plan to limit transmission within the household. The program also runs a hotline families can call when they suspect an exposure or have questions.  
Tests, Supplies & Vaccines. Nurses coordinate free, regular at-home testing for every family member and provide rapid point-of-care testing for people with symptoms or a significant exposure. The program furnishes free PPE and thermometers, and – in collaboration with the New York City Department of Health – offers vaccination to every eligible person at home with two doses and a booster.  
Immediate Intervention. When somebody tests positive, the nurses help the family enact their personalized plan to reduce the chances of COVID transmission to other members of the household. They monitor every single family member for seven days after a positive infection to make sure that other people weren't getting sick too.  
Emotional Support & Chronic Care. The teams also helped families cope with psychological distress from watching Delta and then Omicron affect their communities. People living with chronic illness were also unable or afraid to access regular care. The team provided health education and reinforced existing chronic disease care management treatment plans.  
Building a Path to Better Outcomes  
Because the Nurse-Community-Family Partnership (NCFP) puts families at the center of care, it enables nurses to create plans tailored to each household's specific circumstances, tackling social determinants of health that often contribute to worse health outcomes, including:  
Health Care Access. Family members didn't have to miss work, arrange transportation or pay for childcare to access testing services because nurses came to the home.   
Economic Stability. In-home care plus free vaccines, PPE, and other items removed economic barriers to care and didn't create a financial burden for families.  
Community Context. Since the program was created with people of the community, recommendations were realistic and actionable, which increases engagement and adoption.
The NCFP also provides a trusted resource for people who, Ramos says, "may be feeling a lot of mistrust in health and public health institutions that have been inconsistent in communicating about COVID. Families are wondering, what does this new variant mean, what about the new oral anti-viral? People are relieved to have a nurse who shows up at their door and explain it to them."
The program is a model for future nurse-led community health initiatives.
"We developed relationships with the family members, which enabled us to engage each member of the household in the collective goal of keeping themselves and their overall families safe. Focusing on families in their homes represents an important public health strategy that has largely been omitted in the national response to COVID mitigation," Ramos says. "Nurses go to the homes, put on their PPE, and work directly with the families. Importantly, we kept people from going to the hospital who didn't need to go, avoiding more of a surge on our overburdened health care system. That's the power of nurse-led models of care."
---
Related Content