December 22, 2021
Image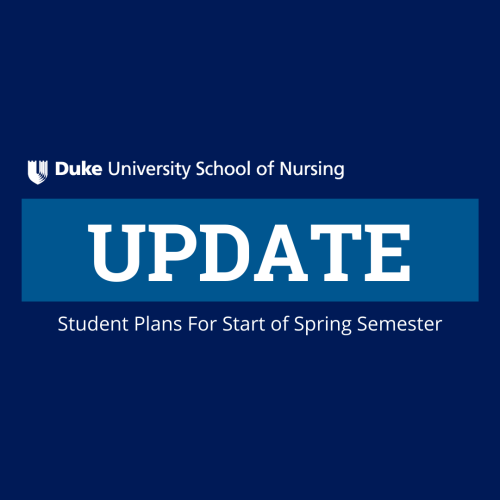 Editor's Note: The following message was sent to all DUSON students from Dean Vincent Guilamo-Ramos on Wednesday, December 22.
Dear Duke University School of Nursing Students,
This message is in follow-up to information Duke University shared earlier today, Wednesday, December 22, about the start of the Spring 2022 semester. The university message addresses the start to the semester, COVID-19 testing requirements, booster shot requirements, and remote activity during the week of January 3 to7.
COVID-19 TESTING AND BOOSTER SHOT REQUIREMENTS
It is very important that students follow the testing and booster shot requirements noted in the university message. There are three steps that must be completed by students prior to attending an on- campus class or lab or reporting to a clinical rotation:
Obtain a negative PCR test administered by a certified provider within the 48 hours prior to returning to campus.
Complete entry (surveillance) testing at a Duke testing location. Entry (surveillance) testing will be available beginning Monday, January 3, at locations noted on the Duke COVID information website.
Wait to attend school activities until you receive confirmation from Duke that your Duke-administered entry (surveillance) test was negative.
Please read the full guidance about testing and booster shot requirements in the university message.
REMOTE AND IN-PERSON ACTIVITY, JANUARY 3-7, 2022
Consistent with university decisions, all Duke University School of Nursing didactic classes will be held remotely through Friday, January 7. While classes will be remote January 3 to 7, students who are traveling to Durham should continue with plans to return to the area during or before the week of January 3 in order to complete testing requirements before any campus activities begin for Spring 2022 and before on-campus didactic classes resume in person on Monday, January 10. A failure to do so may prevent students from participating in course work.
Orientations that were previously planned to be in person will be delivered virtually. Student Services will share more information with affected students by email as soon as possible.
Clinicals will continue as scheduled, beginning Wednesday, January 5, if Duke's COVID testing requirements are met and students are notified that the sequestration is lifted per the university requirements.
Center for Nursing Discovery (CND) labs previously scheduled for Tuesday, January 4, are being rescheduled. Students should be prepared to attend labs beginning Wednesday, January 5. Students affected by any changes will be contacted separately by program offices.
PROGRAM-SPECIFIC INFORMATION
Students should remain alert to email, as programs will be distributing additional program-specific information within the next business day.
BUILDING ACCESS RESTRICTIONS
On Friday, December 17, the school communicated to current students that there would be building access available during the holidays. Given new university guidance, this access is restricted immediately, effective today, December 22. Students will gain badge access to DUSON buildings when they have completed the three required steps listed above in the COVID-19 Testing and Booster Shot Requirements section and their negative entry (surveillance) test results have been reported to the school.
ADDITIONAL INFORMATION
Duke and Durham County requirements for indoor masking in all classrooms and public spaces remain in effect until further notice. General COVID protocols can be found on the school website.
I know this continues to be a challenging time and I want to thank you for your continued flexibility, patience, and resilience. Please continue to monitor your email for updates from the university and the school.
Sincerely,
Vincent Guilamo-Ramos
Dean, Duke University School of Nursing
Vice Chancellor of Nursing Affairs, Duke University