August 14, 2020
Image
DUSON recently received a HRSA award of approximately $1.2 million to continue offering the Nurse Faculty Loan Program (NFLP) for another year.
The program is to support eligible DNP students and MSN students majoring in Nursing Education who are committed to becoming a nurse faculty member in an accredited school of nursing. After the student finishes up to four years of full-time employment as a nurse faculty member, they can apply to have up to 85 percent of their loan, including interest, forgiven.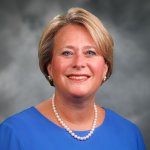 "There is a shortage of nursing faculty, and this is us doing our part to help close that gap. It's very important to the future of nursing that we continue this program," said Valerie Howard, EdD, MSN, RN, ANEF, CNE, FAAN, associate dean for academic affairs, professor and NFLP program director for DUSON.
The funding request for this year was increased in order to serve more students, according to Howard. Last year's HRSA award for the NFLP was $435,007.
The goal with this year's funding is to support 38 students, eight of whom are returning students.
Once the DUSON Financial Aid Office helps select the eligible students, the Duke Student Loan Office administers the loans, according to Wendy Conklin, financial management analyst. The recipient can then apply their funds towards such expenses as tuition, fees, books and lab expenses.
DUSON has participated in the NFLP for the last 16 years, according to Howard. In that time, 246 students have benefited from the program.
For more information on the NFLP, visit the Personal Finance @ Duke website.