Inaugural Cohort of School of Nursing-Trinity College Program Earns Duke Nursing Degrees
The program offers a seamless transition between the two schools, allowing students to earn their bachelor's degrees from Trinity and the School of Nursing in five years.
Image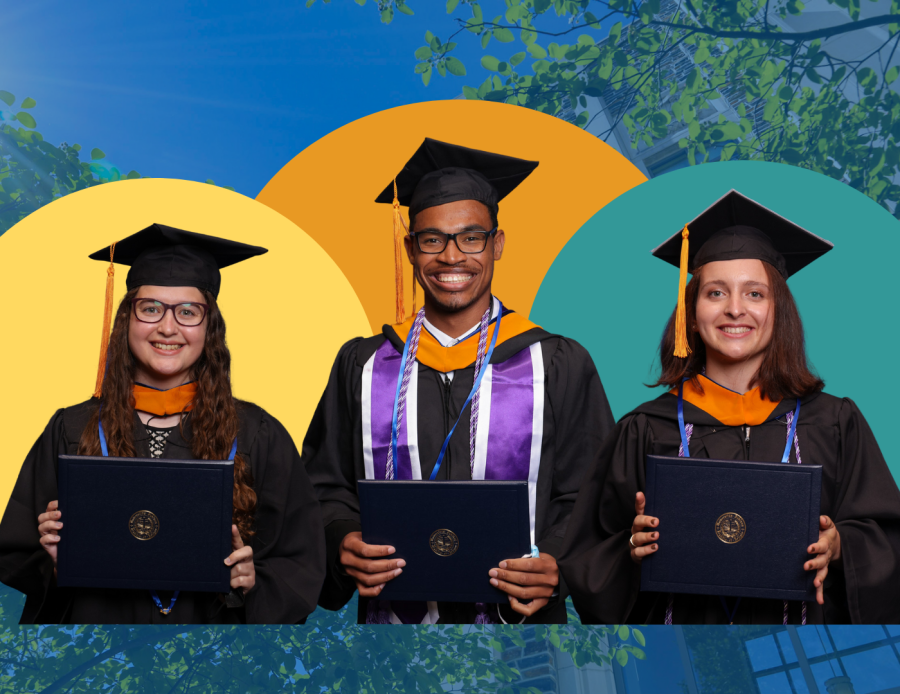 May 19, 2022
On Sunday, May 8, 2022, 223 students graduated from the Duke University School of Nursing. Among them were Accelerated Bachelor of Science in Nursing (ABSN) students Evelyn Garcia, Jordan Hepburn, and Gabrielle Zegers — the first cohort of the School of Nursing-Trinity College Curriculum Bridge program. 
This program is designed for students in Duke Trinity College of Arts & Sciences to seamlessly transition into the ABSN Program during their senior year in Trinity. The process is designed to start when the Trinity College student is in their sophomore year to help provide advisement and support. The students, once accepted, attend Duke University School of Nursing in the fall and spring semesters of their senior year. Once graduated from Trinity College, they enter into the nursing program full-time in the summer. 
"I could finish school faster than if I applied to another post-degree program, and I could study nursing in a more condensed time frame," said Hepburn, who studied philosophy in Trinity. "I was excited to get into the profession soon, so the program was ideal for me." 
For Zegers, who studied Cultural Anthropology in Trinity, she felt the bridge program would serve as the ideal intersection of educational paths to move her toward her career goals. 
"Cultural anthropology and nursing proved to be a perfect combination of what I was looking for in a college experience and vocational preparation, where I learned how culture and worldview shape the lives and health of people worldwide while gaining the practical skills of a nurse to assist people in attaining the best state of wellbeing they possibly can," she said. 
Brigit M. Carter, PhD, MSN, RN, CCRN, FAAN, associate dean for diversity, equity, and inclusion and professor, serves as ABSN faculty advisor for the bridge program. She spearheaded the creation of this program to provide an opportunity for Duke students who want to become nurses, allowing them to earn their bachelor's degree at Duke and then their ABSN degree within the span of five years.   
"Developing a pathway to the School of Nursing to support students within our own university was an important part of addressing our mission in developing the next generation of clinical nurses and clinical nurse leaders," Carter said. "Students choose Duke because they want to improve health and well-being for communities they support. Their education in Trinity lays the groundwork for these students to become forward-thinking leaders, researchers, and innovators. We build on that foundation at the School of Nursing to prepare students to be practice-ready and become nursing leaders."  
Zegers acknowledged Carter's role in supporting students. "Dr. Carter was the stepping stone for my friends and me to enter the bridge program and has been checking in with us and supporting us throughout it," she said. 
Influential Faculty, Instructors 
Garcia, who a earned a Bachelor of Arts in Biology, a Certificate in Markets and Management Studies, and a Minor in Environmental Sciences and Policy from Trinity, will be the first health care professional in her family. 
"I wanted to become a nurse because of the impact it will allow me to make on others every day and because of my strong interest in service," she said. "Nursing allows me to see the direct impact of my care, and, as a nurse, I hope to incorporate empathy in my patients' care and use the skillset I gained at Duke School of Nursing to serve my community back in Miami." 
Assistant Professors Allen Cadavero, PhD, RN, CCRN, and Jill Brennan-Cook, DNP, RN, CNE, were among those who inspired Garcia throughout her Duke nursing education. Cadavero taught several of her courses including "Health Assessment and Foundations for Nursing Practice Across the Lifespan" and "Nursing Care of Patients with Complex Health Problems," and Brennan-Cook served as her advisor and faculty member for courses like "Gerontological Nursing: Caring for Older Adults and their Families." 
"Every class I took at the School of Nursing continued to empower me to become a well-rounded nurse," she said. "The enthusiasm the professor conveyed for their subject matter always inspired me to learn more and even made me consider pursuing the specialty being taught. 
"I highly value the emphasis on nurse leadership, advocacy, and evidence-based care in the school's curriculum and plan on incorporating those elements in my day-to-day practice." 
Zegers also spoke of Brennan-Cook's impact, as well as the influence of numerous other faculty and instructors.  
"Dr. Brennan-Cook has also been quite supportive of me, and so many other students, in their development as nurses, and her compassion toward students and vulnerable patient populations has inspired me to look for opportunities to serve my clients and coworkers in my workplace," she said. "Vickey Keathley, MSN, RN, clinical nurse educator, helped me learn to advocate for myself in clinical settings, learn valuable professional skills, gain the best learning experience from clinicals, and think through how we as nurses can best help our patients. Instructors Sarah Moon and Jacqueline Scott and Clinical Nurse Educator Gillian Jackson, MSN, RN, also have worked with me patiently, yet challenged me, in clinical settings."  
Moon and Christina Li, BSN, RN, clinical instructor, were two individuals that affected Hepburn while he was enrolled in the School of Nursing.  
"Sarah is an intelligent and talented educator, getting me to think about patient care in a way that I struggled with throughout my first two semesters at nursing school. She was also principled, passionate, and empathetic to her and our patients — she influenced me so much because she is an excellent role model of a good, intelligent nurse," he said. "Christina Li made me feel incredibly comfortable learning about the hospital setting as a first-semester nursing student who had never worked in a hospital before. She pushed me past my comfort zone in ways that I needed, and she was always honest about places for improvement while still encouraging my good practices." 
Takeaways, Future Aspirations 
Having come into the program with no prior nursing experience, Hepburn and Garcia said their time at Duke School of Nursing exposed them to the different directions their career could take, as the school promotes several nursing careers to its students such as, in addition to traditional nursing roles, nursing researchers, educators, and scientists. In addition, the school stressed the key attributes of nursing, such as patient advocacy and leadership.  
"I truly didn't realize the impact nurses can have on patient care until my time here," Garcia said.  "I look forward to the many opportunities the future will hold for me and am thankful that I was able to participate in this program." 
More information on the School of Nursing-Trinity Bridge program, including its curriculum, timeline, and enrollment process, can be found on the school's ABSN web page.