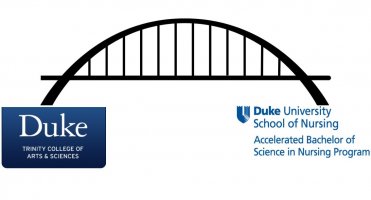 The Duke University School of Nursing (DUSON) Accelerated Bachelor of Science in Nursing (ABSN) curriculum bridge from Duke University Trinity College of Arts and Sciences is a 4+1 program that allows Trinity College students to transition into the DUSON ABSN program during their senior year in Trinity College. Students interested in the DUSON-Trinity Curriculum Bridge should contact their Trinity advisors during their freshman or sophomore year (see Table 1).
Table 1. Program Timeline
Trinity

Fall

Spring

Summer

Freshman

 

 

 

Sophomore

 

DUSON: Create goals and matriculation plan with mentor, coordinator, and advisor

DUSON: Seminar to work with faculty mentors and prepare components of application

Junior

DUSON: Submit ABSN application; continue mentor guidance and support

DUSON: Monitor progress of goals and evaluate effectiveness of mentorships

DUSON: One-week seminar to focus on professional role identity

Senior

TRINITY: enroll in 2.5-3.0 credits

DUSON: Integrate into DUSON; enroll in N392 (2.0) and N389 (4.0)*

TRINITY: enroll in 1.5 to 2.0 credits; graduate with AB/BS

DUSON: enroll in N388 (6.0) and N393 (2.0)**

DUSON: Enter second semester of ABSN full time curriculum

Fifth year

 

DUSON: Graduate with BSN; take NCLEX

 
Who can apply to the DUSON-TRINITY Curriculum Bridge?
Any interested undergraduate who meets the criteria for application can apply. The faculty mentors at both schools, along with the student, will review the requirements for the Trinity degree and the DUSON ABSN program to determine if the student meets the requirements for the application into the DUSON ABSN program. All applicants must go through the same application process and be accepted into the DUSON ABSN program. It is recommended that the students make their intent known as soon as possible to ensure all requirements for admission are completed. Applicants who have not gone through the advisor may still apply but should contact the advisor at DUSON and Trinity as soon as their intent is known. Once a student begins the Spring semester of Junior year at Trinity, the students must apply to the DUSON ABSN program through regular methods.
The DUSON ABSN application will be completed in the Fall semester of the Trinity student's Junior year. Applicants will receive notification of acceptance in March (Spring semester).
International students should contact International Services regarding requirements for visa extensions.
Curriculum Integration
Trinity students accepted into the DUSON ABSN program will integrate into the DUSON ABSN program in Fall of their senior year. The DUSON ABSN curriculum faculty advisor, Dr. Brigit Carter (brigit.carter@duke.edu), will communicate with the Trinity College advisor to ensure students are within course loads. The Bursars/Financial Aid Office will also be contacted to ensure students are within expected course loads to remain eligible for financial aid. In addition to courses required by Trinity College, students will take courses as shown in Table 4.
Students will take two nursing courses in the Fall and two nursing courses in the Spring of the senior year at Trinity College. Permission numbers from course faculty or the registrar are required. The DUSON ABSN Curriculum Faculty Advisor will assist in obtaining permission numbers. In the summer semester, immediately following graduation students will enter their 2nd semester of the DUSON ABSN program. The student will then be full time in the DUSON ABSN program with an expected graduation date of Spring the following year.
Trinity students who are performing clinical rotations in N388 or N389 to the Duke Hospital facilities whenever possible unless transportation to an outside facility.
Table 4. Curricular Integration Plan
Trinity Calendar

DUSON Courses

Credit/Units

Class Schedule/
Total Hours

Trinity
Senior year
Fall

N389: Wellness/Health Promotion across the Lifespan

DUSON: 4 credits
(3.5 didactic, 0.5 clinical)

Trinity: 1 course credit

Friday
8:30 a.m. - 10:30 p.m.


Clinical:
Friday afternoons

N392: Professional Nursing Past, Present and Future

DUSON: 2 credits

Trinity: 1 course credit

Wednesday
8:30 a.m. - 10:00 a.m.

Trinity
Senior year
Spring

N388: Health Assessment and Foundations for Nursing Practice Across the Lifespan

DUSON: 6 credits
(3.5 didactic, 2.5 clinical)

Trinity: 1 course credit

Monday
10:30 a.m. - 12:20 p.m.

Wednesday
10:30 a.m. - 12:20 p.m.

Clinical:
Tuesday/Thursday

N393: Physiologic Homeostasis and Principles of Pharmacology

DUSON: 2 credits

Trinity: 1 course credit

Monday
8:00 a.m. - 10:15 a.m.
DUSON ABSN Faculty Advisor and Peer Mentor Program
The DUSON-Trinity Curriculum Bridge faculty advisor is Dr. Brigit Carter and the faculty advisor will maintain close contact with the student and Trinity College Pre-Health Advisor. The mentoring/advising will begin as soon as a student identifies as potential participant. The mentor relationship will assist the student in understanding the professional role of the nurse and the assist the student with integration into the nursing curriculum. The mentor will maintain close contact with the student while transitioning into the full-time DUSON ABSN program.
The DUSON Health Equity Academy II (HEA II) Program will provide a peer mentor. This mentor relationship will assist the student with integration and socialization into nursing and the DUSON ABSN Program.
Prerequisites
Prerequisites must be completed prior to beginning the DUSON ABSN courses in the Fall semester of the Senior Year.
Human Anatomy and Physiology 6-8 credits

Microbiology (lab recommended) 3-4 credits

Basic Statistics 3 credits

Human Growth and Development or Developmental Psychology 3 credits

Undergraduate course work in Nutrition is not required but strongly recommended.
Financial Considerations and Advising
Financial aid advising will occur from both DUSON and Trinity financial aid offices. Collaboration between the financial aid offices is crucial to ensure the students understanding of the Bursars bill once they transition into the DUSON ABSN program. A student's financial aid eligibility will be determined by the Karsh Office of Undergraduate Financial Support until graduation from Trinity. Upon graduation, the student will be a full time ABSN student, with financial aid eligibility determined by the DUSON Financial Aid office. There are no anticipated additional costs related to the Bridge program. There is an expected benefit to these students that they will have a full year of financial aid available to them once the fully matriculated into the DUSON ABSN program.
DUSON-Trinity Curriculum Bridge students will registrar for the required nursing courses via DukeHub in the second window designated for seniors. Permission numbers will be issued to each student prior to registration for any SON course, to allow for a smooth enrollment process. Registration and drop/add are available to all students with no outstanding financial or other obligations to the university. Students with outstanding financial obligations must arrange with the bursar's office before registering or attempting to drop/add. Those students who have not paid billed fees owed to, or fines imposed by, the university (such as laboratory fees, library fines, and parking fines) will not be permitted to register until the fees and fines have been paid, even if the student has paid tuition for the upcoming term.
Learn more about the program from staff and students.