May 11, 2021
Image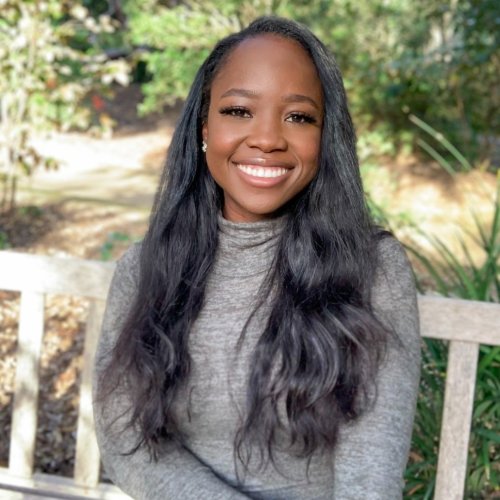 Whitehurst was selected as member of the inaugural GradEngage Fellowship.
In the midst of her first semester as a MSN student, Unique Whitehurst, ABSN'20, concluded her time as part of the inaugural cohort of the GradEngage Fellowship, presented by The Kenan Institute for Ethics' The Purpose Project.
The cohort, announced in December, comprised of students from different departments and professional schools throughout Duke. Throughout winter break and the spring semester, the students were tasked with strengthening collaborations with their chosen North Carolina community or organization.
"I am very excited to have been a fellow in this inaugural cohort," Whitehurst said. "This fellowship emphasizes investing in the local Durham and surrounding communities, which is a component that makes it unique."
Whitehurst applied her fellowship toward bolstering her existing Bass Connections project: "Closing the Gap on Health Disparities and Treatment Outcomes in Hypertension." For this project, she and a team are collaborating with Lincoln Community Health Center (LCHC), a Community Health Improvement Partnership Program (D-CHIPP) partner, and the American Heart Association to create and implement interventions aimed at relieving the burdens of hypertension in African Americans in Durham County. Whitehurst serves as a graduate student leader on the team.
Originally from Long Beach, California, Whitehurst hadn't yet relocated to Durham when she first found out about LCHC. It was the summer of 2019, and she, as an incoming Accelerated Bachelor of Science in Nursing (ABSN) student, visited the center as part of her participation in The Health Equity Academy II program, overseen by the School's Office of Diversity, Equity and Inclusion.
"It was during this unique experience that I became aware of four things: 1) Life experiences for all people, especially minorities, were drastically different here than in my West Coast city. 2) Social determinants of health contribute significantly to health disparities. 3) Equal is not synonymous with equitable. 4) I wanted to be involved with LCHC and make a positive impact on the community that it served," Whitehurst wrote in her "Bridging the Gap: A New Partnership With Historical Ties" blog entry as part of her fellowship.
A few months after that visit, her role with the Bass Connections project commenced. However, there were some limitations in how far their allotted funding could get them toward their goals. When Whitehurst discovered the GradEngage Fellowship, she viewed it as the ideal opportunity to enhance the quality of the team's improvement interventions.
"There is a significant amount of thought that goes into developing these interventions, including considering social determinants of health, patient engagement, health literacy, etc.," she said. "One of the biggest difficulties that low-cost community health centers face is receiving adequate funding to provide for the needs of their patient population."
Because of the fellowship, Whitehurst, as an example, could not only continue to provide health education on recommended dietary choices for hypertension relief but could also supply gift cards to grocery stores.
"By doing this, I am addressing social determinants of health that serve as barriers to obtaining an optimal health status and increasing the likelihood that positive behavior changes will be made," she said. "Obtaining results and data that indicate that the interventions have been effective provide a huge sense of accomplishment for myself and for this disadvantaged community. With the help of the GradEngage fellowship, our options for interventions were expanded."
Each fellow had to log 100 hours and also blog about their experiences and what they learned. You can read Whitehurst's entries on The Kenan Institute's website.
"During this project, I struggled with maintaining communication with patients because of their financial inability to pay their phone bills. I struggled with overwhelming emotions as I realized how complex my patient's needs were and how limited I was with resources that I could offer. I faced losing multiple patients to death," Whitehurst wrote in her final entry, "Bridging the Gap: The End of the Beginning."
"What I gained from these challenges, however, is the drive to be more consistent. I was constantly reminded of the reasons for my purpose and why it's so significant. I was encouraged to view each failed attempt as the end of something that was just an introduction, something that created space for more progress and success, the end of what was only the beginning."
Whitehurst will be continuing her work with the Bass Connections project through the summer.
The GradEngage Fellowship is the second The Purpose Project program Whitehurst has been accepted to. She was also part of the first cohort of the program's The Race and the Professions Fellowship along with PhD student Amnazo Muhirwa.
The Purpose Project is a multi-year, campus-wide initiative hosted by The Kenan Institute for Ethics in collaboration with the Divinity School and the Office of Undergraduate Education and is funded by a Duke Endowment grant.
Whitehurst is in the Psychiatric Mental Health Nurse Practitioner MSN Program and a current member of the American Psychiatric Nurses Association. During her time as an ABSN student, she became an executive board member of Active Minds and a Sigma Theta Tau International Honor Society member.