October 26, 2020
Image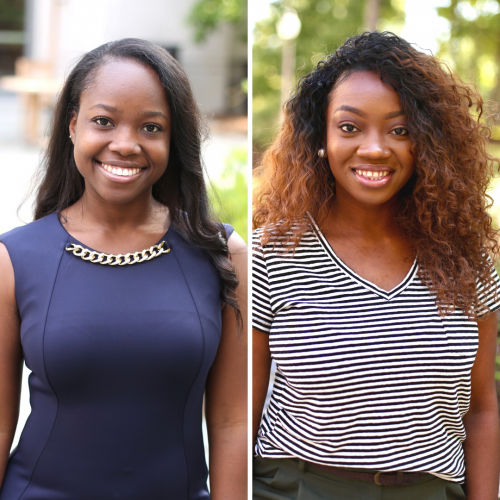 Whitehurst, Muhirwa Accepted to New Race and the Professions Fellowship
ABSN student Unique Whitehurst and PhD student Amnazo Muhirwa are among the 28 first fellows of the Purpose Project at Duke's new Race and the Professions Fellowship.
The first cohort was selected from more than 200 graduate and professional students who applied.
The Purpose Project is a multi-year, campus-wide initiative hosted by the Kenan Institute for Ethics in collaboration with the Divinity School and the Office of Undergraduate Education and is funded by a Duke Endowment grant.
The Race and the Professions Fellowship is a year-long program that will explore the challenges of racial inequities and the work of antiracism in the professions, the broader community, and the world. This first cohort represents eight schools, eight Trinity College of Arts & Sciences departments, and three interdisciplinary programs.
Whitehurst was looking for a platform that would allow her to act as an advocate for equity when she learned of the fellowship.
"I felt that this fellowship was the perfect opportunity for me," she said. "I appreciate the effort on Duke's part to take a step toward creating change in regard to the racism that is rooted in all structural systems in this country. I am also happy to represent the nursing profession and to contribute the perspective of a health care professional."
The fellows will be able to engage with scholars, activists, artists and practitioners who are working on issues regarding race.
"I am looking forward to the knowledge that will be gained and the innovation that will emerge from a group of scholars dedicated to continuously pushing the movement of anti-racism forward," Muhirwa said. "I do not believe eradicating racism will be accomplished through complacency. It will take active intentionality to uproot the toxicity that has been planted across the nation.
The events of the past six months in our nation has shown that it is not enough to simply claim diversity and inclusion within our respective professions if we fail to uphold and support this mission time after time."
Whitehurst is in her last semester as an ABSN student and is starting with the Psychiatric Mental Health Nurse Practitioners (PMHNP) MSN program in the spring.
"I am very passionate about meeting the psychiatric and mental health needs of underserved communities," she said. "Significant things that initially stood out to me about the School's PMHNP program were the acknowledgement of the complexity of mentally ill patients secondary to various comorbidities and the assurance that I would receive training in telehealth."
The relationship she also struck early on with Sean P. Convoy, DNP, PMHNP-BC, assistant professor and PMHNP program lead faculty, helped reinforce her decision.
"I then met and had a conversation with Dr. Convoy while I was in the first semester of the ABSN program, and I immediately recognized him as a mentor that I wanted to have," she said. "I felt extremely supported and inspired by him, and I wasn't even in his program yet."
Whitehurst is also a 2019 Health Equity Academy II Scholar, a program through which scholars work to develop an enhanced understanding of social determinants of health by exploring health access, health disparities and health equity.
Muhirwa is part of the 2018 PhD cohort. Originally from the Democratic Republic of Congo, she was raised in Charlotte and was a Robert Wood Johnson Foundation nursing scholar during her pursuit of a bachelor's nursing degree from Winston Salem State University. She returned to the school for her graduate studies and was later accepted into the WSSU-Duke Bridge to the Doctorate program.
Muhirwa is also the recipient of the Catherine Gilliss Endowed Scholarship Award and plans to continue her research efforts on cardiovascular health disparities afflicting African Americans.
"I am extremely excited about the diversity of this group of fellows," Whitehurst said. "So many professional and academic backgrounds are represented by the Race and the Professions Fellowship cohort, as well different cultural backgrounds. I feel like this will foster great conversations and provide valuable perspectives and look forward to collaborating with other fellows in this safe environment to develop blueprints for change both here at Duke and externally in our professional environments."