2022 Cohort
Patricia (Patty) Alonso, MSN, FNP-BC, RN-BC, CNOR(E) is dedicated to finding health care access to pre-exposure prophylaxis (PrEP) for patients at high-risk of HIV transmission globally. Her learning experience at Duke in the ABSN and MSN programs plus work on multiple different specialties at Duke Health has fostered her interest in HIV and global health care. She obtained both her Bachelors of Science in Nursing degree and Masters of Science of Nursing as Family Nurse Practitioner with and HIV concentration at the Duke University School of Nursing (DUSON). Patty looks forward to completing her PhD as well, becoming a triple Duke grad! During her time at Duke, she has worked in-patient, outpatient and as a telehealth triage nurse for COVID and Endocrinology. This has given her a broad view into how nursing works on many levels but has also helped to foster her desire to study HIV by seeing the health disparities in the healthcare system. In addition to her work as a staff nurse at Duke Health, she has been a Clinical Instructor at DUSON for several years. She especially enjoys teaching the beginning nursing students how to complete basic nursing skills and learn the tricks of the trade to becoming a novice nurse. In her spare time, Patty enjoys reading books that are not required by school, baking pastries and being able to spend time with her family.
Elena Bregier, MSN-Ed, BSN, is passionate about providing equitable care for pediatric congenital cardiac populations. She has volunteered for over a decade to help provide sustainable surgical access for children with congenital heart disease around the world. Elena is committed to improving equitable, comprehensive care for this vulnerable population. While obtaining her BSN, Elena achieved the Outstanding Student Award at Michigan State University. After a decade of bedside practice, international volunteerism, and travel nursing, Elena obtained her MSN for education and worked as an academic specialist for West Coast University, Los Angeles, to support the persistence and outcomes of accelerated BSN students. Elena remains actively involved as a writer and volunteer mentor in the non-profit organization Be1Support1 to promote the success of new graduate nurses.
Patricia G. Buzelli, MSN, BA, AGNP-C is a recipient of Duke University's Dean's Graduate Fellowship and has a research interest in in improving care for Latinx immigrant families living through the loss of a child to cancer, focusing on asset framing and resiliency. Originally from São Paulo, Brazil, Patricia has wielded her lived experiences to guide her academic and clinical pursuits over the last decade. She graduated Suma Cum Laude from the University of Massachusetts Boston with a psychology degree, where she worked as a research assistant in the Gaston Institute for Latino Community Development, was in the first cohort of the Health Equity Scholars Program, and worked on a Brazilian transnational project.  Having always wanted to pursue a career in nursing, she then attended Johns Hopkins University for her BSN and MSN-NP where, as a research honors student and Fuld Fellow, she completed a capstone project analyzing racial difference in religious coping and depressive symptoms by extrapolating data from an end-of-life decision-making trial. Patricia has since been immersed in clinical practice as a Nurse Practitioner where she has developed her expertise in hematology oncology and captured the practice challenges that remain in providing equitable care for immigrant populations.
Lisa Carnago, FNP-C, MSN, BSN, RN aspires to develop health care innovations addressing chronic pain among patients and opioid prescribing behaviors among providers. Her prior clinical experience as a nurse in multiple settings, ranging from Intensive care, Emergency Department and Cardiac Care Units, and her personal experience of having a family member with a painful autoimmune condition has informed her perspectives on pain management, stigma, and health care navigational pitfalls.  In 2016, she obtained her MSN with a Family Nurse Practitioner (FNP) concentration from James Madison University (JMU), where she was selected for the Virginia Nurse Advocate Health Policy Fellowship.  She then began her FNP career as a Rheumatology Nurse Practitioner at Duke Health, which has greatly informed her perspective of the chronic autoimmune condition, chronic pain, and pain management needs, including opioid prescribing.  Through her leadership, she has created team-based work flows and processes to improve the uptake of risk mitigation strategies for opioid use and increased the understanding of opioid pain management approaches needed to improve the health and well-being of individuals experiencing chronic pain. She also participates on multiple Duke Health System committees including the safe opioid prescribing and optimal management groups, which are working towards system level improvements in pain management.
Margaret Fletcher, BSN, RN graduated summa cum laude from the University of Texas at Arlington in 2013 with an Honors Bachelor of Science in Nursing. During her time in school, she completed an honors thesis on nursing perspectives related to parental presence during invasive procedures in pediatric patients. She has since worked in various settings, with patients of all ages and across multiple levels of acuity, but was most inspired by her patients in the Pediatric Cardiac Intensive Care Unit. The advances in this relatively new field are remarkable, however the neurologic sequelae for these patients can be profound and have a significant ongoing impact on quality of life. Margaret chose to pursue a PhD in nursing in hopes of improving long term quality of life for children following intensive care admission, congenital heart disease, and other experiences which place them at a higher risk of neurodevelopmental ramifications.
Donghwan Lee, BSN, RN graduated in 2018 with a BSN from Gyeongsang National University and worked as a registered nurse in the PACU of the Seoul Asan Medical Center. For four years working as a PACU nurse, he had participated in more than 1000 cases of surgeries. He noticed that patients with cardiovascular disease (CVD) have a higher risk of complications and poorer prognosis after surgery, and were more likely to have higher hospitalization costs. During the COVID-19 pandemic period, he also witnessed how cardiovascular disease negatively affected patients' outcomes and quality of life. Health disparities severely affect health outcomes of CVD patients, especially those who are marginalized in other ways in society, such as limited access to education or health resources. He is passionate about developing mHealth technologies that are easy to use for the elderly and other medically high-risk individuals through health literacy measurements that are specific for CVD patients and can later be applied to a wider variety of people. Through his research, he aims to develop interventions that can resolve personal, technical, and contextual related factors to break down the barriers to the application of mHealth for these populations. 
Mirlene Perry, MSN, BSN, RN has been a cardiac nurse for the last 15 years and has worked at Johns Hopkins and Duke Hospitals. She received her BSN at Eastern Mennonite University in Harrisonburg, VA and her MSN at Johns Hopkins School of Nursing in Baltimore MD. Originally from Haiti, she was a surgical and community health nurse at the Hospital Albert Schweitzer in rural Haiti before relocating to the US. Although she has been committed to providing direct patient care, Mirlene decided to pursue a career as a nurse scientist to address her passion for community-based primary health care in low-and middle-income countries. Mirlene's purpose for undertaking doctorate-level studies is to acquire competencies that will help her to be an advocate for programs that can improve the health and well-being of mothers and children who are dying from readily preventable and treatable conditions-- still more than 10 million per year (including stillbirths).  Her main goal is to translate her nursing knowledge and her global health experience to develop and scale interventions addressing maternal and child health disparities and chronic health conditions using a bottom-up and task-shifting approaches that empower communities to improve their own health.
Julia Slack, BSN, RN is passionate about reducing the symptom burden for those suffering from cancer. Her interest in oncology symptom science started as a young girl watching her grandmother undergo treatment for breast cancer and the negative impact a high symptom burden had on quality of life.  Julia graduated summa cum laude with a Bachelor of Science in Nursing from the Emory University Nell Hodgson School of Nursing in 2022. During her time at Emory, she further cultivated her passion for oncology research through her time spent in the Bai Laboratory investigating the biopsychosocial mechanisms of cancer symptoms. This work led her to complete an honors thesis focused on the relationship between inflammatory biomarkers and fatigue in black women with polycystic ovary syndrome. Julia has presented her work at multiple scientific conferences and published in several leading journals such as Nature Communications and the Journal of Virology. She also is a member of Sigma Theta Tau International Honors Society of Nursing and the Southern Nursing Research Society. While at Duke, Julia plans to continue researching the physiological and biological pathways that contribute to the symptom experience for those dealing with cancer in order to better inform interventions.  
2021 Cohort
Maryam Al-Mujtaba MPH, BSN, RN, RM, PGDip, PGCert has research interests in the health of adolescents living with HIV, interventions to reduce maternal and child morbidity and mortality in resource-limited settings, cancer screening in medically underserved populations, cancer survivorship, and HIV treatment in adult populations. Since 2010, Maryam has led/significantly contributed to the coordination, administration and management of health and research programs in Nigeria and Canada. In Nigeria, she coordinated the first nurse-led 'see and treat' cervical cancer screening program (which screened over 3,000 women for cervical cancer in two years). In Canada, as a research associate at Ontario Health (Cancer Care Ontario), Maryam led the analysis and report writing of data from 25 interviews with Aboriginal Canadians on barriers and facilitators to cancer screening. Maryam has extensive experience working on qualitative and quantitative studies and she has presented her work at international scientific conferences, and published in several leading journals, such as PLOS One, BMC Infectious Diseases and Journal of AIDS and HIV Research and Biomed Research International.
Katie Brooks, DNP, AGPCNP-BC has clinical expertise in geriatric care and has a deep passion for providing high-quality, individualized, age-appropriate care for all patients. She graduated Magna Cum Laude with her BSN from Auburn University in 2014. Her background as a registered nurse on an Ortho/Neuro surgical floor sparked her interest in the unique care of the older adult population. She furthered her knowledge by obtaining her Adult-Gerontological Primary Care Nurse Practitioner degree at Vanderbilt University, followed by a year-long Internal Medicine fellowship in Charlotte, North Carolina. While working as a primary care provider in an internal medicine clinic, Katie sought to further improve her practice through the pursuit of her Doctorate of Nursing Practice degree from Duke University. During this time, she implemented a quality improvement project that focused on dementia screening in the primary care setting while simultaneously working with faculty on their research as part of an independent study elective. It was through these experiences that she recognized the distinctive and important role of a nurse scientist while concurrently seeing how her training and passion for the older adult population would allow her to bring a unique practice perspective to her research. Throughout her training at Duke, Katie strives to continue her pursuit of ensuring all older adults receive the highest level of age-appropriate and evidence-based care.
Sarah Janek, BSN, RN, ACRN has an interest in research focused on sexual health disparities related to race and sexuality within the LGBTQ+ community. Sarah's past research focused on HIV prevention for black and Hispanic/Latino men who have sex with men using technological integration with at-home testing.  She was introduced to this field as an undergraduate student at the University of Michigan School of Nursing Honors Program. Sarah studied qualitative research methods and how cultural competence intertwines with research study recruitment. After graduating in 2020, she began clinical work as an RN at Northwestern Memorial Hospital in Chicago on an orthopedic/trauma unit. On a unit that later transitioned into a COVID-19 step-down intensive care unit, Sarah witnessed first-hand how health disparities affect various populations depending on backgrounds and experiences. To seek leadership opportunities, Sarah became a HIV/AIDS Certified Registered Nurse (ACRN), and she trained to be a Skin Champion for her unit, performing audits, educating staff, and caring for patients to prevent pressure injuries. While caring for LGBTQ+ patients at Northwestern, she gained additional clinical experiences with the community and volunteered at Howard Brown Health in downtown Chicago during this time. Sarah's academic, professional, and philanthropic experiences led her to pursuing a career in research full-time to mitigate health disparities.
Shewit Jaynes, MSPH, BSN, RN is passionate about improving health outcomes for all birthing people by eliminating health disparities. Her work experience as a postpartum nurse sparked her interest in critically evaluating health policies that impact her patients' lives. She obtained her MSPH from UNC Chapel Hill in the department of Health Policy & Management. During her time at UNC, she worked on various maternal health projects including conducting a policy analysis for the North Carolina Department of Health and Human Services (NCDHHS) on how to reduce maternal mortality among Black women. In addition, Shewit served as a research assistant for the UNC Collaborative for Maternal and Infant Health where she conducted qualitative video coding. Shewit has been actively involved in various diversity, equity and inclusion efforts. She helped form the Health Policy & Management Student Equity Collective, a student-led organization dedicated to creating, promoting, and sustaining equity within the department. In addition, she co-chaired the largest and longest running student-led health conference, the Minority Health Conference.
Youran Lee, MSN, BSN, RN is passionate about research on caring for vulnerable cancer survivors in the community using innovative technology. She dreamed of becoming a nurse when she watched her mother who loved nursing and was very proud to be a nurse. Youran broadened her understanding of humanity and diversity through various volunteer activities. During a volunteering experience in Ethiopia, she witnessed the need for nursing care in a challenging environment. To decrease health disparities, she volunteered in developing countries such as Malaysia, Cambodia, and Tanzania, sensing a global need for nursing care. After graduating with her BSN, she worked as a cancer ward nurse at Asan Medical Center in Korea. While working as a nurse in the gastric cancer ward, academic curiosity to provide high-quality care to patients through evidence-based nursing led her to study for her master's degree in nursing. During her master's studies she participated in a study funded by the Korean government to establish intensive care unit in nursing homes. Her role on this project was to educate nursing staff, develop nursing manuals, draft web-based questionnaires, collect and analyze the data, and write reports. Through this project, she contributed to the change of health policies in nursing home facilities. This research experience led her to desire more advanced training in research. In addition, an unexpected life event further motivated Youran when she was diagnosed with thyroid cancer. As a cancer survivor, having direct experience in dealing with a challenging and unexpected diagnosis allowed her to connect with patients with a deeper understanding. Through her doctoral program at Duke, she hopes to improve the quality of life for cancer survivors, and to contribute to better health outcomes by bringing together knowledge, science, professional compassion, and personal empathy.
Christian "Ian" Noval, MCR, BSN, RN, CCRN is from the Cordilleras in the Philippines. He completed his bachelor's degree in nursing from the Far Eastern University (Cum Laude) in 2006 and has since practiced as a registered nurse. His nursing experience extends from working across different healthcare settings to include: the Philippines, the United Arab of Emirates, the United Kingdom, and most recently in the United States. This experience across different healthcare systems has helped him to better understand how belief and culture affects patient care. As a registered nurse, he has worked as an infection prevention nurse, a case manager, a mentor and preceptor for nursing students and entry-level nurses, and recently as the Lead Research Nurse for a COVID-19 drug trial at the University of Texas Health-Houston. Christian's research interest started when he was working in the NHS (United Kingdom) and contributed to clinical trials from the University of Edinburgh and the Ohio State University where he completed his master's in clinical research (MCR). Christian is a certified critical care nurse (CCRN) and a member of the American Association of Critical-Care Nurses (AACN), Sigma Theta Tau International Honor Society of Nursing (STTI), and the Texas Emergency Medicine Research Center (TEMRC). As he joins Duke University School of Nursing PhD in Nursing program, his research focus is on palliative care in a critical care environment. He believes that patients in a high acuity environment should be able to decide the path of their care and should receive competent and compassionate care from their healthcare providers, wherever they fall within the health-illness continuum.
Paige Synesael MS, BSN, RN, CNE, CEN has been a Registered Nurse since 2013. She received her MS in Nursing Education and BSN from Le Moyne College in Syracuse, NY. Paige's clinical background is in cardiac and emergency nursing. She started working as a nurse educator in 2017 in upstate NY, and moved to Raleigh, NC in December 2019 where she continued to work as a nurse educator at a community college. Paige has a certification in emergency nursing as well as nursing education. Her research interests during her master's program were focused on the topic of self-directed learning (SDL) in nursing students. During her doctoral studies, she is interested in the field of internal motivation and how it affects health outcomes, specifically with patients diagnosed with cancer. Paige also plans to research how the degree of self-management and self-determination correlates with the topic of genetic testing, since prevention and treatment of certain cancers can be determined heavily by an individual's attitudes, skills and personal choices. Paige is a board member of the North Carolina Nurse's Association as well as Sigma Theta Tau International Honor Society of Nursing.
Dingyue "Demy" Wang graduated with a Bachelor of Science in Nursing degree from Emory University with the highest honor in 2021. She is a member of Sigma Theta Tau International Honors Society of Nursing. Dingyue completed her honor's thesis conducting a systematic review about sleep disturbances of family caregivers of persons living with Alzheimer's disease and related dementias and presented her work at the Midwest Nursing Research Society conference. Dingyue's experience working with gerontological patients and their carers influenced her research interest in caregivers, who play a fundamental role in patient care but are increasingly at risk of becoming the "second patient." She is also focused on the cognitive aspects of caregivers and participated in research exploring the relationships between stress, sleep, and risk of mild cognitive impairment in informal cancer caregivers. In 2019, she participated in independent research exploring the effect of overexpression of E-cadherin on metastatic properties and angiogenic, mesenchymal, and epithelial markers in triple-negative breast cancer (TNBC) cells. This experience inspired her passion to explore biomarker expressions in TNBC as well as cancer disparity in TNBC patients.
2020 Cohort
Suzanne M. Frisbee is a Raleigh, North Carolina native. She graduated magna cum laude with a Bachelor's of Science degree in Neuroscience from East Carolina University in 2012. She completed her senior thesis on the brain wave activity of a mindfulness meditation stress reduction intervention in college students. She also participated in the National Science Foundation's Mechanisms of Behavior Neuroscience summer program where she researched the impact of stress and addiction on specific brain regions. Suzanne returned to school at Duke University's School of Nursing as a Robert Wood Johnson Foundation scholar. Supporting herself through nursing school, she worked in a behavioral neuroscience lab in the Bowels Center for Alcohol Studies at UNC Chapel Hill. There, she worked on research regarding the interceptive effects of alcohol and nicotine on drug seeking behaviors and relapse after a stressful event. She graduated with honors with her BSN in 2016. She began her nursing career as an Operating Room registered nurse and has since become a certified perioperative nurse (CNOR). Her involvement in post-operative pain assessment surveys has influenced her current research interests. Her aim is to combine her neuroscience background in stress and addiction with her nursing knowledge. Particularly, how stressful environments and/or events in one's past impacts their susceptibility to addiction, the health outcomes of addictive behaviors and preventive measures that can be taken in order to ensure that addictive behavior does not develop in adolescence and carry on into adulthood.
Kimberlee Grier, BSN, RN, CHPN, CHPPN graduated summa cum laude from the University of Texas at Austin where she received a Bachelor of Science in Nursing degree. She has worked with both chronically ill adults and children, finding her passion in pediatric hospice and palliative care, specifically community based care. She is dually nationally certified as a Certified Hospice and Palliative Pediatric Nurse and a Certified Hospice and Palliative Nurse. Through her experience at work, she became highly motivated to contribute to the research of vulnerable populations, including pediatric patients and families, and their access and use of palliative care and hospice. She has published in the Journal of Hospice and Palliative Nursing. In line with her desire to help vulnerable populations, Kim has been a foster parent in Durham since 2017. She is a co-founder and co-chair of Fostering Families, a non-profit organization that advocates for meaningful system change and strives to empower foster parents and their families. Kim is a board member for the Foster Family Alliance of North Carolina. She was inducted into the Sigma Theta Tau Honors Society. Kim is an avid equestrian and enjoys being in nature with her spouse and three boys. During her time at Duke, she hopes to further research to improve the quality of life and death of infants and children, and the experience of their families, as well as supporting health care professionals caring for children who would benefit from palliative care and hospice.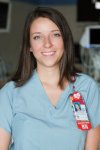 Ashleigh B. Harlow is a recipient of the James B. Duke Fellowship and the recipient of a University Scholars Fellowship, granting her membership to an interdisciplinary, inter-generational community of scholars. Ashleigh graduated with her Bachelors of Science in Nursing from the University of Alabama at Birmingham in 2008 where she also studied stage management in the department of Theatre. She began her career as a direct care nurse in the Pediatric Intensive Care Unit at Children's of Alabama and practiced at several children's hospitals across the country. Ashleigh subsequently held roles as a direct care nurse, nurse educator, and nurse manager in the Cardiac Intensive Care Unit at Children's National Medical Center in Washington, DC. Her experiences in the pediatric CICU led to her participation on two cardiac surgical mission trips to Morocco and Uganda, where she mentored local staff nurses recovering complex pediatric congenital and rheumatic heart surgical patients. In 2017, she completed a Master's Certificate at the George Washington University in the Master Teacher Leadership Development Program for educators in academic medical settings. When in her role as nurse manager in the pediatric CICU, Ashleigh conducted patient and family rounds daily and led a division wide quality improvement initiative to reduce cardiac arrest. Focused rounding with parents whose children had experienced cardiac arrest led to her interest are the experiences of parents and caregivers of critically ill children and the effects of healthcare delivery inequities on patient and family outcomes in pediatric critical care.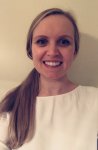 Remi Misiewicz graduated in 2011 with her AAS from Crouse Hospital College of Nursing. While working asa primary oncology nurse in a pediatric cancer center, she earned her BSN (2019), magna cum laude, from Upstate Medical University. She was awarded the Charles R. Ross Memorial Student Research Award and the Outstanding Student Award. She presented her undergraduate work at local conferences. Remi also received certification as CPHON. She is a member of the Association of Pediatric Hematology-Oncology Nurses and Sigma Theta Tau. Her experience working with patients and families affected by cancer fueled her passion for research focused on improving care for the pediatric, adolescent, and young adult patients. Remi's research interest includes using mobile health technology to create innovative approaches to engage and support the patient and family in comprehensive care management.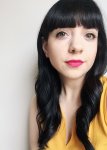 Melissa Powell, MSN, RN graduated from William Jewell College with her BSN in 2013. She later completed her MSN in 2018 with a focus on leadership and public health from The University of Kansas. Her diverse nursing experience has included: inpatient and ambulatory cancer care, blood and marrow transplant, cellular immunotherapy, and phase one and two clinical trials. Her most recent role was a Quality Improvement and Patient Safety Program Manager at an NCI Designated Comprehensive Cancer Center. She has a robust interest in oncology nursing, healthcare worker safety, and self-care and resiliency for nurses. Her background in oncology nursing, patient safety and quality improvement has prepared her to focus on healthcare workers and a culture of safety in future research. She is a member of the Oncology Nursing Society and Sigma Theta Tau International Honors Society of Nursing. She is a recipient and nominee of the DAISY Award for Extraordinary Nurses.
HyunBin You earned her BSN (2015, Cum Laude) and MSN (2019) from Seoul National University, South Korea. She worked as a nurse in the Medical Intensive Care Unit at Seoul National University Hospital, South Korea (2015-2019). While practicing as a nurse, she provided the best possible patient-centered care to improve ICU patients' health outcomes during their critical point in life and got interested in patient and family experience. During her time at SNU, she investigated the influencing factors of the satisfaction of ICU families elaborating their anxiety and critical care needs of ICU families on her masters' thesis. She then transitioned herself as a research assistant of Chronic Care Research Lab at SNU (2019-2020) where she found great enthusiasm in research. More recently, her research interests focus on resilience and transitional care of the adult ICU patients. She plans to continue supporting patients and their families to have a better experience maximizing resilience at their critical point of life through her research here at Duke University School of Nursing.
2019 Cohort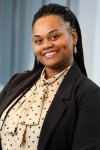 Nicole Caviness-Ashe is a graduate of the University of North Carolina (UNC) at Chapel Hill where she completed a BA in Biology. Her work with UNC Lineberger Cancer Center ignited her passion for cancer research and lead to her enrollment at North Carolina Central University in Durham where she earned a BSN. After graduating, she returned to UNC as an adult hematology and oncology nurse. Nicole's patient care experiences piqued her interest in enrolling at Winston-Salem State University where she was accepted into the WSSU-Duke Nursing Bridge to the Doctorate program and was an honors graduate of the MSN Advanced Nursing Education program. She is a member of Sigma Theta Tau, the Oncology Nursing Society and American Society of Hematology. Her undergraduate and graduate work have afforded her opportunities to present at regional and national conferences. Her master's research examined the impact of communication on health outcomes among cancer survivors. Nicole hopes to continue her work by examining the impact of communication and pain on cancer health outcomes. She is a recipient of Duke's 2019 Catherine Gillis Endowed Scholarship and hopes to continue her work by examining the impact of communication and pain on cancer health outcomes.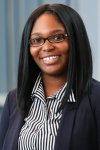 Darchelle Excellent graduated in 2019 with a BSN from the University of Florida (UF) College of Nursing. During her first year as a nursing student she became interested in nursing research, which lead her to apply to the UF McNair Scholars Program. As a McNair Scholar, she worked closely with a faculty member to mentor her through an intensive summer research program that continued through her second year of nursing school. By working with her mentor and her research team, she received firsthand experience with primary data collection and research project development, received feedback about conference presentations, and guidance about her PhD journey. The McNair Scholars program also introduced her to scholarly writing, research techniques, submitting abstracts for conferences, conference presentations, and the graduate school application process. Her experiences with collecting data from mothers of premature infants about breast pumping initiation with her mentor and her own experiences with her mom having difficulties breast pumping and later breastfeeding her sister born premature, inspired her current research interest to investigate factors that affect African American women's decision to breastfeed.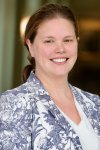 Bonnie Hepler, MSW, MSPH, BSN, RN specializes in caring for vulnerable women and children and ensuring that all people receive quality, compassionate care. Her unique experience as both a Labor and Delivery nurse and pediatric social worker ground her interests in actionable research and evaluation efforts. During her seven years at RTI International, she has managed projects ranging from 10 thousand to three million dollars. She is an expert in promoting maternal and child health domestically and globally. From evaluating breastfeeding policies in the Middle East to the impact of long acting reversible contraception in sub-Saharan Africa, Bonnie shows a commitment to empowering women and families. She supports decision making of foundations, technology developers and advocacy organizations through comparing the impact of various healthcare interventions using interactive, web-based mathematical models. She is experienced in both qualitative (e.g. interviews) and quantitative (e.g. secondary dataset analysis, modeling) methods. She also works to implement policy changes, which make healthy choices a sustainable, attainable reality for families. Before joining RTI, she served as a research assistant with the North Carolina Translational and Clinical Sciences Institute focusing on teaching research methods to diverse audiences. Bonnie also worked with the Center for Maternal and Infant Health at the University of North Carolina on research and dissemination projects addressing topics such as use of 1 7P (progesterone) for preterm birth, postpartum depression, and healthy habits during pregnancy.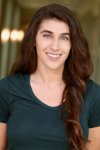 Lauren Holt graduated with her Bachelor of Science in Nursing from Angelo State University in 2013, where she was a student-athlete and finished in the top five of her class. She then moved to Austin, Texas, where she worked as a registered nurse for five years, working on Same Day Surgery, PACU, and Med-Surg units. During this time, she earned her MSN in nursing education from Angelo State University, where she received the honor of Outstanding Graduate Student in 2017. Upon completing her MSN, she worked as a clinical instructor at Austin Community College. Her work with HIV patients in the Austin area, as well as Honduras, inspired her current interest in patients living with HIV/AIDS. She is also a member of the Association of Nurses in AIDS care.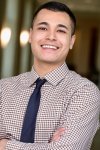 Ramon Andres Lujan is recipient of Duke University's Dean's Graduate Fellowship, granting him the ability to participate in the Society of Duke Fellowship, granting him the ability to participate in the Society of Duke Fellows. Born to a family of second generation Mexican American immigrants, he was raised in the borderland region of El Paso, Texas. He attended the School of Nursing at the University of Texas at El Paso. During his time there, he received mentorship in developing NIH grant proposals and training in bio behavioral research design. Meanwhile his mentor, Dr. Hector Olvera, helped him to identify his interests in cellular processes. He also served as class president for his graduating cohort and as a tutor for fellow classmates. Soon after earning his Bachelor of Science of Nursing in 2018, he began working as a Labor and Delivery Nurse at a local hospital. His current research interests are in physiology and immunology. Ramon's life dream is to engage in vaccine research and production as a nursing scientist.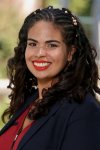 Lisvel Matos earned her ADN from Central Piedmont Community College (2012) in Charlotte, North Carolina. She began her career as a staff RN working with adolescents in a behavioral health facility while earning her BSN from University of North Carolina at Charlotte (2013). During her time as a staff nurse, she became interested in becoming a nurse practitioner with the purpose to fill the growing need for diverse providers offering primary care to disadvantaged adolescent females. Lisvel pursued graduate studies with Duke University and earned her MSN as a Women's Health Nurse Practitioner (2016). She also completed her Post Graduate Family Nurse Practitioner Certificate (2019). She is a member of Sigma Theta Tau International. She has a passion for working in community-based settings and women's health. Her current research interest lies within learning more and improving Latin health disparities. Lisvel currently works on SER Hispano project as a data collector. SER Hispano is an NIH-funded longitudinal study, which is examining the influence of acculturation stress and resilience on the substance abuse, mental health, violence, HIV syndetic and stress biomarkers over time. She wants to conduct research that is community-based and utilize meaningful engagement strategies to generate quality data..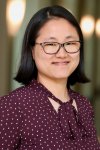 Jihye Kim Scroggins, born and raised in South Korea, earned her BA in Education at Seowon University, South Korea in 2009 and worked as a schoolteacher before she discovered the world of nursing science. She, then, came to the United States, graduated from Carolinas College of Health Science with Magna Cum Laude, and earned her ADN in 2015 followed by her BSN at the University of North Carolina at Charlotte in 2017. She has been working as a registered nurse on a Mother Baby floor at Carolinas Medical Center - Main, Charlotte, North Carolina, where she found a passion in maternal newborn nursing. Always eager to improve her care and knowledge for her patients, she earned the Registered Nurse Certification in Maternal Newborn Nursing. While working as a bedside nurse, she witnessed the gaps between practice and evidence, which eventually led her to the path of a nurse researcher. Throughout her nursing career, she participated in research projects on various topics such as cultural health, nursing handoff, and newborn skincare. Her current research interest's focus on newborn skincare specifically delayed newborn bathing and its physiological and psychosocial benefits.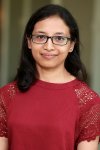 Shamatree Shakya earned her BSN from Tribhuvan University (Institute of Medicine) in Nepal. After graduating from nursing school, she worked as a registered nurse in the Neurological Unit. While working, she received firsthand experience of how chronic diseases afflict the lives of individuals and families. Shamatree felt a growing need to pursue research in the field of prevention and management of chronic diseases. Then, she moved to the U.S. in 2017 to pursue her masters. She earned her master's degree in gerontological studies and graduate certificate in applied statistics from Miami University in Ohio. At Miami University, she worked as a research assistant in various projects including Preference of Everyday Living Inventory (Implementation Science enhancing person-centered care) and Global Aging. During her master's program, Shamatree learned the fundamentals of qualitative and quantitative research methods and gathered experience working with national datasets such as the Health and Retirement Study, the National Health and Aging Trends Study, and General Social Survey. During her PhD, she plans to continue research using big datasets and also contribute to self-management of chronic disease especially cardio metabolic disease.
2018 Cohort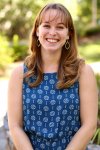 Kaitlyn C. Daly earned her BSN (2017) cum laude with double majors in Nursing and Theology & Religion from Marquette University in Milwaukee, Wisconsin. Marquette's College of Nursing laid the foundation for her nursing practice and the cornerstone for her passion in the field: spirituality in the healthcare setting. She began her clinical career in Milwaukee as a staff RN on an inpatient acute care floor for medical, surgical, cardiac and oncology care populations. She then transitioned her clinical work to an eating disorder treatment center through a local healthcare staffing agency. Her participation in a summer research course by Duke University Center for Spirituality, Theology, and Health routed her path toward becoming a nurse scientist. To further cultivate her interests in the interaction between faith, spirituality, world religions, and health, Kaitlyn is pursuing a PhD at Duke University. Her current research interests explore the intersection of spirituality, theology, and health in holistic patient care, caregiver support, and the academic setting. Similar to her time at Marquette University, she hopes to create an interdisciplinary approach to her research, utilizing Duke University's School of Nursing, Duke Divinity School, and the Graduate Program in Religion, to study, collaborate, and conduct research.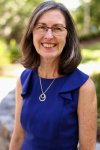 Paula Koppel graduated with honors from Duke University in 1982. She was the recipient of the School of Nursing's Outstanding Service Award and inducted into Sigma Theta Tau. She has a master's degree from Boston University and advanced certificate in counseling and psychology from Lesley University. She has been a board certified geriatric nurse practitioner for over 30 years. In 1997 she established her own consulting company and is known for developing innovative approaches and models of healthcare for middle-aged and older adults. Paula is a National Board Certified Health & Wellness Coach and Board Certified Advanced Holistic Nurse. Her private health coaching practice, Age Well Be Well, LLC, provides holistic services to enhance her clients' health and wellbeing. In addition, Paula is an integrative nurse consultant at Dana-Farber Cancer Institute in Boston. She provides strategic planning and program development consultation with a focus on human-centered relationship-based care, integrative nursing, promotion of nursing self-care, and mindfulness-based practices. Her work in mindfulness-based practices at Dana-Farber was recently highlighted in AJN. Exploring therapeutic presence represents the heart of Paula's desire to pursue doctoral studies. She is interested in how therapeutic presence impacts the health and healing of patient and nurse, as well as optimal teaching methods for nurses to cultivate therapeutic presence in their practice.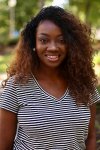 Amnazo Muhirwa is originally from the Democratic Republic of Congo and was raised in Charlotte, North Carolina. In 2012, she graduated from Pfeiffer University with her Bachelors of Art in Psychology. In 2015, she received her Bachelors of Science in nursing degree through the accelerated nursing program at Winston Salem State University (WSSU), where she was a Robert Wood Johnson Foundation (RWJF) nursing scholar. In 2016, Amnazo returned to WSSU for her graduate studies and was accepted into the WSSU-Duke Bridge to the Doctorate program. For her master's thesis she completed a secondary analysis of data examining the association between cardiovascular disease risk factors (obesity and depression) and access to care among rural women. Amnazo presented her thesis findings at the 2018 Southern Nursing Research Society and the Society of Behavioral Medicine conferences. She graduated from WSSU in May 2018 and is now a Family Nurse Practitioner. Amnazo has been awarded the Catherine Gilliss Endowed scholarship award and plans to continue exploring her research interest in understanding cardiovascular health disparities afflicting African Americans.
Lesley Rink grew up in North Carolina and received her undergraduate degree from North Carolina State University with honors. After eight years of public policy, budgetary development, and legislative advocacy work at the North Carolina General Assembly and the University of North Carolina System Office, she returned to school for nursing. Lesley was influenced to pursue a nursing degree after serving her community as a volunteer firefighter and EMT for eleven years. Lesley graduated with honors from Duke University School of Nursing in 2015 and was inducted into the Sigma Theta Tau Honors Society. She practiced as a nurse in the Surgery Trauma ICU at UNC Health Care and has received certification as CCRN. During this time, she has conducted three research projects that include a relaxation breathing intervention for ventilated patients and two mindfulness-based interventions for nursing staff. She has presented her research findings at national and local nursing conferences. Lesley frequently speaks across the UNC Health Care System sharing information on stress reduction and resilience tools for health care providers. Her passion for mindfulness-based interventions to reduce stress has inspired her research and pursuit of a PhD in Nursing. She has a personal daily mindfulness meditation practice, has attended multiple silent meditation retreats, and has completed mindfulness-based stress reduction and integrative health coaching courses at Duke Integrative Medicine. Lesley plans to continue integrating her mindfulness education and experience here at the Duke School of Nursing.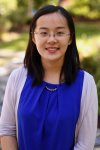 Tingzhong Michelle Xue studied Actuarial Science as an undergraduate at University of Minnesota, Twin Cities. She then found her passion in healthcare and earned her MS degree in Nursing from DePaul University in 2016. While at school, she was an active member and philanthropy committee leader of the Zeta Sigma Chapter of Sigma Theta Tau International Honor Society. After graduation, she has been working with patients with long-term conditions, congenital diseases and children with special needs. Her current research interest is in palliative care and quality of life of patients with chronic diseases and disabilities.
2017 Cohort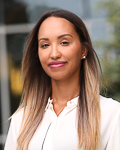 Anna M. Diané graduated from Boston College in 2012 with her BSN and was inducted into the Sigma Theta Tau International honor society. She began her clinical career as a staff RN in the Liver ICU at UCLA in Los Angeles, California. Pursuing her interest of nursing informatics, Anna went on to work as an electronic health record (EPIC) analyst for NYU Hospital where she was able to witness the lack of utilization of big data to inform clinical practice. Anna's clinical experience coupled with her "EPIC" experience has inspired her to become a patient advocate through informatics and health technologies. Anna's current research interests include health informatics, mobile health technologies and precision medicine. Anna has been awarded the James B. Duke Fellowship Award.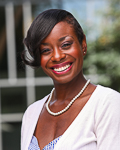 La'Kita M. J. Knight, a native of Charlotte, NC, earned her Bachelors of Science from the University of North Carolina at Greensboro, in 2003. She continued her studies at Queens University of Charlotte earning her BSN and in 2009 graduated Summa Cum Laude. While at Queens University she was a recipient of the North Carolina Nurse Scholars Program, a member of The Honor Society of Nursing- Sigma Theta Tau International as well as the Mortar Board Honor Society. Following graduation, she worked as a RN on a Neuro-Surgical ICU at Duke University Hospital. She also worked as an Assistant Nurse Manager on a Progressive Cardiac Telemetry Unit in Pineville, North Carolina. In 2015, she received dual admission to the Master of Science in Nursing (MSN) and The WSSU-Duke Nursing Bridge to the Doctorate program at Winston-Salem State University (WSSU). She successfully defended her thesis on April 05, 2017 titled "Exploring Emergency Department Provider Feasibility with Weight Based and Individualized Vaso-Occlusive Treatment Protocols in Sickle Cell Disease." La'Kita has also presented her thesis findings at the 31st Southern Nursing Research Society (SNRS) Annual Conference, in Dallas, TX in 2017, for UNC President Margaret Spellings, and at Duke University School of Nursing and Center for Nursing Research both in 2016. In May of 2017, she graduated with her MSN and was awarded the School of Health Sciences Achievement Award as a graduate student from WSSU. She achieved certification as a Family Nurse Practitioner, where she has served a diverse geriatric population in several counties in North Carolina. La'Kita's current research interest are patients with sickle cell disease (SCD). One of her professional goals is to develop specific interventions and resources for academic success for patients living with SCD.