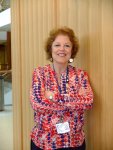 Diagnosed with Hodgkin lymphoma at 16-years-old and then breast cancer soon after giving birth to her twin daughters, Sophia Smith, PhD, MSW, associate professor for Duke University School of Nursing, is no stranger to the importance of research and psychosocial care for cancer patients and survivors.
Smith's personal background with cancer includes more than her personal diagnosis. Her research focuses on innovative mHealth and psychosocial care solutions to improve health outcomes for cancer survivors. Her work has helped to define the longitudinal quality of life and patient experience of survivors of adult non-Hodgkin lymphoma, with a particular focus on posttraumatic stress disorder, the impact of cancer and implementation of evidence-based supportive care services.
She is currently the principal investigator on several research projects that work to improve the quality of life for patients diagnosed with lymphoma, breast and prostate cancers.
Needs Assessment
The first project started in 2005 with 886 patients who had been diagnosed with lymphoma. The project focuses on needs assessment of these patients – some who are living with the disease as a chronic illness and others who are in remission.
"With the lymphoma cohort, we send out a mail survey every five years to ask questions related to their quality of life and how they're feeling," Smith said. "And the responses over the years have been extremely helpful in designing programs that can help meet their needs."
As a result of the survey, Smith and her team of researchers were able to determine that cancer patients can often suffer a form of post-traumatic stress disorder (PTSD).
PTSD Intervention
Often when people hear of PTSD they immediately think of military personnel or someone who has experienced a traumatic event such as a plane crash or terror attack. However, PTSD isn't just for those types of events. Individuals who have experienced or lived through a traumatic, shocking or scary event such as the diagnosis and treatment of cancer can also experience PTSD.
"The surveys from our needs assessment research showed that more than one-third of the individuals had persistent or worsening symptoms of cancer-related PTSD over five years," said Smith. "PTSD can impact people of all cancer types and it impairs health outcomes as well as quality of life and is associated with higher health care costs."
After attending an NIH workshop on mobile health technology, Smith came up with an idea to develop a mobile application that could provide PTSD intervention for cancer survivors. Smith found a Veterans Administration (VA) location in California that had already developed a PTSD intervention app for their military veterans and reached out to them for guidance.
"I met with the developers of the VA application and explained my work to them, and they were very intrigued. In fact, one of the developers had lost his sister to lymphoma, and he was sure that his sister had symptoms of cancer-related PTSD," Smith said.
Smith and her team collaborated with the VA developers to create a PTSD mobile application for cancer survivors called Cancer Distress Coach. "The application went through testing through a usability study that included 30 cancer survivors of all kinds of cancer," she said. "And based upon their input, we made changes to the application and then retested with another set of 30 cancer survivors. The results showed a statistically and clinically significant reduction in cancer-related PTSD."
The application can be used as a self-management tool that includes four modules. The Learn module provides psycho-education with information derived from experts at the National Center for Post-Traumatic Stress Disorder. The Self-Assessment module administers a reliable and valid PTSD assessment measure where patients are provided interpretive feedback including symptom severity. The Managing Symptoms module is the main action of the application and it provides patients with skills to manage their stress in the moment they experience it. The Find Support module allows patients to set up a support network and locate informal support or professional care.
"Computer and mobile technology-based programs are increasingly used to facilitate cost-effective access to cognitive behavioral therapies," said Smith. "Lessons learned from our study could be applied to other cancers and thereby lead to improved quality of life in other oncology populations and reduced health care costs."
She and the team were recently approved for a grant from the Duke Institute for Health Innovation to study Cancer Distress Coach for a one-year period. The study will employ the use of a trial in which patients are randomized into the Cancer Distress Coach or usual care control arm for an eight-week period.
Pillars4Life
Another intervention program that was informed by the needs assessment is an educational program that teaches coping skills to cancer patients in a virtual group setting – Pillars4Life. The program was implemented in more than 20 hospitals across the United States through funding by the LIVESTRONG Community Impact Project Award.
"The Pillars4Life program started as a one-on-one social work intervention program that eventually moved to a virtual platform through Adobe Connect," said Smith. "The program targets psychosocial resources such as self-efficacy and coping skills as a means to reduce symptoms such as depression, anxiety and post-traumatic stress."
Participants in the Livestrong study met with a certified instructor every week for 10 weeks in a virtual environment and were trained in personal coping skills. A significant number of the 130 participants improved on all key outcome measures such as depression, anxiety and PTSD.
The Pillars4Life program is currently being testing in a randomized control trial with support from Pfizer, Inc. This study aims to demonstrate that chronic pain management could be improved through participation in the program, in addition to quality-of-life related outcomes.
A third study, also under the Pillars4Life umbrella, is called Four Conversations. This is funded by the National Comprehensive Cancer Network and Pfizer, Inc. This program is for patients with metastatic breast cancer, also known as advanced breast cancer. This stage of breast cancer is life threatening because cancerous cells travel to vital areas of the body such as the bones, liver, lungs and brain, according to the Metastatic Breast Cancer Network.
Since advanced breast cancer is life-long, the focus is often on disease management and quality of life. "The Four Conversations program is an abbreviated version of the main program with an additional focus on end-of-life conversations and shared decision making. The additional modules cover self-care, spiritual care, talking with your health care provider and discussing end-of-life provisions and decisions with family," said Smith.
Smith says that research studies that inform interventions for this population are important. "There is a need to help build evidence-based medicine to inform clinical practice. There is a lot of opportunity to build the evidence base in cost-effective and scalable psychosocial medicine."
She adds: "With needs assessments we learn firsthand what the patients actually need, and our hope is that these generalizable findings can be applied across the population. This type of research must be interdisciplinary."