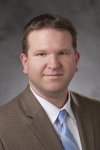 Brett Morgan, DNP, CRNA, assistant professor, has been appointed director of the Duke University School of Nursing (DUSON) Nurse Anesthesia Doctor of Nursing Practice (DNP) Program.
"Brett has been serving as the interim director of the program since before the passing of former Director Sharon Hawks," said Janice Humphreys, PhD, RN, FAAN, professor and associate dean for Academic Affairs. "He brings a strong record of teaching experience, clinical practice, policy advocacy and scholarship to the role. He has a clear vision for the program moving forward and will continue to be an asset to students, faculty, the program and the School."
As assistant director of the nurse anesthesia program, Morgan was responsible for on-campus and online didactic instruction as well as student admissions and student evaluations for the certified registered nurse anesthetists (CRNA) program. Prior to joining DUSON in 2012, Morgan worked at the Raleigh School of Nurse Anesthesia/University of North Carolina at Greensboro, where he coordinated the graduate didactic curriculum and capstone project process.
Morgan practiced anesthesia in Raleigh, NC in a variety of clinical settings including Level 1 trauma, cardiovascular surgery, pediatric and neonatal surgery, outpatient surgery and obstetrical anesthesia. He served as the 2015-2016 president of the North Carolina Association of Nurse Anesthetists and is the faculty advisor for the Duke American Assembly for Men in Nursing organization. In 2016, he was appointed to the Nurse Anesthesia Steering Committee of Health Volunteers Overseas for a three-year term.
Morgan received a bachelor of science in human nutrition foods and exercise from Virginia Polytechnic University, received his bachelor of science in nursing and DNP degrees from Johns Hopkins University and earned his master of science in nurse anesthesia from Georgetown University.
The Nurse Anesthesia DNP Program, ranked no. 3 by the U.S. News & World Report, prepares nurse anesthesia clinical scholars who are skilled in anesthetic administration in a wide array of clinical settings to patients across the lifespan. Graduates of the program have a CRNA certification pass rate of 100 percent with many being politically active in state and national organizations.