As nurses seek to advance their education, distance-based education allows nursing students the flexibility to fulfill this desire from locations across the country, without leaving their families or jobs. However, how do you meet this need for students without depriving students of the benefits of personal connection, networking and preparedness for their new roles? The answer: on-campus intensives.
The Duke University School of Nursing (DUSON) Master of Science in Nursing (MSN) Program offers seven advanced practice majors for nurses who want to become nurse practitioners in acute or primary care adult-gerontology, family, acute or primary care pediatric, neonatal and women's health. Students have the option to include in their course of study a specialty in cardiology, HIV/AIDS, oncology and orthopedics. The majors are offered as distance-based programs that require students to come to campus at least once every semester for two-to five-day intensives with faculty and other experts where face-to-face interactions, simulations and hands-on activities are conducted.
"The on-campus intensives allow nurse practitioner students to exercise their skills through interactive activities that aren't available through online course work," said Margaret "Midge" Bowers, DNP, RN, FNP-BC, CHFN, AACC, FAANP, assistant professor and lead faculty of the Adult Nurse Practitioner-Cardiovascular specialty in the Duke University School of Nursing MSN Program. "While on campus, nurse practitioner students are participating in clinical trainings with high-fidelity simulators, standardized patients and workshops with nationally and internationally known subject matter experts."
"Transitioning from a registered nurse to a nurse practitioner isn't just a change in advanced skills, but also in thinking and behavior," said Rémi Hueckel, DNP, CPNP-AC, FAANP, assistant professor and faculty coordinator for the Pediatric and Neonatal Nurse Practitioner majors in the Duke University School of Nursing MSN Program. "On-campus intensives build a foundation that is guided through experience and not the typical syllabus follow-along."Each semester nurse practitioner students arrive to campus to engage in activities that will highlight seven core competency themes from the School's curriculum: care management, professional identity, scholarship, collaboration, contextual relevance, information management and leadership.
Katherine Pereira, DNP, RN, FNP-BC, ADM-BC, FAAN, FAANP, associate professor and faculty coordinator of the Family Nurse Practitioner major in the Duke University School of Nursing MSN Program, adds: "Intensives are hands-on, brains-on activities that can't be replicated online.  These types of activities allow these nurses to learn a different thought process and an advanced level of nursing education that helps them become confident in a higher level role as nursing leaders."
When students come to campus they engage in course related activities such as physical assessment practice with standardized patients, case presentations, pediatric transitions in care and communication, simulation cases and procedures, wound management, primary care office procedures and office emergencies. Students also partake in workshops on curricular concepts such as scholarly writing, pharmacology, medical imaging and ethics.
"Students really enjoy intensives because they want an opportunity to practice what they're learning online in a safe and collaborative environment," said Pereira. "They are able to get the in-person guidance of faculty and the support of peers."
Bowers adds that on-campus intensives also provide an opportunity for students to connect to the institution. "Intensives allow us as educators a meaningful way to connect with our students. We organize DUSON community events such as sessions on self-care and potluck dinners to allow us time to bond as a community – something else that can't be replicated online," she said.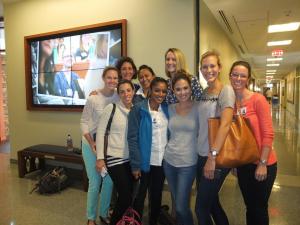 Not only do intensives allow students to connect with the School as a community, but also with their fellow classmates. Unlike on-campus students who establish bonds while sitting next to each other in class or studying for an exam together, distance-based students meet their fellow peers when they come to campus for their intensives and gain support from one another as they experience a major professional role transition.
With the on-campus intensives, an adult-gerontology NP student has an opportunity to meet and network with a neonatal NP student. "The connection to DUSON is far-reaching, and intensives offer an opportunity to network with colleagues that can help set students up for future professional networking," Hueckel said.
Hueckel states that intensives allow students to establish – "real connections –"and experience – "a-ha –" moments when they are collaborating with each other during these activities. She explains that nurse practitioner students experience validation of their developing skills when they are able to come to campus and learn with their colleagues.
Also, when nurse practitioner students come to campus for intensives, they are not all at the same point in their program of study, which allows students who are already in clinical experiences to provide guidance for fellow students who haven't started clinical.
In the end, on-campus intensives allow practicing nurses to experience what it will be like to transition to the nurse practitioner role, and these intensives help set them up to be successful in this new role. Intensives engage students as active learners and participants in their ongoing professional development.