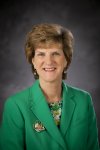 Hello! Welcome to the latest edition of the Nursing Leadership Exchange. In this edition we share ways that we here at Duke University School of Nursing are broadening our strategies to meet the needs of both our campus- and distance-based students through innovative and creative teaching and learning methods.
Distance-based education allows nursing professionals to pursue advanced nursing education without drastic interruptions to their everyday life. Drs. Margaret Bowers, Rémí Hueckel and Katherine Pereira discuss how on-campus intensives allow distance-based students to connect, network and prepare for their new roles as advanced practice nurses.
Dr. Frank Titch completed a two-year teaching fellowship with the Duke University School of Nursing Institute for Educational Excellence that encouraged him to change the way he teaches nurse anesthetist students in the classroom. Now, he uses a team-based learning approach that has been beneficial to both him and the students.
The presence of telehealth service is rapidly increasing to meet the needs of patients, physicians and communities across the country. Drs. Ryan Shaw, Rémi Hueckel, Nancy Crego, Margie Molloy and Nurse Educator Jacqueline Vaughn explain an innovative approach to introducing telepresence robots in the classroom to bridge the gap for distance-based students and enhance clinical exposure for prelicensure nursing students.
Our innovations in teaching and promoting the pedagogical expertise of our faculty has resulted in our being named one of two schools in the nation to receive dual National League for Nursing (NLN) Center of Excellence in Nursing Education designations. Dr. Terry Valiga discusses the processes and value of obtaining a Center of Excellence designation.
These innovations are a credit to our faculty and the staff who are always looking for new ways to help our students prepare for the dynamic world of health care delivery. As you read these stories, I hope the excitement and the commitment of our faculty to embrace innovation in teaching, service and research comes to life for you. We pride ourselves on ensuring that our students have the best educational experiences to become nurses, teachers, leaders and researchers of tomorrow.
Finally, this semester is quickly closing and the holiday season is well underway. Let me take this time to wish you and yours very Healthy and Happy Holidays and a Peaceful New Year.
Sincerely,
Marion E. Broome, PhD, RN, FAAN
Dean and Ruby Wilson Professor of Nursing, Duke University School of Nursing
Vice Chancellor for Nursing Affairs, Duke University
Associate Vice President for Academic Affairs for Nursing, Duke University Health System