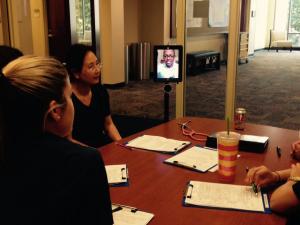 One nursing student's desire to be able to "skype in" on a nursing education moment, sparked an idea with Duke University School of Nursing (DUSON) educators Jacqueline Vaughn, BSN, RN clinical instructor; Ryan Shaw, PhD, RN, assistant professor and Margie Molloy, DNP, RN, CNE, CHSE, director for the Center for Nursing Discovery. The trio worked together to use telepresence robots as an instructional tool for high fidelity or "lifelike" clinical simulations.
"When our MSN Program became a distance-based program, we didn't want our students to lose the clinical classroom in-person experience," said Molloy. "Having the telepresence robots is an innovative approach to allow our distance-based students to have access to simulation scenarios."
Bridging the Gap
The telepresence robots, called the Double, were developed by California-based company Double Robotics. The robots give individuals a physical presence when they can't be there in-person. DUSON robots named "JaMMeR" and "JaMMeR Jr.," a play on the names of Jacqueline, Margie Molloy and Ryan, can be controlled from anywhere in the world via a desktop computer, laptop or mobile devices such as iPad or iPhones. An iPad becomes the face of the robot and it is mounted on a tall, mobile pedestal. Students can rotate and tilt the pedestal to control his or her point of view using their computer or mobile device keyboard.
"As telemedicine becomes more prevalent, it's important for nursing students to understand the process and this will help with that," said Vaughn. "Using our telepresence robots for simulation allows our students to learn and practice providing high-quality and effective health care services without losing the in-person connection nurses establish with patients."
Rémi Hueckel, DNP, CPNP-AC, FAANP, assistant professor and faculty coordinator for the pediatric and neonatal nurse practitioner majors in the MSN Program was the first faculty member to pilot the hybrid robot program in her classes. Nurse practitioner students work with the accelerated bachelor of science in nursing (ABSN) program students during simulations. Via their remote locations nurse practitioner students use JaMMeR or JaMMeR Jr. to assess how the ABSN students are providing care, answer questions and provide clinical guidance in the simulated patient's care.
"Sometimes, nurse practitioners aren't the ones providing hands-on care, rather, they must solicit clinical information and provide clinical guidance for those at the bedside," Hueckel said. "Having access to this type of robot allows nurse practitioner students to practice using structured communication and ask the right questions to have an understanding of the a patient's clinical status. It also allows them the opportunity to practice guiding less experienced nurses."
Both the ABSN and NP students felt comfortable with the telepresence simulations. ABSN students shared that the presence of a "virtual nurse practitioner" helped them to use structured communications during the simulation and it enabled them to communicate their assessment findings. "Our prelicensure nursing students were able to practice interprofessional communication mnemonic known as ISBARR: identify, situation, background, assessment, recommendation and repeat," said Nancy Crego, PhD, RN, CCRN, assistant professor for Duke University School of Nursing. "Having this type of interaction gave them confidence that they were developing skills and knowledge to perform necessary tasks in a clinical setting."
Another positive benefit of the robot is the capability to bridge faculty across disciplines. Shaw is a nurse researcher and Molloy and Vaugh are nurse educators.
"As a nurse researcher it's critical that we have a way to test our research," Shaw said. "Nurse educators and clinical nurses give us an avenue to test our research. They are on the frontlines of care delivery and education and are able to provide us with real-time feedback as we implement evidence-based practice. This project is a great opportunity to be in the forefront of innovative medical practices and I couldn't have done this without them."
Expanding Health Care
Telehealth enhances communication across distances, facilitates teamwork and increases access to care, particularly in rural areas. Reports show that in the United States more than 300 hospitals in more than 40 health systems across 34 states use eICU or Tele-ICU services.
Tele-ICUs use advanced technology to connect ICU patients and their bedside care teams with remote centralized eICU centers staffed by intensivists and nurses. According to TeleHealth World, one intensivist physician and two critical care nurses can support up to 120 ICU beds at a time. Health care organizations are also using telehealth communications to meet the shortage of health care providers in today's health care system such as virtual patient home visits.
As the adoption of telehealth increases in health care settings, the importance of integrating telehealth technology in educational settings is critical. Exposing nursing students to telehealth experiences enhances teamwork, allow students to practice effective communication, and assist students in transitioning to their new roles.
Nurse practitioner students shared that having the telepresence experience as part of their simulations gave them insight into what their future practice may be like with the integration of new technologies.