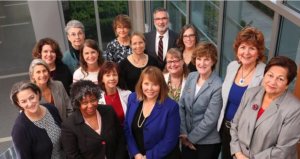 Duke University School of Nursing (DUSON) and the Duke University Health System (DUHS) launched the Duke Advancement of Nursing, Center of Excellence (DANCE) in a unique collaboration to promote personal professional advancement and lifelong learning for all nurses and nursing students. The program hopes to advance the health of communities and demonstrate Duke's commitment to excellence in patient-centered care.
"Academic-practice partnerships like this one leverage the tremendous intellectual and social talents nurses across both settings have," said Marion E. Broome, PhD, RN, FAAN, dean and Ruby Wilson Professor of Nursing for DUSON, vice chancellor for Nursing Affairs for Duke University and associate vice president for Academic Affairs for Nursing for Duke University Health System.
DANCE is built upon the commitments of two major pillars of growth: Pillar 1 supports lifelong learning, and Pillar 2 promotes evidence-based practice, research and innovation.
"The design of the DANCE collaboration is intentional," said Mary Ann Fuchs, DNP, RN, NEA-BC, FAAN, vice president of Patient Care, system chief nurse executive for Duke University Health System and associate dean of Clinical Affairs for DUSON. "The DANCE Pillars build on the organizational strengths of DUHS nursing and DUSON and purposely support mutual goals that we believe advance clinical care, support students and promote internal and external influence of Duke Nursing."
The vision of Pillar 1 is to build and nurture a learning environment for students and nurses to promote professional practice both now and in the future. Pamela Edwards, EdD, MSN, RN-BC, CNE, associate chief nursing officer for Education at DUHS and associate consulting professor for DUSON, is co-director of Pillar 1 along with Lisa Day, PhD, RN, CNE, associate professor for DUSON. This pillar focuses on transformative learning experiences that begin during the pre-licensure student program considering how curricula are highly dependent on exposure to learning opportunities with nurses who are expert care providers.
"Innovative, responsive curricula are informed by close connections to those experts in practice," Edwards said. "Career advancement for the nurse in practice requires exposure to experiences in which the individual nurse sets career goals and obtains new knowledge, skills, support and coaching from faculty who assist in achieving those goals."
DANCE has established goals for Pillar 1 that have been identified as being important for both academic and practice settings. Program initiatives include attaining the National League for Nursing Center of Excellence in Nursing Education designation for "Creating Workplace Environments That Promote the Academic Progression of Nurses," awarded in summer 2016; and developing the Duke Nurse Extern Program, allowing nursing students the opportunity to work for DUHS. The skills and experiences gained during the externship help prepare nursing students to enter the nursing profession and bring them closer to their career goals. Four DUSON students joined the program's inaugural cohort.
"This type of exposure is critical for graduate nursing students who work collaboratively with nurse experts to gain new knowledge and skills," said Edwards. "In addition, they will simultaneously offer unique skills to their coaches during their program experience."
The vision of Pillar 2 is to generate and implement knowledge to support evidence-based practice and integrate collaborative scholarship and research in the academic setting and practice environment. Bradi Granger, PhD, MSN, RN, FAAN, professor for DUSON and director of the Duke Heart Center Nursing Research Program, is co-director of Pillar 2 along with Judy Prewitt, DNP, RN, AOCN, NEA-BC, associate chief nurse officer for Duke University Hospital and clinical associate for DUSON.
This pillar was created because an expanded knowledge base regarding existing evidence and the tools and skills required to implement that evidence into clinical practice engages nurses in contributing to increasing access to care, improving outcomes based on high-quality interventions and developing highly effective, efficient care models that will reduce the cost of care.
"Pillar 2 within DANCE provides a collaborative forum for the generation and implementation of evidence-based practice and research for Duke nurses in the clinical and academic settings," said Prewitt.
The goals that DANCE has established for Pillar 2 assist in reducing gaps in care and improve the quality of care delivery.
To learn more about DANCE, visit their webpage.