August 26, 2021
Image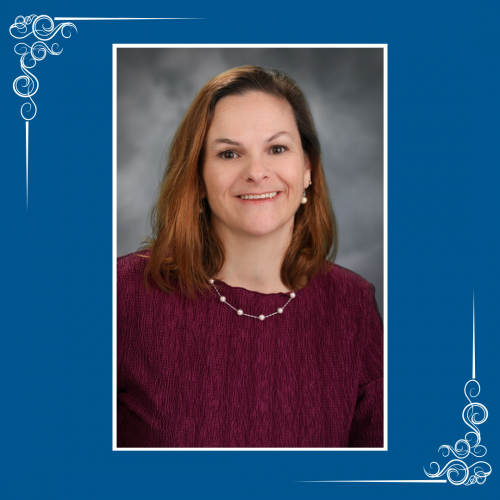 Virginia (Chris) Simmons, DNP, CRNA, CHSE-A, FAANA, FAAN, program director and associate professor, has been awarded the designation of Fellow of the American Association of Nurse Anesthesiology (FAANA) – a recognized hallmark of leadership and professionalism in the profession and science of nurse anesthesiology and the AANA's most elite professional achievement.
Simmons, an AANA member since 2002, earned this recognition through displaying an exceptional level of expertise, service and commitment to transforming the nurse anesthesia profession.
"We recognize Virginia C. Simmons as a leader who has demonstrated a depth of expertise that is critical to shaping the future of anesthesia care," said Lorraine Jordan, PhD, CRNA, CAE, FAAN, chief advocacy officer of AANA and CEO of the AANA Foundation. "Earning this distinction signifies a commitment of excellence and dedication to making impactful changes for our profession."
Simmons was formally inducted during AANA's 2021 Annual Congress on August 16. This year's class comprises 65 professionals who are committed to growing and advancing the nurse anesthesiology profession.
At the Duke University School of Nursing, Simmons oversees the Doctor of Nursing Practice-Nurse Anesthesia (DNP-NA) Program; among her accomplishments has been introducing transgender simulation to the program. She herself graduated with her DNP from Duke in 2011; her scholarly project was titled "Focused Anesthesia Interview Resources (FAIR) to Improve Efficiency and Quality."
Simmons has shared her simulation expertise domestically in the U.S. and internationally in countries such as Ghana and Norway and has held positions on local, state, national and international committees. She was one of 20 individuals selected to be a National League for Nursing's (NLN) Simulation Leader in 2014 and currently co-chairs the National Board of Certification and Recertification for Nurse Anesthetists Simulation Subcommittee.
Simmons earned her BSN from Auburn University Montgomery and her MSN from UNC Greensboro and the Raleigh School of Nurse Anesthesia. After graduating with her MSN, she worked at Duke Regional Hospital; while there, she served as a clinical preceptor for Duke nurse anesthesia students, in CRNA managerial and staff positions, and on multiple nursing and hospital committees including service as the inaugural co-chair of the Nurse Governance Committee and Magnet Force 8 co-chair.
Her accolades include receiving the 2019 American Association of Nurse Anesthetists' Didactic Instructor of the Year Award, the 2018 Duke University Nurse Anesthesia Faculty of the Year Award and the 2016-17 Auburn University Montgomery School of Nursing's Distinguished Alumni and being designated as a member of the Top 50 at 50 Auburn University Alumni in 2016.
Simmons's work has been published in numerous peer-reviewed journals, and she serves as a peer reviewer for seven professional nursing, nurse anesthesia and simulation journals. She is also a veteran of the United States Air Force.
The inaugural class of AANA fellows was chosen through a competitive, rigorous application process. To be awarded the FAANA distinction, applicants must be credentialed as a CRNA for a minimum of 10 consecutive years; be an AANA member for at least 10 years; have a minimum of 10 years of full-time professional experience as a practitioner of anesthesiology or educator/program director, facility leader or business leader; have a record of attending AANA conferences; demonstrate outstanding achievements in nurse anesthesia and leadership that command respect and recognition from other leaders in the profession; and provide evidence of enduring and substantial professional achievement that demonstrates professional and personal growth and use of innovative, creative solutions in at least one of several categories.
"To be acknowledged among such a talented group of greater than 55,000 CRNAs is simply an honor, one that I credit to God and the many supporters and mentors along my journey, including CRNAs, other professionals, and those who taught me great life lessons," Simmons said.