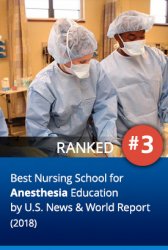 The Doctor of Nursing Practice Nurse Anesthesia (NA-DNP) prepares students with skills in anesthetic administration in a wide array of clinical settings for patients across the lifespan. The nurse anesthesia program addresses the critical leadership skills needed to translate evidence-based care into practice, change systems of care, and measure outcomes of groups of patients, populations, and communities.
Graduates are prepared in the translation of research and other evidence into clinical practice, measurement of patient outcomes, and transformation of health care systems to ensure quality and safety. Graduates from our program have an overall CRNA National Certification Examination pass rate of 100 percent. Following graduation, our CRNA alumni move on to practice all over the U.S. while approximately half remain in North Carolina. One hundred percent of our graduates find employment upon graduation. Some alumni are educators, hold leadership positions, and are politically active in our state and national organizations.
Dr. Chris Simmons shares more on the Doctor of Nursing Practice Nurse Anesthesia program.
Quick Facts
Enrollment mode: Hybrid program (on-campus and online; nurse anesthesia courses are primarily on-campus; DNP courses are primarily online)

Admission Term: Fall only

Application deadline: September 1

About the Class of 2021:

Attrition rate: 7%

National certification exam pass rate: 100%

First-time pass rate for Class of 2021: 96%

Employment rate: 100%
Highlights
Program ranked #3 by 2018 U.S. News & World Report

36-month, 83-credit program

Variety of clinical rotations with a wide range of experiences

Dynamic and ongoing interaction between students and our dedicated faculty of experienced nurse anesthetists

Extensive student mentoring program

Outstanding faculty and clinical preceptors who are highly committed to each student's education

Our faculty includes recognized leaders in the nurse anesthesia profession at the state, national, and international levels. For more information about faculty, CVs are linked to each faculty's name

The program culminates in the completion of a Doctor of Nursing Practice scholarly project, with subsequent manuscript submission to a peer-reviewed journal, utilizing evidence and interprofessional collaboration to positively impact a selected population, organization, health care system, or health care policy

The Duke University School of Nursing Nurse Anesthesia program is accredited by the Council on Accreditation (COA) for Nurse Anesthesia Educational Programs through Fall 2023. The COA offices are located at 10275 W. Higgins Rd., Suite 906, Rosemont, IL 60018-5603 | Phone: 224-275-9130 | accreditation@coacrna.org | https://www.coacrna.org.
Enrollment Option
Full-time, on-campus and online; nurse anesthesia courses are primarily on-campus

Fall start only
Faculty
Our faculty includes recognized leaders in the nurse anesthesia profession at the state, national, and international levels. Current and recent faculty awards, honors, and positions include:
2019 American Association of Nurse Anesthetists (AANA) Didactic Instructor of the Year

2019 Duke Clinical Leader Fellow

National Board of Certification and Recertification for Nurse Anesthetists (NBCRNA) Continued Professional Competency Program Airway Core Module Panel Recognition Committee

Co-Chair for Simulation Subcommittee of the NBCRNA's Evaluation and Research Advisory Council

NBCRNA Evaluation and Research Committee

AANA Resolutions Committee

North Carolina Association of Nurse Anesthetists (NCANA): Board of Directors, Treasurer, Secretary, Finance Committee member, Education and Research Committee, Program Planning Committee

Sigma Theta Tau International (STTI) Beta Epsilon Graduate Counselor

2016-2017 Distinguished Alumni Auburn University Montgomery

2016 Auburn University Montgomery's 50 at 50 Honored Alumni

2013 Mary Hanna Memorial Journalism Award

International Nursing Association for Clinical Simulation and Learning (INACSL): Conference Planning Committee, Financial Oversight Committee

AANA Foundation Post-Doctoral Research Fellowship Award

AANA Foundation Program Director's Award for Outstanding Research

AANA Journal Reviewers