White House, DUSON Experts Discuss How Nurses Can End HIV Epidemic in Virtual Event
The Duke University School of Nursing presented the virtual event, "The Role of Nursing in Ending the HIV Epidemic: A Call to Action," on October 12.
Image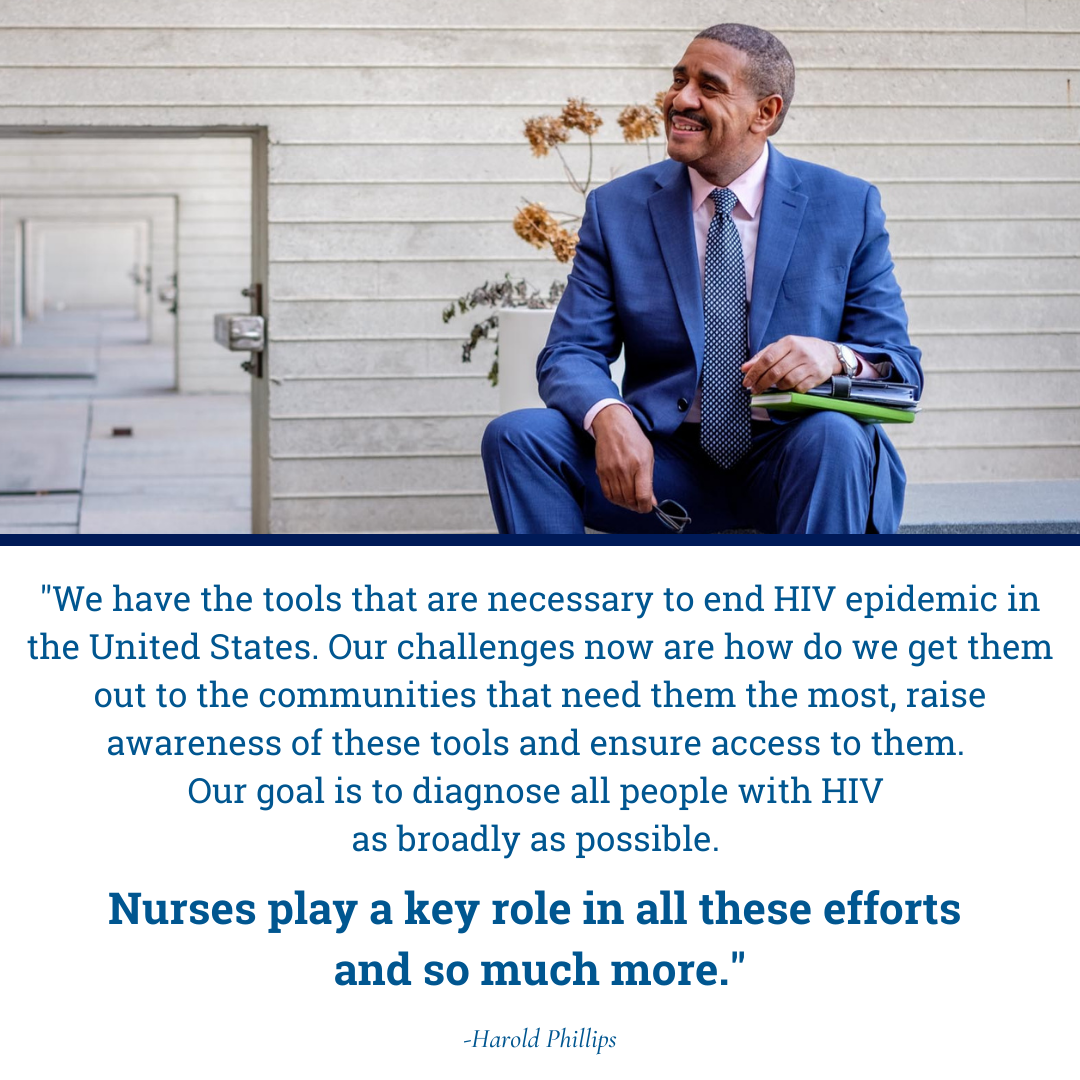 October 15, 2021
Duke University School of Nursing presented "The Role of Nursing in Ending the HIV Epidemic: A Call to Action" on October 12, highlighting 40 years of indispensable contributions of nurses to fighting HIV in the U.S. and globally and new directions for leveraging nurses and nursing schools in support of reinforced national efforts to end the HIV epidemic by 2030.  
The webinar, which was attended by more than 220 people, generated a set of policy recommendations and provided an opportunity for Vincent Guilamo-Ramos, PhD, MPH, LCSW, RN, ANP-BC, PMHNP-BC, AAHIVS, FAAN, dean, Duke School of Nursing, and vice chancellor of nursing affairs, Duke University, to launch two signature initiatives of the Center for Latino Adolescent and Family Health (CLAFH). 
Harold Phillips, MRP, director of the White House Office of National AIDS Policy, delivered the keynote presentation, highlighting initiatives his office and the Biden-⁠Harris Administration are taking toward ending the HIV epidemic. Phillips identified challenges and offered a call to action for nurses and nursing schools in their capacities to accelerate the HIV response. 
"We have the tools that are necessary to end HIV epidemic in the United States," Phillips said. "We now can prevent HIV, and [we] have new and emerging treatments. Our challenges now are how do we get them out to the communities that need them the most, raise awareness of these tools and ensure access to them. Our goal is to diagnose all people with HIV as broadly as possible. Nurses play a key role in all these efforts and so much more."
Phillips acknowledged priorities that can accelerate efforts, including an equitable approach that ensures no populations or geographic regions are left behind; eliminating stigma; expanding and improving access to health coverage; and addressing social determinants of health. He identified populations that are prioritized in the national HIV/AIDS strategy including gay, bisexual, and other men who have sex with men, in particular African American/Black, Latino, and American Indian/Alaskan Native men; African American/Black women; transgender women; youth ages 13 to 24; and people who inject drugs. He also demonstrated that these populations have been identified based on incidence, diagnoses and viral suppression data. 
HIV/AIDS in North Carolina and the U.S. South 
During his talk, Phillips acknowledged focused efforts, following an analysis of 2016-17 data, that revealed that more than 50 percent of all new HIV diagnoses were concentrated in Washington, D.C.; San Juan, Puerto Rico; and 48 counties across the U.S., including Mecklenburg County, North Carolina. This observation, and related health disparities across the U.S. South, were revisited and addressed further by Schenita D. Randolph, PhD, MPH, RN, CNE, associate professor, who discussed the high rates of HIV diagnoses in additional rural North Carolina counties and spoke about the urgent need to address HIV disparities among Black Americans in the U.S. South. Ramos, who spoke about the invisible Latino HIV crisis, noted that the rate of HIV diagnoses among Latinos in North Carolina increased by 19 percent from 2018 to 2019.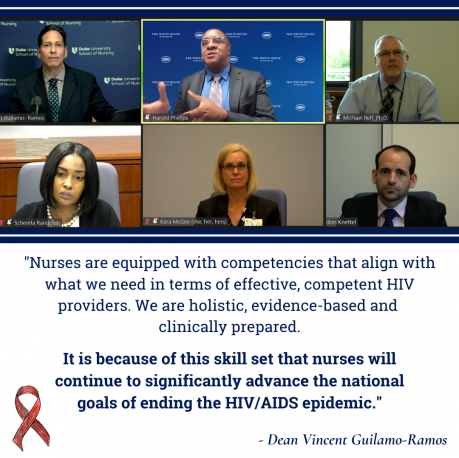 Each of the speakers addressed matters that corresponded to Phillips's call to action for nurses and nursing schools.  
Kara McGee, DMS, MSPH, PA-C, AAHIVS, associate professor and lead faculty for the HIV Specialty, discussed how the School is helping fill the need for the HIV health providers by being the only nursing school in the U.S. South to be actively enrolling students in an HIV specialty program for nurse practitioners. She also underscored the important role that nurses have in improving health outcomes and counteracting stigma among people living with HIV.   
Brandon Knettel, PhD, assistant professor, discussed how lessons learned from mental health and substance use treatment is advancing community access to HIV care through such means as the rise of telehealth, and Michael V. Relf, PhD, RN, ACNS-BC, AACRN, ANEF, CNE, FAAN, associate dean for global and community health affairs and associate professor, addressed implications of regulatory limitations on APRN practice and HIV outcomes, with a close examination of circumstances in the U.S. South.  
"Nurses are equipped with a set of competencies that align with what we need in terms of effective, competent HIV providers," Ramos said. "Nursing is a relational profession. We are holistic, evidence-based and clinically prepared. It is because of this skill set that nurses will continue to significantly advance the national goals of ending the HIV/AIDS epidemic."
Recommendations to Accelerate HIV Response Among Nurses 
From the event, five major paths for action in leveraging nurses for the fight against HIV in the U.S. emerged:  
Remove regulatory barriers for both advanced practice registered nurse (APRN) and registered nurse (RN) practice in HIV prevention and care. 
Develop, evaluate, and adopt novel nurse-led HIV prevention and treatment models. More than 4 million nurses in the U.S. represent the largest segment of the public health and healthcare workforce.  
Increase the funding for HIV workforce development and training among nurses and other healthcare professionals.  
Invest in the development of a culturally competent and inclusive nurse workforce and other healthcare professionals pipeline program to ensure HIV clinical, programmatic, and scientific leadership is better equipped to address the HIV prevention and healthcare needs of the populations most affected by the HIV epidemic.  
Recognize the indispensable role of nurses to public health preparedness and healthcare delivery in the U.S. for HIV and other infectious diseases. Support national efforts to communicate the critical role of nursing for healthcare delivery and public health preparedness. 
"Among my goals as dean is to advance the role of nurses and nursing schools in addressing health policy and health equity," Ramos said. "Forums such as this one provide us important ways to translate the practice, research and educational work of Duke School of Nursing in our collective efforts to safeguard the health and wellbeing of communities in the United States and around the world." 
Launching New CLAFH Initiatives  
After his research presentation, Ramos, as center director and founder, announced the launch of two signature initiatives of the  Center for Latino Adolescent and Family Health (CLAFH), both of which are responsive to the policy recommendations: Instituto DILES and the NO FEARS Stigma Intervention. 
Instituto DILES [DILES (Tell Them) Institute] — Instituto Latinx de Desarrollo Integral de Lideres Empoderados Contra el SIDA (Latinx Comprehensive Development of Empowered Leaders Against AIDS Institute) 

This 12-month program, generously supported by ViiV Healthcare, builds leadership skills for those interested in affecting real change in ending the HIV epidemic among Latino men. The application period is now open. 

NO FEARS (Nurturing Ourselves: Family Education and Activities to Reduce Stigma) Stigma Intervention 

The NO FEARS program is a family-based, stigma reduction intervention that provides youth living with HIV and their families with guidance on how to support stigma reduction and promote youths' life opportunities and their development into healthy and fulfilled adults.  
Stay tune to the CLAFH website for supportive materials including a family workbook and animated video series about NO FEARS, a young man of color living with HIV, and his adventures in overcoming three HIV stigma villains with the support of his family. 
"These are two projects that I'm very proud of," Ramos said. "Instituto DILES has a focus that is really intended to draw more attention and to build capacity nationally among sort of Latino communities at greatest risk, so that there will be resources in terms of specific people that can address some of those needs to elevate and amplify some of what we need in terms of prevention and access to care. NO FEARS is something that we've been working on for a number of months and is a [program] that is intended to address stigma and help adolescents overcome that stigma."