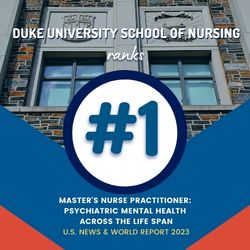 Approximately 1 in 5 U.S. adults live with mental illness. In turn, mental disorders are significantly comorbid with other chronic diseases, such as cardiovascular disease, diabetes and obesity, adding to the complexity of caring for these individuals and the burden of illness on the patient. Psychiatric Mental Health Nurse Practitioners (PMHNP) are strategically capable of providing comprehensive, integrated mental health and social care services in community-based, rural and urban health care settings.
Our MSN Program focuses on developing the knowledge and skills necessary to deliver psychiatric mental health advanced practice nursing to all ages, especially to those in rural and underserved areas. In addition to our other admission requirements, if you possess one or more of the following, you will be most competitive for selection: 1) greater than one year of post licensure medical-surgical nursing experience (e.g. internal medicine, surgical, pediatrics, intensive care, perioperative, neurology, maternal-child, or emergency nursing) and/or 2) an American Nurses Credentialing Center (ANCC) Psychiatric-Mental Health Nursing Certification (RN-BC).
On-campus intensives and state-of-the-art simulation techniques supplement an established program designed to prepare you for management of patients across all psychiatric and mental health care settings. Examples of practice settings include emergency departments, inpatient hospitalist and intensive care services, residential mental health care facilities, DoD/VA facilities, Department of Corrections and substance abuse treatment facilities.
Highlights
Program ranked #1 by U.S. News & World Report

Program ranked #1 Best Online Nursing major by U.S. News & World Report

Immersion in the clinical environment maximizes the learning experience and enables you to become active members of an interprofessional health care team.

Experienced faculty with clinical backgrounds in various areas of pediatric, adult, veteran and military, outpatient and inpatient mental health patient care areas.

Certification in telepsychiatry upon completion of program.

Option to do certificate in veterans' health care program.

Extensive resources for instructional support, including high-fidelity simulation equipment with expert simulation instructors to guide practice, internet support and multimedia availability to promote distance-based learning.

49 credit hours, including 616+ clinical hours
Enrollment Options
Duke University School of Nursing's advanced practice psychiatric-mental health nurse practitioner program is rigorous. Competitive applicants are emotionally mature and have a demonstrated track record of high academic achievement with a strong foundation in the hard sciences.
You are encouraged to submit recommendations from mentors or colleagues who can speak to your preparedness for graduate-level education and advanced clinical practice. Recommendations submitted by physicians, nurse managers, advanced practice nurses and other nursing leaders are required.
As a graduate, you are eligible to take the American Nurses Credentialing Center's Psychiatric-Mental Health Nurse Practitioner examination for the Psychiatric-Mental Health NP (Across the Lifespan) national certification.
Learn more about our curriculum.