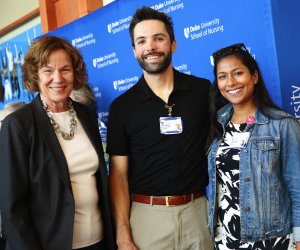 Serve as a Reunion Class Representative
Reunion class representatives play an important role in the success of our Reunion activities. Volunteers encourage classmates to attend the reunion and support the class gift campaign. Interested in representing your class? Contact Marla Gregg.
Be a Preceptor!
Are you an experienced clinician looking for a way to educate and train the next generation of nurse practitioners (NP)? With Duke University School of Nursing MSN programs offered either distance-based or online, NP Preceptors are needed across the country in a variety of clinical environments. Learn how you can Pay it Forward to Pay it Back as a Duke Nursing Preceptor.
Serve on a Career Panel
Offer career advice, mentorship and share your professional journey.
Join the Blue Crew
Help us share the exciting things happening at the School of Nursing through your social media channels. A Blue Crew member is a social media online ambassador who shares the latest Duke news and information like blog posts, events, contests and more using social networks like Facebook, LinkedIn and Twitter. As part of the Blue Crew, you'll receive exclusive Duke news that you can share with your friends with one button click. It's a great way to stay connected and show your Duke pride. Plus, you can win great Duke prizes. Click here to learn more!
Women's Forums
Engage with Duke alumnae by joining one of the Women's Forum groups in more than 20 cities across the country. The mission of these Women's Forums is to engage alumnae in active and meaningful ways in the life of the university and to provide opportunities for learning, leadership and mentorship. For more information and to see upcoming events, visit the Duke Women's Forum page.