Be a Duke School of Nursing Preceptor
Help Shape the Next Generation of Nurse Practitioners by Giving Something Back to the Profession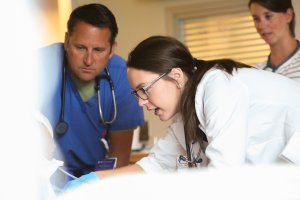 Over the course of a semester as a Duke Preceptor, you can share your expertise and talents to help mentor current NP students by providing real-world learning opportunities within your practice. Just as others did for you when you were a student, as a Duke Preceptor you will be working with some of the best and the brightest nursing students. Our students are eager to learn from engaged, caring health care professionals. They need your help in learning about obtaining subjective and objective data, completing a physical exam, and determining diagnoses. With Duke University School of Nursing MSN programs offered either distance-based or online, NP Preceptors are needed across the country in a variety of clinical environments. Learn how you can Pay it Forward to Pay it Back as a Duke Nursing Preceptor.
Benefits to Being a Duke Nursing Preceptor
Eligible for nomination to become an Adjunct/Clinical/Consulting Faculty at Duke University School of Nursing

Access to many information systems and tools such as Uptodate.com, Teachingphysician.org and the Duke University Library System

Verification of preceptor hours for ANCC, PNCB, NCC recertification (many certification agencies offer CE credit for precepting)

Access to free events, seminars and training (some with CNE and ANCC credit)

AANP group member discounts

Access to potential new Duke-educated employees
To register as an MSN preceptor, or if you have any questions, contact Leah White at (919) 684-4002 or leah.terterian@duke.edu.
Frequently Asked Questions
How many hours will I need to precept and how long will it take? This varies based on the course—it can be 1 to 4 days a week (totaling 50-400 hours a semester).
Who provides malpractice insurance? A copy of the practice COI (certificate of insurance) is needed prior to preceptor assignment. The School of Nursing will provide appropriate malpractice insurance for each student placed by Duke.
How are students screened? Background checks, drug screens and immunization verifications are conducted on all Duke Nursing students.
What happens if I need to contact someone at Duke about a student? Nurse Practitioner faculty member's names and contact information will be provided at the time of the preceptor assignment.
How will I know what to focus on with students? Each student will have standard course objectives in addition to individualized student objectives that will be shared with the preceptor when the clinical experience starts.
Does the preceptor grade or evaluate the student? The preceptor will complete a student performance evaluation form. This evaluation contributes to the overall grade the student receives.
About Us
At the Duke University School of Nursing our mission is simple: "to create a center of excellence for the advancement of nursing science, the promotion of clinical scholarship and the education of clinical leaders, advanced practitioners and researchers." Nationally ranked among graduate schools of nursing, Duke University School of Nursing offers the MSN degree in a wide variety of nursing majors. Our MSN program develops leaders in research, education, clinical practice and administration who are educated to become the next generation of transformational leaders in nursing and health care.