Would you like a part-time position that is professionally challenging, with flexible scheduling and great pay? Then consider applying for one of our Clinical Instructor positions.
Duke has greatly expanded its student enrollments and is seeking several nurses with an enthusiasm for teaching and a commitment to quality patient care.
Features of Our Clinical Instructor Positions
Part-time, with an ability to work 12 to 24 hours (or more) per week, with many options to meet personal scheduling needs

Possibility for alternative scheduling - weekdays and/or weekends

Work a semester at a time or year round

Many professional development opportunities provided

Accompanied by adjunct faculty appointment with Duke University
The Clinical Instructor Role
Clinical instructors (CIs) play a vital role in the education of our students. Although some CIs work with students in our master's program, most teach our accelerated BSN students.
The responsibilities of CIs who work with our accelerated BSN students include:
Supervising care provided by a group of students (usually 6 to 8 students in a group) while they complete their clinical rotation in your area of specialty.

Coordinating with clinicians at the clinical site to make student patient assignments.

Teaching students how to perform duties in the clinical site and answering their questions.

Evaluating your students' clinical work.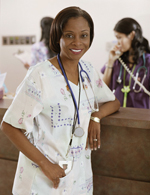 We seek part-time instructors who have experience and specialized skills in the following areas:
Adult Health

Community Health

Pediatrics

Gerontology

Maternal-Newborn Health
Requirements
Clinical instructors must hold an active license as an RN in the state of North Carolina, have at least two years of clinical experience and hold a BSN (MSN preferred).
Interested?
If you have an interest in helping to support the intellectual growth and education of Duke students and would like to be placed in our group of potential clinical instructors, please send an email with your current CV attached to it to the Accelerated Bachelor of Science in Nursing program or Master of Science in Nursing program. You will be contacted if we have a need that potentially matches your qualifications and background.