April 9, 2019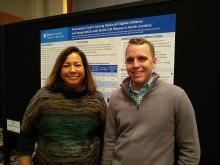 Nancy Crego, assistant professor, recently had her research featured in an article entitled "In sickle cell disease, opioid prescribing starts early, study finds" published in MDedge | Psychiatry.
A new study of children with sickle cell disease found prevalent opioid use, with one in five preschoolers having had an opioid prescribed and filled for them.
The Medicaid claims database analysis looked at a one-year snapshot of prescriptions filled for a variety of opioids among children and young adults in North Carolina, said Nancy Crego, PhD, in an interview at a poster session of the scientific meeting of the American Pain Society.
Dr. Crego and her colleagues at Duke University School of Nursing, Durham, N.C., studied 1,560 children and young adults aged 0-22 years with sickle cell disease who received Medicaid; in all, 586 (38%) had an opioid prescription filled during the year-long study period.