September 7, 2021
Image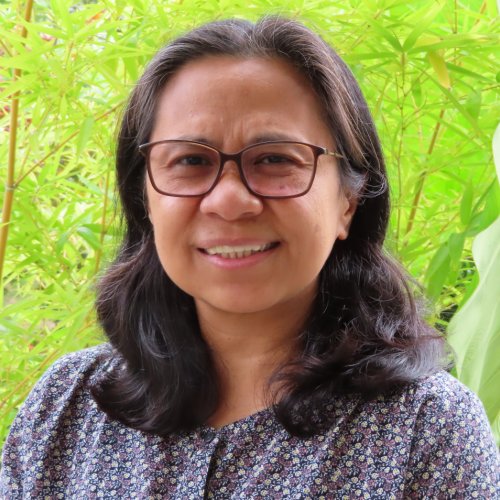 Irene Abella works as a Duke nurse committed to Filipinx nurse advocacy.
New Doctor of Nursing Practice student Irene Abella had to read her acceptance letter to the University Scholar program several times before she believed the news that she was selected as Duke University School of Nursing's Fall 2021 University Scholar.
She has spent 29 years in nursing and currently serves as a nurse practitioner at the Duke Sleep Disorders Center.
"I received an email a day before I was expecting the result to be out," Abella said. "To be honest, I was not expecting to be chosen. My heart almost stopped after I read the email. I had to read it three times to be sure it was not a letter of rejection."
Abella has been a Duke Health employee for 13 years and earned her Master of Science in Nursing (MSN) from Duke in 2015.
"I was blessed to have learned from expert professors who share the Duke passion for excellence," she said. "Every day, I still am amazed by how passionate the Duke community is about excellence."
The Philippines, Abella's home country, is the largest exporter of nurses worldwide. Since her parents wanted her to have access to a breadth of opportunities, they encouraged her to be a nurse.
"Compassion is a virtue innate in the Filipinx culture," Abella said. "We take pride in being able to lovingly care for the sick."
Before her family immigrated to the U.S., in 2006, Abella held several different roles in the Philippines including community health grassroots organizer, social research assistant, nurse educator and professional exams reviewer. She's also worked at the Qurayat General Hospital in Saudi Arabia, where she was nominated as Best ICU nurse.
Once in the U.S., she began as a staff nurse in a long-term care facility before joining the Duke Neurology ICU team. The Duke Friends of Nursing recognized her with an Excellence in Critical Care Nursing award in 2014.
In addition to her MSN, Abella possesses a master's degree in health services management from the University of the Philippines Baguio and a BSN from Saint Louis University Philippines.
She decided to pursue her DNP to not only further her education but also learn how to effectively collaborate more with health care stakeholders, such as fellow nurses and community members.
Through the University Scholar program, she looks forward to meeting other scholars and gaining knowledge to apply toward her own career and advocacy for other Filipinx nurses, such as her new FRIEND (Filipinx Reformative International Education for Nursing Development) Initiative. Abella created this initiative to better attend to the educational and professional development needs of current and future Filipinx nurse leaders while providing them with ways to network with each other.
"I have been blessed to have had opportunities to further my career as a nurse in the United States," she said. "I envision my Filipinx nurse colleagues also being given more opportunities and more chances of learning from the global environment."