November 17, 2021
Image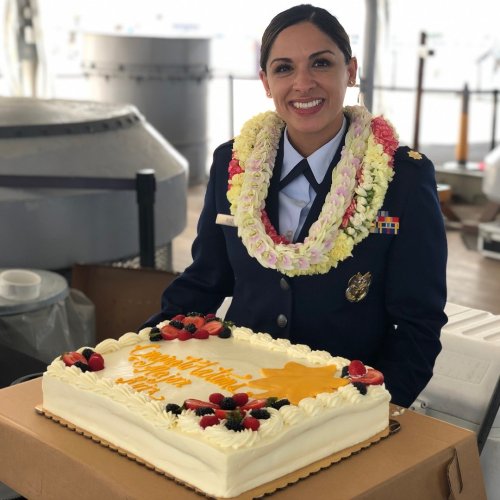 Raised in a family of health care professionals, Maritza Ruiz is now carving her own path in the nursing field.
While furthering her education at the Duke University School of Nursing, Ruiz, an Air Force reservist, works as an individual mobilization augmentee at the Uniformed Services University for Health and Sciences in the Research and Clinical Inquiry Department. She has invested 18 years into her military service.
From February to September, Ruiz was stationed in Stuttgart, Germany, as a global health engagement officer.
"I conducted security medical cooperation with partner nations and assisted partner nations with building up their medical capabilities and interoperabilities," she said. "It's strategic-level nursing."
In addition to her professional work, Ruiz is actively earning her Doctor of Nursing Practice (DNP) degree and her Family Nurse Practitioner and Nursing Education certificates at Duke. She is originally from Ohio and earned her BSN from Wright State University and MSN from Kaplan University.
Ruiz's interest in Duke stemmed from her own experiences as an ER nurse with Duke Health and after noting the school's top-notch performance in U.S. & News World Report rankings, which includes recognition as being #1 among the country's DNP Executive Leadership Specialty programs.
"I still keep in contact with my mentors from Duke Health to this day, and that was years ago. Their words of wisdoms still ring in my head," she said. "It was just that impact, the community, the support, the resources, the treatment of patients and employees. It was just that impactful that I ended up only applying to Duke, and that's where I got in."
In her time as a Duke student, Ruiz has been particularly inspired by Barbara S. Turner, PhD, RN, FAAN, Elizabeth P. Hanes Professor of Nursing, and Blanca Iris Padilla, PhD, MSN, APRN, FNP-BC, FAANP, assistant professor, who serves as her DNP project committee chair.
"I'm very, very fortunate to have these two in my professional studies. They're just incredible people," Ruiz said. "They are very transparent, upfront and personable in their feedback. Their unwavering dedication to the students and patients demonstrates their love for nursing and for teaching. That's the difference between a Duke faculty member and faculty at other schools."
For her quality improvement project, Ruiz, one of this year's Jonas Nursing and Veterans Healthcare award recipients, is introducing a standardized evidence-based program across the Air Force with the ultimate goal being to roll out the program tri-service.
Ruiz's military service also influenced her decision to earn a DNP. Before being promoted to her role as a global health engagement officer, Ruiz served as an inspector general in Hawaii.
"It was a very, very enlightening job," she said. "I learned a lot and learned to love policy. As nurses, we need more education, more exposure to policy. It's what guides our profession."
A mother of one and a spouse of an active-duty Army personnel, family has long played a central, influential role in Ruiz's life. Majority of her family are nurses.
"My aunts took us into the hospital with them and exposed us to medicine at an early age," she said. "All of my cousins were trained in CPR from a very young age and would travel with my aunts and uncles to teach free CPR classes to the community and health care professionals. I've followed the path paved by my aunts with the support of my family."