July 7, 2021
Image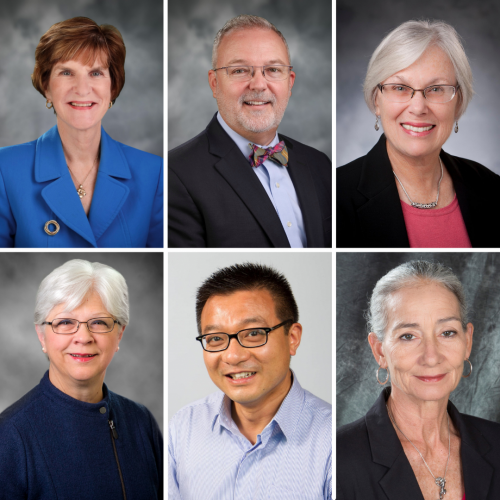 Journals provide a valuable resource for the health care professional and educator. Whether it is a student progressing toward their first job or a professional decades into their career, journals keep the reader informed about the latest research and clinical and educational advancements in addition to being a platform for new and seasoned writers alike. At the helm of the production and decision-making process, tirelessly making sure each issue is successfully produced, are editors in chief.
Six Duke University School of Nursing faculty members serve in that integral position. "Being a journal editor is an important service that our faculty provides in their areas of specialty," said Marion E. Broome, PhD, RN, FAAN, Ruby Wilson Professor of Nursing and former dean. "To have so many of our faculty serve in this capacity speaks volumes to the expertise, knowledge and leadership we possess at our school." Broome is the editor in chief of "Nursing Outlook."
The Production Process
Every submission sets in motion a series of steps. First often is review by peers in the field. Several sets of eyes, including the editor's, analyze the submission to see if it is a good fit for the publication and, if so, what changes need to be made; additional reviewers can include other editors, such as associate or managing editors. Then the manuscript, if deemed to be a good fit for the journal, is sent out to peer experts in the field. Once an article undergoes a first initial round of reviews and is seen as a manuscript worth pursuing further for publication, it is sent back to the author by the editor in chief to make the changes by a certain deadline. In some cases, the manuscript must be rejected. When the edited version is received and finalized, the editor makes the final decision as to when it will run in a print journal.
"I have a much deeper appreciation of the roles and responsibilities of being an editor. In addition to managing the flow of submitted manuscripts and making editorial decisions about content, I have also come to realize that I am steward of the discipline," said Michael V. Relf, PhD, RN, AACRN, ANEF, FAAN, associate dean for global and community health affairs, associate professor and editor in chief of "Journal of the Association of Nurses in AIDS Care" (JANAC). In this stewardship role, I have the opportunity, and obligation, to advance discourse around contemporary issues related to HIV prevention, care and treatment including addressing issues of medical distrust, systemic racism and social contributors of health which are integrally connected to HIV."
When it comes to deciding when to publish the pieces, readership factors into the equation. For example, the readers of "Nurse Educator," led by Marilyn H. Oermann, PhD, RN, ANEF, FAAN, director of educational research and Thelma M. Ingles Professor of Nursing, teach at different levels and types of institutions from associate degree programs at community colleges to graduate programs at universities. In addition to considering pieces that would benefit readers according to their different positions, Oermann thinks of what would be interesting to this assorted group by balancing research articles with other features like "Teaching Tips."
"Since we have a large number of submissions, I try to cluster articles when I put together an issue, so there is some theme to the issue," she said.
The journal's impact factor is sometimes a point of consideration of authors when they select a journal for their submission.
"The impact factor of a journal depends on how many times articles in a journal are cited in other journals in the next two years," Oermann said. "When they talk about journal impact factors, those impact factors are based on citations."
If Oermann was solely focused on the journal's impact factor, the journal would be filled with research papers and systematic reviews because they are cited more than other types of articles. However, since those types of articles are not useful to all of the journal's readers, Oermann constantly has to work to find and maintain a balance among the different types of articles she includes per issue. "Nurse Educator" has a podcast, which is another way it reaches readers. Oermann also serves as editor in chief of "Journal of Nursing Care Quality."
While having an editorial board and hub of peer reviewers can be commonplace, how the editorial board is organized can differ. In some cases, such as with Debra H. Brandon, PhD, RN, CCNS, FAAN, associate professor, the chief editor will split their role, and, in turn, responsibilities with another individual. Brandon is co-editor of "Advances in Neonatal Care" with Jacqueline M. McGrath, PhD, RN, FNAP, FAAN, of University of Texas Health Science Center at San Antonio, Graduate School of Biomedical Sciences.
"We've worked a lot together over the years on a variety of projects and knew each other very well," Brandon said. "We shared students at different institutions and knew we could work together."
They divide certain sections and, in addition to weekly managing submissions, focus on big picture strategic planning.
"While we are good friends and have worked together over the years, we still think differently, so it's always nice to have a different perspective on something," Brandon said. "(The arrangement) has worked better than we had anticipated. The journal has been highly successful under our leadership, and we're pretty proud of that together."
Some journals like the one Broome oversees tend to have more submissions from experienced writers, lessening the need for the editor to heavily copy edit manuscripts, while others like Brandon's journal interact often with newer writers.
"When they're novice writers, you really want to support their scholarship and their endeavors," Brandon said. "The most rewarding part of my role is really working with these authors on getting their work out. You get them to see how to really write a worthwhile manuscript and see the lightbulbs coming on for them, knowing that they are getting what you are saying."
Depending on the issue, editors, such as Xiao Hu, PhD, Ann Henshaw Gardiner Distinguished Professor of Nursing and editor of "Physiological Measurement," might also solicit writers.
"My main responsibility is guiding the scientific direction of the journal in terms of figuring out what the emerging topics are, so we can organize focus issues and topical reviews to timely synthesize progress in the field to help the community better grasp hot topics in digital health, artificial intelligence and machine learning," he said.
Hu's personal relationship with the journal extends back to when he was a student himself.
"I feel very attached to this journal because, when I was a PhD student, maybe not the first one but at least one of my earlier papers, I got published in there," he said. "When the opportunity came to recruit me to the editorial board, I said yes, and then, when the opportunity came for me to be editor in chief, I said yes again."
Job Highlights, Benefits
While serving as an editor can be challenging and time consuming, it is not without its upsides. Editors form connections with researchers, instructors, experts and professionals throughout their industries.
"I don't know that there's too many people in the field, especially in academia or leaders in practice, who don't know my name because of the journal," Broome said. "I've been with it now 17 years, and, frankly, have worked very hard to make it a very high-level, important journal. It is the official journal of the American Academy of Nursing and for the Council for the Advancement of Nursing Science and is one of the top five percent of journals in nursing for impact factor.
Being an editor in chief is also a way to keep up with the changes in the field and be able to network with the up-and coming writers and give them opportunities that they may not have with another journal because their ideas are too controversial. Editors see themselves as stewards of the discipline and take that role seriously."
While it is personally rewarding to interact and collaborate with newer professionals, the experience can also help the editor with their own professional growth.
"It's helped me improve my writing and the writing of the people that I mentor whether it's a student or faculty member," Brandon said. "The more you read other people's work and see the mistakes they make lead to you correcting similar mistakes in your own writing as well as the students you mentor."
It also can be satisfying when a writer provides positive feedback on their experience with the journal because of the editor's efforts.
"When an author writes back and says this was the best process I had with a journal, I feel supported. I think that's really positive for me," Oermann said.
While working with writers is a core part of the editor's role, they also make decisions pertaining to other aspects of running the journal such as who are members of the editorial board.
"There are significant issues of equity, diversity and inclusion on editorial boards, among who gets published and who serves in editor and associate editor positions and on editorial boards," Relf said. "I am proud to say that 'JANAC' is tackling these issues head on."
Relf has reached out to scholars from different countries and rising nurse scientists from underrepresented areas in nursing about joining the journal's board and recently appointed two new associate editors from diverse racial and ethnic backgrounds.
"We still have more work to do, but issues of equity, diversity and inclusion are at the top of our priorities," he said.
Relf's journal also has a formal mentoring program through which they recruit a maximum of three editorial interns.
"The goal of this program is to help develop the next generation of nurse scientists, authors, peer reviewers and, hopefully, future editors," he said.
Diversifying the journal's editorial board has been one of Hu's focuses as well. His approach includes rotating members of the board to open space for newer members, such as junior investigators and, most recently, the board's first nurse scientist.
Julee Waldrop, DNP, PNP, FAANP, FAAN, the new assistant dean of the Doctor of Nursing Practice (DNP) Program, is also an editor in chief, overseeing "The Journal for Nurse Practitioners."
"'The Journal for Nurse Practitioners' seeks to disseminate research, clinical and policy content that helps nurse practitioners provide high quality evidence-based care," she said. "One of the areas that I have tried to showcase and grow is quality improvement. Many nurse practitioners are leading practice change in their organizations and improving patient outcomes. These projects can be adapted and transferred to other settings and populations to accelerate broader change in practice throughout health care systems."
Though serving as an editor in chief comes with challenges, the benefits often outweigh the downsides.
"Being an editor is really good for career development for faculty members," Oermann said. "I tell people that, if you're asked to do something that's related to that or if they're asked to join an editorial board but say they're too busy, I say you should do it anyhow. It's one of those invitations that can help your career later."