The School of Nursing Celebrates Two Sigma Award Winners
The Sigma Theta Tau International Beta Epsilon Chapter recently awarded two Duke School of Nursing (DUSON) students with scholar awards for their demonstrated academic excellence, service to the nursing profession, and commitment to providing social justice and reform in healthcare.
Image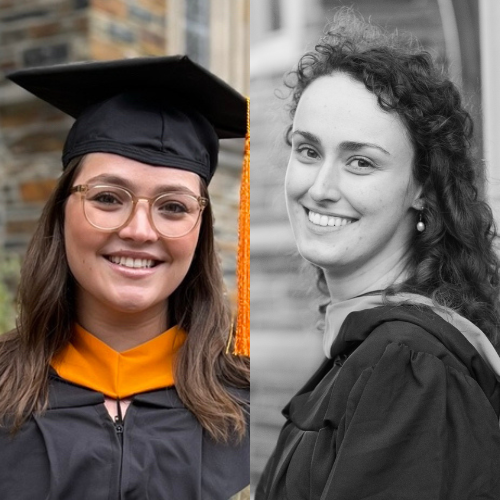 February 15, 2023
Margaret Dancy recently graduated from the Master of Science program and is a recipient of the Thelma Ingles Award for excellence in clinical expertise and scholarly activities. The award was established in 1973 in honor of a distinguished nurse educator and writer, Thelma Ingles. She pioneered the development of DUSON's first clinical nurse specialist program at the master's level, which ultimately led to improved patient care and increased respect for nurses by physicians. Additionally, she initiated an advanced program (BSNEd degree) in medical- surgical nursing at DUSON in 1950, where she served as professor and chair of the Department of Medical-Surgical Nursing from 1949-1962.
Desi Newberry nominated Dancy for her excellent clinical decision-making and the provision of rationales for her treatment plans. "Her preceptor evaluations always contain the highest marks-even, scoring a perfect evaluation. Margaret has been hired by one of her clinical sites, Children's National Medical Center, for a Neonatal Nurse Practitioner (NNP) Position after graduation," Newberry said.
She recently wrote a manuscript entitled: "Comparison of Neonatal Outcomes Based on Maternal Diabetes Mellitus Classification." The article was accepted for publication in the international, peer-reviewed nursing journal, the Journal of Obstetric, Gynecologic & Neonatal Nursing. She created a poster based on her manuscript, also presented at the DUSON NNP Poster Presentation Session.
Dancy said Thelma Ingles was a pioneer in healthcare. To receive this award complements her ability in clinical expertise and scholarship, and she could not be more honored. "The award inspires me to ask the big 'why' questions when assessing health inequities, examine current practices to ensure they meet the needs of my patient population in the Neonatal Intensive Care Unit, and seek out improvements in my professional relationships," Dancy said. "Her credo was that "the care of patients was more important than the growth and prestige of the profession we belong to," and I aim to have these words ring true in my practice. Thank you to Thelma Ingles' family, Dr. Desi Newberry, and the Beta Epsilon chapter of Sigma Theta Tau for this special distinction."
She completed the program in December 2022 and will continue living in Washington, DC, while working at the Children's National Medical Center. She hopes to improve outcomes for one of the most vulnerable populations in the healthcare system. Dancy is a native of Glen Ridge, N.J., the daughter of Peter and Katie Dancy, sister of Hope and Ryan Dancy, and girlfriend of Ian O'Keefe.
Siobhan Norman recently graduated from the Accelerated Bachelor of Science in Nursing program and is a recipient of the Ruby L. Wilson Award for clinical excellence and leadership. The award was established in 2003 because of a generous gift to the Beta Chapter by Dr. Ruby L. Wilson. Dr. Wilson served as dean of DUSON from 1971-1984. Among her many accomplishments and contributions to the nursing profession, Dr. Wilson developed and served in the first clinical nurse specialist position at Duke Medical Center from 1963-1966.
Amie Koch nominated Norman for her high-performing ability with critical thinking and evidence-based practice skills. "During the N394 Evidence-Based Practice class, I was able to witness Siobhan work on a group project and add so much rigor to work," Koch said. "She understands how to assess and utilize evidence-based practices, but she can also connect how the evidence-based practices enhance patient care." She is known throughout her program for her calm communication, a positive therapeutic intervention. Her other abilities include assessing a person's emotional, spiritual, and mental health. Additionally, Norman possesses leadership skills in researching, questioning, analyzing, and critical thinking that support addressing social determinants of health to initiate change.
Norman said it is an honor to win such an award. "I have met many wonderful people at DUSON both students and faculty. They are some of the most compassionate people I know who care about changing processes to create healthier patient outcomes," Norman said. "I am so grateful to have them in my life, and I am excited to see where our nursing careers take us."
She completed the program in December 2022 and has assumed a registered nurse position at Duke University Hospital. Norman is a native of Stormville, N.Y.
As recipients, Dancy and Norman received plaques and monetary awards to highlight their achievements.