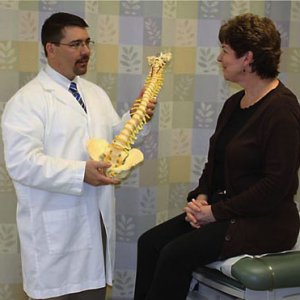 Frequently nurse practitioners (NP) enter into orthopedic practice with solid foundational NP education but little training in musculoskeletal care. Many NPs have had to engage in "on the job" training leaving gaps in their foundational understanding of musculoskeletal care. This specialty program will help to build the foundation for solid practice for you to enter musculoskeletal care. If you are already engaged in orthopedic practice, you will find this series of courses instrumental in filling in those foundational gaps allowing for advancement of your practice.
The orthopedics specialty is open to a variety of students including: 1) students enrolled in the Duke MSN nurse practitioner majors; 2) students in the Duke DNP Program with comparable APRN preparation; 3) primary care or acute care students from non-Duke NP programs; and 4) licensed NPs already engaged in clinical practice.
Through the use of online lectures and learning activities, this distance-based specialty prepares you to diagnose and manage a variety of musculoskeletal problems across the life span as well as to provide guidance and counseling to promote and maintain health and quality of life. You will come to campus to learn advanced orthopedic physical assessment techniques and orthopedic skills necessary for clinical practice such as joint injections, casting, and suturing. As a synthesis, you will complete a final clinical residency under the mentorship of an experienced clinician in the orthopedics specialty. The specialty courses can be utilized as didactic and/or clinical electives for APRN majors.
Upon completion of this program, you are prepared to provide musculoskeletal care across a variety of settings. You will be well prepared for a purely orthopedic setting or to practice where many patients will have musculoskeletal problems such as urgent care, military medicine, emergency care, occupational health, or physical medicine.
Highlights
The only orthopedic NP program in the world

Internationally recognized, board certified orthopedic NP faculty

Convenient distance-based lecture format

Integration of face to face, intensive, hands-on orthopedic skills lab

Specialty didactic and clinical training in orthopedics

Diverse learning activities throughout the curriculum

8 credit hours

Spring start only
Courses
NUR 821: Advanced Practice Nursing: Musculoskeletal Specialty I (Spring only)

NUR 822: Advanced Practice Nursing: Musculoskeletal Specialty II (Summer only)

NUR 825: Advanced Practice Nursing: Musculoskeletal Specialty Synthesis (Fall only)
Enrollment Options
If you are interested in adding this specialty to your academic plan, you must complete the Add a Specialty Form. This form must be submitted to the MSN Program Office via email (son‐msn@dm.duke.edu) at least 10 days prior to the start of the semester.
Nurse practitioners with an MSN degree or higher from a regionally accredited institution and nurse practitioner students from other regionally accredited colleges or universities interested in earning a certificate in this specialty should follow instructions for the Specialty Certificate application. Enrollment decisions are made by the lead faculty of the specialty based on space availability.
​Learn more about our curriculum.