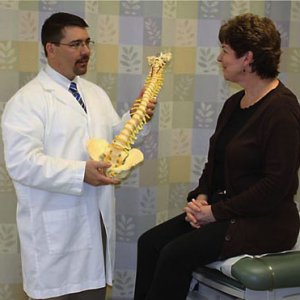 Frequently nurse practitioners (NP) enter into orthopedic practice with solid foundational NP education but little training in musculoskeletal care. Many NPs have had to engage in "on the job" training leaving gaps in their foundational understanding of musculoskeletal care. This specialty program will help to build the foundation for solid practice for you to enter musculoskeletal care. If you are already engaged in orthopedic practice, you will find this series of courses instrumental in filling in those foundational gaps allowing for advancement of your practice.
The orthopedics specialty is open to a variety of students including: 1) students enrolled in the Duke MSN nurse practitioner majors; 2) students in the Duke DNP Program with comparable APRN preparation; 3) primary care or acute care students from non-Duke NP programs; and 4) licensed NPs already engaged in clinical practice.
Through the use of online lectures and learning activities, this distance-based specialty prepares you to diagnose and manage a variety of musculoskeletal problems across the life span as well as to provide guidance and counseling to promote and maintain health and quality of life. You will come to campus to learn advanced orthopedic physical assessment techniques and orthopedic skills necessary for clinical practice such as joint injections, casting, and suturing. As a synthesis, you will complete a final clinical residency under the mentorship of an experienced clinician in the orthopedics specialty. The specialty courses can be utilized as didactic and/or clinical electives for APRN majors.
Upon completion of this program, you are prepared to provide musculoskeletal care across a variety of settings. You will be well prepared for a purely orthopedic setting or to practice where many patients will have musculoskeletal problems such as urgent care, military medicine, emergency care, occupational health, or physical medicine.
Highlights
The only orthopedic NP program in the world

Internationally recognized, board certified orthopedic NP faculty

Convenient distance-based lecture format

Integration of face to face, intensive, hands-on orthopedic skills lab

Specialty didactic and clinical training in orthopedics

Diverse learning activities throughout the curriculum

9 credit hours

Spring start only
Q&A with Lead Faculty Michael Zychowicz
Q: What attracts you to orthopedics?
A: As I went through nurse practitioner school, I never planned to practice in orthopedics; however, after graduation, I was offered an orthopedic practice position that I could not refuse. After I began my journey, I quickly fell in love with the orthopedic practice. I have enjoyed the ability to fix patients' problems, whether in the operating room or outpatient office. For me, orthopedic practice just seemed to click. The mechanical nature and pathophysiology of most orthopedic conditions make sense to me. Emerging biological and surgical technologies within the world of orthopedics are extremely exciting.
Q: What makes the orthopedic specialty unique?
A: The DUSON orthopedic nurse practitioner specialty is the only educational program of its kind at a University anywhere in the U.S. There are two or three postgraduate orthopedic fellowships for nurse practitioners; however, they only accept a small number of nurse practitioners for full-time employment/training. Unlike our program, people can take graduate courses around their full-time employment or add to their graduate school program.
Q: What type of nurse should consider a DUSON certificate in orthopedics?
A: The program is open to nursing practitioner students at Duke or any other college, doctor of nursing practice (DNP) students, or nurse practitioners already licensed and practicing. This is an ideal program for nurse practitioner students aspiring to hold a future practice in orthopedics or those nurse practitioners already in orthopedic practice. More broadly, since patients with musculoskeletal conditions are frequently evaluated and managed in non-orthopedic settings (e.g., primary care, urgent care, emergency room, occupational health, etc.), this is a fabulous course for any nurse practitioner evaluating and treating patients in any setting with musculoskeletal conditions. DNP and MSN students should consider this elective course to fill any elective requirements of their program of study. Additionally, DNP students may use the courses as an underpinning for a DNP scholarly project.
Q: Describe an excellent candidate for the orthopedic specialty?
A: An excellent candidate is anyone interested in learning about musculoskeletal care.
Q: How can the orthopedic specialty enhance a nurse's career?
A: The education obtained during this course of study will benefit the nurse practitioner student by giving them foundational knowledge for managing patients with musculoskeletal conditions in any practice setting. Musculoskeletal conditions are among the most frequent reasons for a visit to various practice settings, including primary care, urgent care, emergency room, and occupational health. For new nurse practitioners to have this knowledge upon graduation would be a competitive advantage for them when competing for a new position and a significant patient care advantage when they start their new practice.
The practicing nurse practitioner in musculoskeletal care is typically burdened with learning about orthopedics through on-the-job training. The average nurse practitioner is exposed to 10 hours of orthopedic content throughout their nurse practitioner program. This educational program will fill in the knowledge gaps that practicing nurse practitioners have from learning on the job. In addition, some nurse practitioners only practice within a subspecialty of orthopedics (e.g., hand surgery) and have little knowledge or exposure to general orthopedics. This course of study provides a broad knowledge base for those interested in musculoskeletal care.
Lastly, this specialty prepares the nurse practitioner for the Orthopedic Nurse Practitioner Board certification. The curriculum has been built around much of the core clinical knowledge needed to prepare for the board examination.
Courses
NUR 821: Advanced Practice Nursing: Musculoskeletal Specialty I (Spring only)

NUR 823: Advanced Practice Nursing: Musculoskeletal Specialty II (Summer only)

NUR 825: Advanced Practice Nursing: Musculoskeletal Specialty Synthesis (Fall only)
Enrollment Options
If you are interested in adding this specialty to your academic plan, you must complete the Add a Specialty Form. This form must be submitted to the MSN Program Office via email (son‐msn@dm.duke.edu) at least 10 days before the start of the semester.
Nurse practitioners with an MSN degree or higher from a regionally accredited institution and nurse practitioner students from other regionally accredited colleges or universities interested in earning a certificate in this specialty should follow the instructions for the Specialty Certificate application. Enrollment decisions are made by the lead faculty of the specialty based on space availability.