Teaching Conversations
What are they?
The IEE Teaching Conversations are an ongoing series of informal sessions, facilitated by DUSON faculty or other experts from the Duke or surrounding communities, that are designed to share educational innovations, strengthen teaching strategies or address common issues experienced by faculty. Each Teaching Conversation includes a brief presentation of the topic, which is followed by informal discussion among the participants – faculty from DUSON or other disciplines/schools, graduate students and nurse educators from other settings. All Teaching Conversations are made available via live streaming to those who wish to participate from a distance, and all are recorded so that they can be accessed by faculty and other members of the DUSON community at a later date.
Interested in Facilitating a Teaching Conversation?
Anyone interested in facilitating a Teaching Conversation is asked to complete an interest form and return it as noted. We welcome your participation.
Academic Year 2017-2018
The Teaching Conversations for the 2017-2018 Academic year have been filled with great topics so far. All Teaching Conversations are scheduled for 12:00 to 1:00 p.m. in Pearson 1011, and the confirmed dates are as follows:
Dates
Speakers & Topics

September 7, 2017

David Hansen, JD
Best Practices for Copyright, Contracts, and Intellectual Property

September 19, 2017

Jennie C. De Gagne, PhD, DNP, RN-BC, CNE, ANEF
Cybercivility Guidelines in U.S. Nursing Schools: What's next?

October 5, 2017

Nancy Foskey; Margaret Carman, DNP, ACNP-BC, ENP-BC, FAEN
Using Text Messages and Email to Assist Students in Applying Concepts to Practice

October 24, 2017

Kathleen Turner, DNP, RN
Student Advising

November 9, 2017

Margie Molloy, DNP, RN, CNE, CHSE; Laura Fogle, MEd; Raymond Brisson III
Tools of the Trade: Emerging Trends in Educational Technologies

November 30, 2017

Leigh Fickling, JD, MEd, MS
Teaching Students with Disabilities

January 30, 2018

Marilyn Oermann, PhD, RN, ANEF, FAAN
Predatory Journals and Conferences: How to Avoid Them

February 15, 2018

Margie Molloy, DNP, RN, CNE, CHSE; Beth Phillips, PhD, RN, CNE
Facilitating Learning Across All Domains

March 6, 2018

Stacey O'Brien, MSN, RN
Best Practices for EKG Education?Testing

April 10, 2018

Matthew Rascoff, Associate Vice Provost for Digital Education and Innovation Duke
Learning Innovations

May 3, 2018

Jennie C. De Gagne, PhD, DNP, RN-BC, CNE, ANEF
Nursing Students and Nurses on Twitter: Really? We Need to Talk!

May 24, 2018

Michelle Hartman, DNP, RN, CPNP
Universal Design in Nursing Education
Transforming Health Professions Education Conference
2018 Transformation Conference
The 2018 Pursuing Radical Transformation Health Professions Education conference was held March 22 and 23 with keynote speaker Dr. James Lang, professor of English and director of the Center for Teaching Excellence at Assumption College in Worcester, MA. Lang facilitated our pre-conference workshop entitled "Academic Integrity" and was based on his research in his 2013 book "Cheating Lessons." Nearly 100 attendees participated in the two-day conference that consisted of the keynote address entitled "Small Teaching," plenary and breakout sessions from several Duke faculty and staff as well as speakers from across the U.S. The conferences keynote address was recently renamed the Valiga Address after Faculty Emeritus Dr. Terry Valiga.
Click here to view the 2018 Transformation Conference Flickr album!
History
As an outgrowth of the Institute's activities, the Duke University School of Nursing established an annual conference in 2010 that would address the overarching theme of Pursuing Radical Transformation in Nursing Education. The conference was designed to challenge nurse educators to think differently about how we design and do the work of educating the next generation of nurses and leaders. It has been an opportunity for those teaching in all types of nursing education programs – practical nurse, associate degree, diploma, baccalaureate, master's and doctoral – to learn, grow and innovate.
In 2018, the conference broadened its reach to all Health Professions Educators, with the hopes of stimulating deep discussions and innovative ideas across and between the professions. This annual conference features internationally-known experts in education, as well as educators from disciplines other than nursing, and it provides extended opportunities for dialogue about emerging issues and innovations in education. The 2018 Pursuing Radical Transformation in Health Professions Education Conference promises to be unique and thought-provoking!
Past Conference Highlights
| Year | Focus | Keynote Speaker |
| --- | --- | --- |
| 2018 | The Science of Learning | Dr. James Lang, professor of English, Director of the Center for Teaching Excellence at Assumption College in Worcester, MA.; and author of "Small Teaching" and "Cheating Lessons." |
| 2017 | Promoting Deeper Learning | Dr. Thomas Angelo, a clinical professor of Educational Innovation and Research in the Division of Practice Advancement and Clinical Education and director of Educator Development in the Academy for the University of North Carolina at Chapel Hill Eshelman School of Pharmacy. |
| 2016 | Active Learning and Engaging Teaching | Dr. Richard Felder, Hoechst Celanese Professor Emeritus of Chemical Engineering at North Carolina State University. He regularly presents workshops on effective college teaching around the world, is widely published and has received awards for teaching and pedagogical scholarship |
| 2014 | Cultivating Meaningful Collaborations | Dr. Lee Schulman, immediate past-president of the Carnegie Foundation for the Advancement of Teaching and an internationally-known award-winning education |
| 2013 | Becoming a Student-Centered Teacher | Dr. Maryellen Weimer, noted educational scholar, editor of "Faculty Focus" and author of "Learner-Centered Teaching" |
| 2012 | Preparing Faculty for the Challenge of Critically Reflective Teaching | Dr. Stephen Brookfield, an internationally-known education scholar and author of 15 books on adult learning, teaching, critical thinking, discussion methods and critical theory |
| 2011 | What the Best College Teachers Do | Dr. Ken Bain, an internationally-known education scholar and author of the award-winning book "What the Best College Teachers Do" |
| 2010 | Fostering Our Pedagogical Imagination | Dr. Pam Ironside, nursing education leader and scholar who is at the forefront of pedagogical research and development of the science of nursing education |
Clinical Instructor Intensive
History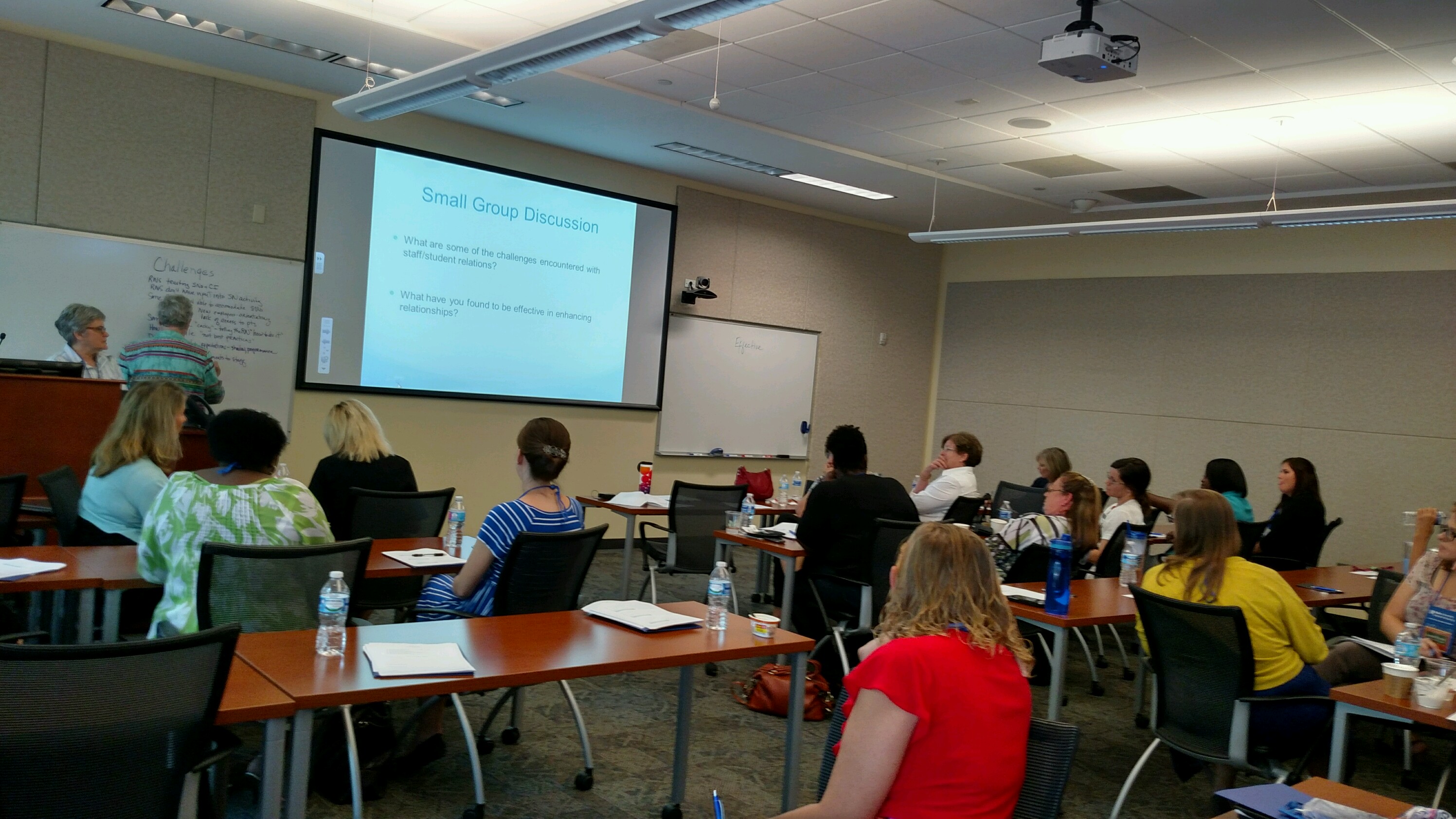 The Clinical Instructor (CI) Intensive was first offered by the Duke University School of Nursing (DUSON) in 2008 for the purpose of helping our School's CIs – and CIs from other schools – better understand and effectively implement their roles as teachers in the clinical setting. This one- to two-day interactive conference is offered annually – typically during the summer months – and incorporates formal presentations by experts in teaching, case studies of challenging situations faced by CIs, sharing of policies and practices that exist in various schools and dialogue about role conflicts, communicating with course faculty and expectations of CIs.
Who is it for?
The challenges in Clinical Nursing Education today are many! The hiring, orientation, and development of clinical instructors (CIs) continues to be an ongoing challenge, particularly in light of the demands of our clinical settings and program curricula. Acquisition of sites, orientation to EHRs, navigating the ever-changing environment requires constant attention. Duke University School of Nursing (DUSON) has designed a workshop that – over the past 10 years – has helped many CIs be better prepared for their roles and responsibilities, as well as the dynamics of the healthcare arena.
The Intensive is led by a talented and experienced group of full-time Faculty and Clinical Nurse Educators who teach in our accelerated BSN and MSN programs. We believe the time spent in this intensive workshop is a valuable and important investment in the people who make our clinical courses come alive—the Clinical Instructors.The component of the Intensive for both novice and experienced CIs provides an opportunity for participants to discuss challenges that arise while teaching in the clinical setting and how to best understand and manage them. For example, issues related to students who are not prepared, staff members who are not particularly supportive of students, errors, managing one's time when teaching up to 10 students, conducting effective post-clinical conferences, appropriate learning experiences for students and so on are discussed and dissected.
This Intensive is intended to be interactive and relevant, and to provide an opportunity for faculty and CIs to look at their current clinical teaching strategies and develop new ways to strengthen clinical education for pre-licensure and graduate nursing students.