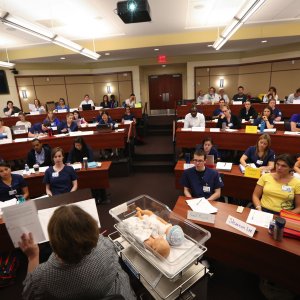 The Duke University School of Nursing (DUSON) holds the unique position of being designated as a Center of Excellence (COE) in Nursing Education in three categories: Creating Environments that Promote the Pedagogical Expertise of Faculty (2013-2022), Creating Environments that Enhance Student Learning and Professional Development (2015-2024), and Advancing the Science of Nursing Education (2017-2021). Duke is one of only a handful of schools in the United States to currently hold designation in all three categories of distinction. In an important collaborative effort between our nurse educators, academic partners, and Duke University Health System (DUHS), the health system holds the unique position of being the first health care organization in North Carolina to receive the COE in Nursing Education for Creating Workplace Environments That Promote the Academic Progression of Nurses (2016-2021).
This prestigious honor is based on the School's continuous efforts to improve curriculum and teaching practices as well as keep students at the center of our teaching mission. Dr. Terry Valiga, the founding director of DUSON's Institute for Educational Excellence, explains the implications of these awards for our students and faculty: "This honor means that we are committed to students learning in an optimal environment and to faculty being the best-prepared teachers they can be. We want all students, whether they are enrolled in or thinking about enrolling in the School, to know that this is a place where we are focused on their education in order for them to become the clinicians, scholars and leaders that are needed today and in the future. As a school that is nationally noted for its work in research, clinical excellence and community initiatives, being named a Center of Excellence in Nursing Education is proof that an institution can be outstanding in multiple ways. No star needs to shine more than the others; we are all within the same constellation."
Purpose of the Centers of Excellence Program
The NLN Centers of Excellence in Nursing Education program is designed to recognize schools of nursing that have achieved a level of excellence in one or more of three designated areas. This recognition is designed to distinguish those schools that: demonstrate sustained, evidence-based and substantive innovation in the identified area; conduct ongoing research to document the effectiveness of such innovation; set high standards for themselves; and are committed to continuous quality improvement. Such recognition indicates a commitment by the organization as a whole to pursue and sustain excellence in a selected area.
The designation of a school as an NLN Center of Excellence (COE) in Nursing Education is a voluntary process that involves preparation of material by the organization itself and peer review. Recognizing the uniqueness of each organization relative to its mission, the COE program sets high standards and serves to truly distinguish and publicly recognize those organizations that excel in a particular area. The goals of the program are as follows:
Identify and reward those schools that excel in creating environments that enhance student learning and professional development, promote the pedagogical expertise of faculty or advance the science of nursing education.
Identify and reward health care organizations that promote academic progression of their nurses.
Encourage research in nursing education.
Facilitate discussions among faculty, students, program graduates and employers about excellence in nursing education and how to promote it.
Encourage academic-practice partnerships.
Encourage the development of innovative schools that attract and retain highly qualified students and faculty.
Facilitate positive changes that reform nursing education based on the application of evidence gleaned from research in practice and education.
Influence the development of public policies that benefit nursing education, support nursing education research and promote excellence in nursing education.