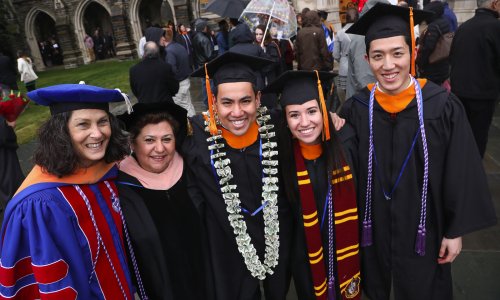 The Duke University School of Nursing is committed to increasing diversity and inclusiveness in our community. Diversity is more than broadly representative demographic differences. Rather, diversity embodies cultural sensitivity and openness, collaboration and inclusion. Diversity fosters learning by reflecting experiences from life, classroom, and practice, as well as social beliefs.
Individually and together, we encourage opportunities to think and behave equitably by acknowledging and respecting different beliefs, practices, and cultural norms. We honor pluralism and encourage each other to explore, engage in, and embrace one's uniqueness while we uphold academic excellence, celebrate strategic change, and honor traditions.
By embracing diversity and inclusion in all that we do and strive for, we strengthen our community, our pedagogy, our research, and the future design, development, and delivery of a health care system that eliminates disparities both locally and globally.
Moving forward, we will continue to acknowledge and celebrate our differences and promote community values that reflect our diversity and multiple ways of knowing in an intercultural world.
Mission
Duke University School of Nursing's goal is that all dimensions of diversity and inclusiveness are essential components of excellence at DUSON. Our aspiration is to create an environment, embracing whomever enters our doors. We respect all community members, nurture them, build bridges and create relationships that will individually and collectively enhance our milieu. As we engage in the work that is necessary to achieve these goals, we respectfully and honestly engage in difficult dialogue, increase our awareness through critically examining ourselves for biases and assumptions. Our model for diversity and inclusion intently focuses on inclusivity; an environment where people from all backgrounds thrive and work together for a common good where all may be transformed by the positive energy which, supports growth and development of all.
Environment
Our campus is a safe space. We have zero tolerance for violence, harassment, hate speech and the marginalization of individuals or groups of people. Our building has two single gender-neutral bathrooms as well as a lactation pump room. For more information on our facilities, visit our Facilities page.