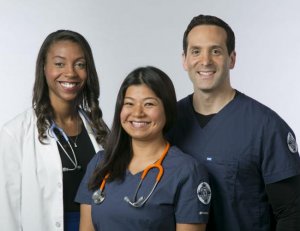 Registered nurses with an earned Bachelor of Science in Nursing degree are eligible to apply for the Doctor of Nursing Practice program. Upon completing the DNP program, you will be awarded both an MSN and a DNP degree.
Students selected for the BSN-to-DNP pathway choose the following advanced practice specialty area:
The specialty area is selected at the time of application to the DNP program. Some specialty areas have three deadlines per year.
A minimum of 74 credits is required.  
BSN-to-DNP Admission Criteria
The ideal candidate for Duke University School of Nursing's Doctor of Nursing Practice program has excellent collegiate GPAs, is making an impact on nursing practice and has leadership skills.
Admission Criteria for Applicants with a BSN
Earned BSN from an accredited ACEN or CCNE School of Nursing

GPA 3.0 or above on a 4.0 scale

Resume or CV

Current licensure as a registered nurse in the state in which practice will occur

Undergraduate statistics course

Transcripts from all post-secondary institutions

Three letters of reference pertaining to academic ability, professional competency and personal character

Personal statement

Telephone or in-person interview may be a part of the admission process
Admission Criteria for Applicants with an MSN
Earned master's in nursing in an advanced nursing practice specialty from a nationally accredited CCNE or ACEN program or master's degree from a regionally accredited institution in a health related profession

Certification as an advanced practice nurse (if applicable)

GPA 3.0 or above on a 4.0 scale

Resume or CV

Current licensure as a registered nurse in the state in which practice will occur

Graduate research methods and inferential statistics course(s)

Transcripts from all post-secondary institutions

Three letters of reference pertaining to academic ability, professional competency and personal character

Personal statement

Telephone or in-person interview may be a part of the admission process