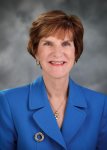 Dear Duke University Nursing Alumni,
Today, more than ever, nursing leaders are needed around the world. As the health care needs of society change, nurses must have the complex knowledge and advanced technical skills to address those changes. Duke University School of Nursing is preparing nurse leaders who will provide critical patient-centered care, direct the efforts of entire teams of caregivers, and lead change that will improve health at home and around the world.
We want you to be proud of your school and the important work that is being done here on campus and across the nation.
Among America's Best Graduate Schools of Nursing, Duke ranks #3 in 2022, according to U.S. News and World Report.
Our Doctor of Nursing Practice Executive Leadership program ranks #1.
Five Duke nursing master's degree programs also rank in the top 10, including
Our Doctor of Nursing Practice program ranks #4.
For the fifth year in the row, the School of Nursing has been ranked as the "Best Nursing School for Men" by the American Assembly for Men in Nursing.
Four Duke nursing master's degree programs rank #1 for the Best Online Nursing majors in 2021, according to the U.S. News and World Report:

Family Nurse Practitioner Program
Psychiatric Nursing Program Across the Continuum
Nursing Administration/Leadership Program
Nursing Education Program
None of this would be possible without your generosity and support. I encourage you to keep in touch with the school, faculty and your classmates. Click here to follow me on Twitter!
I am honored to lead this outstanding school.
Marion E. Broome, PhD, RN, FAAN
Dean and Ruby Wilson Professor of Nursing, Duke University School of Nursing
Vice Chancellor for Nursing Affairs, Duke University
Associate Vice President for Academic Affairs for Nursing, Duke University Health System