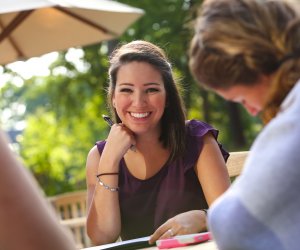 The Duke University School of Nursing is proud of its personalized advising process, which provides consistent monitoring and communication about students' academic interests and progression to graduation.
The advising process varies based on the academic program and enrollment options available within the School of Nursing. You are encouraged to view the department pages and student handbooks for more information.
Advisor Assignment Information
Incoming MSN students receive notification of their assigned advisor via email, typically three to four months before the start of their first term.

Incoming ABSN students are assigned a faculty advisor at the beginning of the semester.

Incoming DNP students are assigned a pre-advisor at the time of matriculation to assist with completing the Long Range Matriculation Plan. The academic advisor is assigned once the Long Range Plan is approved.
New Student Information
Once you have been admitted and paid your tuition deposit, you will be classified as an active student. At this time, your Net ID and password will be sent to the email address you provided in your admission application, and you will then have access to log into the DukeHub student portal. DukeHub is a web-based enrollment system that allows you as a student to develop your Long Range Plan (where applicable) register for courses, add or drop courses, make changes to certain bio/demo data, request a transcript and view your grades.
Current Student Information
Each semester, your advisor will review your academic progress. If there are no deviations from your approved Matriculation (MAT) Plan, you will be made eligible to register for courses for the upcoming term. If deviations are noted, or changes are necessary, you will need to schedule a time to consult your advisor before registration to update your MAT Plan. While ABSN students are not required to complete the Matriculation Long Range Plan, their progress is still monitored by the ABSN program. If it is determined that a student needs to decelerate, a specific deceleration plan will be sent to the student by the advisor and program director.
If you have any questions or concerns, please get in touch with the Office of Student Services at dusonregistrar@dm.duke.edu or (877) 415-3853.
Long Range Plan FAQ
What is the Academic Interest Inventory? The Academic Interest Inventory is a worksheet you complete that helps your advisor understand your academic interest and enrollment concerns.
What do I do if I change my plan after the Matriculation Plan is signed? Students who change their Matriculation Plan can do so in the Long Range Plan, but they must notify their advisor for review and approval. Students who do not follow this step may be prevented from registering for future courses.
What do I do if I repeat or fail a course? If you fail or repeat a course, you must update the planner accordingly with the change. Please work with your advisor to review the change and approve a new plan if necessary.
When is the Long Range Plan available for submission? The Long Range Plan is available to new and current students at varying times. All new students will have access once the enrollment deposit is submitted and the Net ID and password have been issued. Current students have access to the Long Range Planner at all times; however, shopping cart and course registration only happen during set times of the year. Please visit the academic calendar for semester registration dates and times.
What is a "what-if" report? The "what-if" report will be used to develop your Matriculation Plan. In this report, you are notifying your advisor of how you would like to chart your academic plan. Once your original plan is approved and signed by yourself and your advisor, you can also use this tool to determine how your academic plan would change if you made significant changes, such as adding a major or specialty or taking a leave of absence. You can add up to two "what if" reports into the system.
Glossary
DukeHub: This is Duke University's student portal. All students register for courses online.
Matriculation: Students who have accepted the offer of admission have submitted the tuition deposit and have been termed activated by the school.
Long Range Plan: This is one of the functions of the DukeHub system. The Long Range Plan includes questions and tasks that must be completed before course registration.
DUSON Bulletin: The bulletin is a university document that details the academic program requirements, including other important information such as admission requirements, financial aid, and student services.
DUSON Handbook: Student handbooks are developed for each program area within the Duke University School of Nursing. The handbook will contain similar information as the bulletin but will also provide information regarding academic expectations, honor code, clinical dress attire, compliance information, etc.